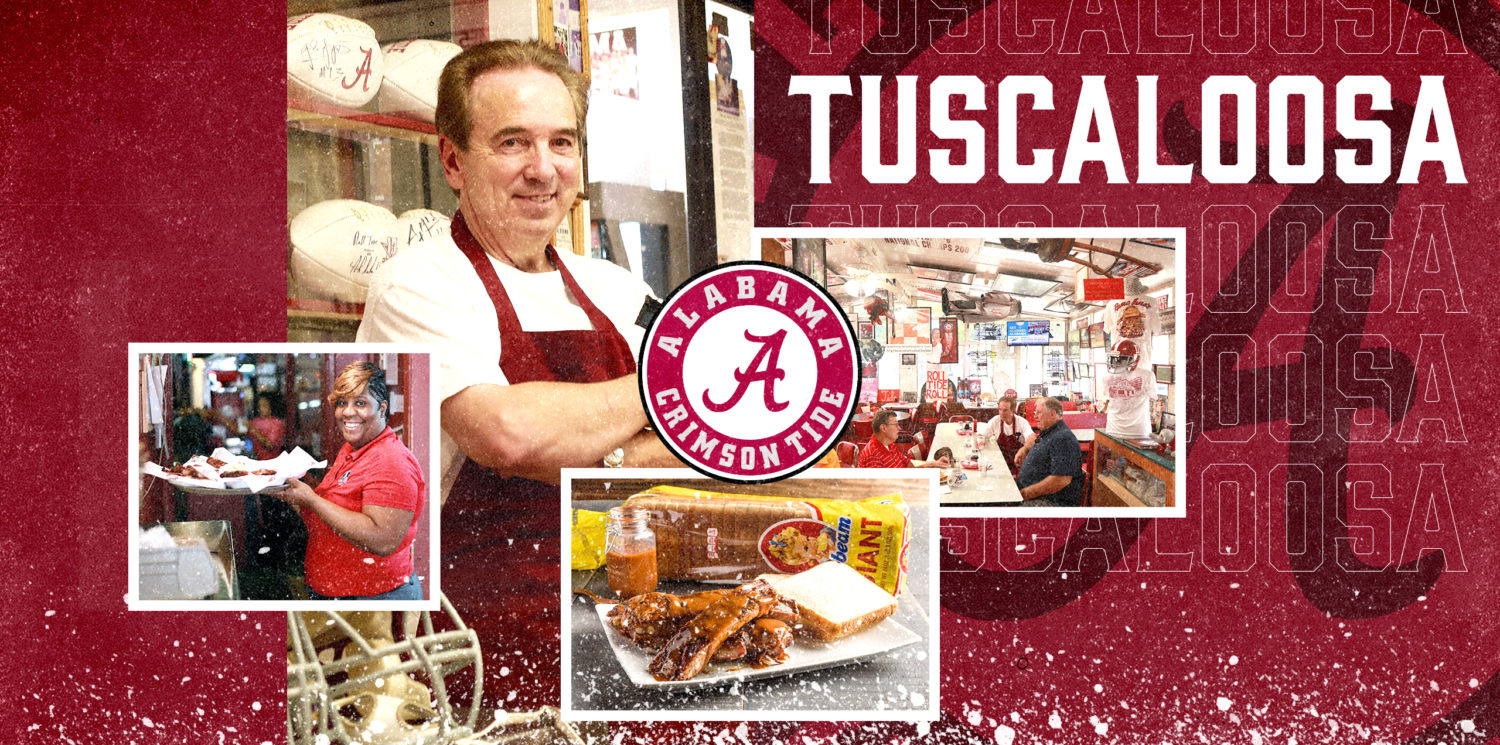 ALABAMA
Tuscaloosa 360: Game day in a football town
Tuscaloosa, Alabama, is a story town. From the local diner to the hottest tailgating spot, Tuscaloosa is a place where stories are told, legends are made and games are won. SDS Senior Writer Al Blanton recently found that every place had its own story.
TUSCALOOSA, Ala. — It's a blessing and a curse when you look like Nick Saban.
On any particular morning, you'll find Gary Lewis holding court at a table at Rama Jama's, a memorabilia-filled eatery beneath the shadow of Bryant-Denny Stadium. Make no mistake: to encounter Lewis is to encounter what Southerners call a "character," a moniker not meant to be derogatory but rather what we in the South consider a compliment or even badge of honor. Sporting an ever-present apron and quick with a one-liner (often self-deprecating), Lewis speaks in a rich, almost Boss Hogg-ian dialect: in muh lim-u-ted vo-ca-bu-laray, he might say, painting himself as a near-rube or simpleton. He might even purposely confuse a word or two, describing Alabama fans' love for football as an "obsessity."
But Lewis is no dummy. Twenty-three years ago, he converted a closed-down convenience store and former gas station into Rama Jama's, thereby saving the space and breathing into it new life.
The real brilliance behind Lewis' brainchild, however, was that he capitalized on fans' zeal by building a shrine to Alabama football within. Initially, he asked for donations of Crimson Tide memorabilia — pictures, programs, equipment, signs, flags, anything — to be displayed at the restaurant, and slowly items began to trickle in. Now he no longer has to ask. Top to bottom, side to side, the restaurant is draped in these vestiges.
Yes, Lewis favors the head coach of the Crimson Tide, and yes, he's flattered when little kids come up to him, mistaking him for Nick Saban. But membership in that fraternity can have its downside, too. Like the time a man tried to fight him at the grocery store after one of Alabama's few heartbreaking losses of the Saban era. "I am not him!" Lewis frantically assured the would-be attacker. "I'm the hamburger cook across the street from him."
Indeed Lewis is the founder and still cuts a large presence at Rama Jama's, but don't mistake him for the owner. That title goes to Mike Hebron, a native New Yorker who bought the restaurant from Lewis 2 years ago. As you can imagine, there's a story behind it all.
After his daughter enrolled at the University of Alabama, Mike would fly down to catch football games every fall. Inevitably, he found himself parked in one of the booths at — you guessed it — Rama Jama's before catching a plane to New York that following Monday morning. A history buff, Mike became enamored with the heritage and tradition of Alabama Crimson Tide football. "Girls wore game day dresses, boys wore jackets and ties to the games," Mike said. "You would walk across the quad, and the hospitality of the people … they were talking equally as much if not more about what happened in the past as what was going on with coach Saban. They talked about Stallings, Bear Bryant, Ray Perkins, different players. The history of it."
With each visit to Rama Jama's, Mike deliberately chose a different booth so he could peruse different items hanging from the ceiling or on walls beside him. And the stories those items told sparked further interest and research. "A photograph would force me to look something up," he said.
Eventually, Mike learned that his beloved restaurant was for sale, but when he went to investigate, Gary put him off, sending word through a cashier that he was "too busy to speak to him." But Mike wasn't going to be deterred. When he came back the next day he remembers Gary to be a bit more jovial, dangling a key in each hand and saying, "You want the key to the front door or you want the key to the back door?"
"Well if this is a good conversation," Mike replied, "I'll take both."
What Mike feared was that the love and soul that Gary put into creating the restaurant and stewarding the University's football culture would go away if it fell into the hands of the wrong owner. So a few months later, the exchange was made. Mike bought the restaurant, moved from his home in Manhattan to Tuscaloosa, and kept Gary on as a hamburger cook.
Now the men are working together to perpetuate the restaurant for the next 20 years of its existence. Mike loves to run the cash register and tell the stories behind the memorabilia — including signed footballs from more All-Americans than on a Bob Hope special encased on the south wall — while Gary gabs with regulars. It's an unlikely duo, but it works.
One thing you'll discover pretty quickly while sitting at a table and enjoying a National Champ Biscuit and a cup of coffee is that storytelling is the way Tuscaloosans choose to relate to one another, an appreciation handed down ancestral lines and passed on like an inheritance to the generations that follow. The only difference between Tuscaloosa and any other pigskin-mad Southern town is that in Tuscaloosa, most of those stories are inherently linked to Alabama football.
* * * * * *
Such is the case with John "Big Daddy" Bishop, who, when walking his property one night, heard the voice of God. A brick mason by trade, Bishop had been looking for a better way to provide for his family and for a time considered opening up a funeral home. But on that fateful night in 1958 as he toured his property, God told him, "Build a barbeque café on the land beside your home." That divine declaration was the genesis of Dreamland BBQ, now a 61-year-old Tuscaloosa staple.
But there's more to that story. What you need to know is that the same Lord above who was speaking to Bishop was also aligning the stars by orchestrating the return of Paul W. "Bear" Bryant, who became the head coach of the Crimson Tide in the same year. Since then, the barbeque joint and Alabama football have been inextricably linked, almost as if legend begat legend in some hallowed, star-crossed union. Across the years, Dreamland became the go-to spot for Bryant's assistant coaches whenever prized recruits descended on campus. To sum up the relationship, Dreamland's Director of Marketing Jonathan Bird said, "Alabama football is really helped us pave the way for the success we've experienced for the last 60 years."
But that's not the end of the story. Demand for the Bishop's mouthwatering ribs eventually swelled to the point that a second Tuscaloosa location was opened on the banks of the Warrior River. Now Bishop's small idea, which started as just a hit in the neighborhood, has expanded to 10 brick-and-mortar locations across 3 states. In additionDreamland also furnishes game day concession areas at Bryant-Denny Stadium in Tuscaloosa, Jordan-Hare Stadium in Auburn, Scott Field in Starkville, Miss., and Sanford Stadium in Athens, Ga. The restaurant's catering business has become such a massive undertaking that it's common to see workers from the corporate office in Tuscaloosa on a game day Saturday.
Melissa Bonner, general manager at the original location on Jug Factory Road, says that game days are hectic, but the uptick in business is something that the employees have come to expect. "On game day we have a tent set up outside … we have to-go's, we have a live band. The line outside is ridiculous. It's to the road," she said.
* * * * * *
Yet another business that has benefited from Crimson Tide football and the game day atmosphere it provides is The Locker Room, a men's haberdashery located on University Boulevard. Owned by Alex Gatewood, the business swung open its doors in 1964, the same year a quarterback named Joe Willie Namath ushered the Tide to its 2nd national championship in the Bryant years.
Gatewood, who grew up on a farm in Sunflower County in the Mississippi Delta, came to Alabama when he went to work for Pizitz department store in the early 1960s. The original location of Gatewood's store was in a 750-foot building on what is now known as The Strip. As business grew, The Locker Room moved to a nearby house where Gatewood put down anchor for the next 50 years. The store was identifiable for both its conspicuous location — smack dab in the middle of college bedlam — and its distinctive red paint on the outside of the building. And as bars and businesses came and went, The Locker Room was one of the Strip's mainstays, Gatewood's conservative flair satisfying students and businessmen alike.
Gatewood says that although Bear Bryant did not shop with him, his wife, Mary Harmon, would stop by from time to time. He does, however, recall the time Bryant's secretary called with a request from the famous coach. "She said, 'Coach Bryant wants to outfit the seniors from head to toe, and by the way, don't send that bill to the University. Coach Bryant's going to pay for that himself,'" Gatewood remembers. "He sent them down and I sold them everything from suits to shoes."
The glory days of the store, Gatewood admits, were in the decade of the 1980s, when a renaissance in men's fashion made The Locker Room a hot ticket in town. Though the football team took a dip after Bryant's death, there was an unmistakable pulse to campus like never before.
But perhaps the most significant development in Gatewood's business involves the somewhat boring and tedious effort of federal trademarking. Several years ago, Gatewood had the idea to have an elephant logo embroidered on shirts. After hiring a graphic designer out of Chicago to develop a design (including the elephant's distinctive green eye) Gatewood felt compelled to protect himself and his new line, which he dubbed Elephantwear. "I got a trademark lawyer and we got the trademark," he said. "You are not supposed to replicate it."
How big has this been for his business? Large. Online sales have been unbelievable, and during Christmas time, it isn't uncommon for the store to fan out 50 or 60 packages to all parts of the country. Gatewood says he's shipped shirts to as far away as Jerusalem. "It was $143 for the shipping," he laughs.
The longtime proprietor says he tries to keep up with current trends by hiring young kids who can inform him on what styles are popular, and what not. The trend is away from Gatewood's preferred fabric — cotton — and to the performance golf shirts that are lighter and looser.
"It's a polyester world," he shrugs.
Although he is a Mississippi State graduate, Gatewood says that he knows where his bread is buttered — and that's with a knife that spreads a shade of crimson, not maroon.
In sum, these are the stories of the business owners who have been impacted largely by Alabama football. They will all tell you that it certainly didn't hurt to have that foundation, but success took a degree of faith, determination, savvy, and good ol' fashioned bravado as well.
Yes, they have all benefited from the Crimson Tide, but there's a flipside to that coin. Without these entities, Alabama football — and the game day experience — would not be the same. These businesses and the people who run them provide a richness that is unique to Tuscaloosa.
So when you travel there on game day, make sure you say hello to Gary, Mike, Melissa, and Alex. They are the type of people who bring life and abundance to this football town.
Blanton's Best of Tuscaloosa
Tailgating: Though there's plenty of good food and folks peppered around the stadium, the biggest and most popular tailgating spot is the Quad. For tailgating set-up, contact The Tailgate Guys at (205) 752-8199.
Full season on-campus RV parking passes can be obtained by calling UA Gameday at (205) 262.2811. Cost is $850 for the season.
Northington Lot is an off-campus RV lot located behind University Mall on McFarland Blvd. Passes for this lot for the season are $325. Several other off-campus lots are available for RV parking in the Tuscaloosa area.
A good game day resource that provides information on parking, traffic, and tailgating is available at uagameday.com.
Campus landmarks: Denny Chimes is an 115-foot bell tower located on the Quad and named after former Alabama president George H. Denny. Beneath the tower is the Walk of Fame, where the hands and feet of football captains are imprinted in cement each year.
The President's Mansion is a Greek Revival mansion built in 1841, the President's Mansion is located directly across from Denny Chimes on University Boulevard.
The Gorgas House, the oldest structure on campus, this former dining hall and hotel has been converted into a museum. For a tour, visit here.
The Paul W. Bryant Museum is the spot if you are interested in the history of Alabama football. Artifacts of Crimson Tide football are displayed in an impressive collection. The Museum is located at 300 Paul Bryant Drive. For more information, call (205) 348-4668 or visit here.
Fine dining:
Chuck's Fish, Seafood, Sushi, Bar & Grill. 508 Greensboro Avenue. (205) 248-9370.
River, Urban dining with a Southern flair. 1650 Jack Warner Pkwy, Unit 1005. (205) 632-3801
Five, Eclectic spot for dinner and Sunday brunch. 2324 6th Street. (205) 345-6089.
DePalma's, Italian cuisine. 2300 University Blvd. (205) 759-1879.
Casual dining:
Taco Casa, Casual Mexican dining. 6 locations.
Dreamland BBQ (2 locations). 101 Bridge Avenue – Northport; 5535 15th Avenue East – Tuscaloosa. (205) 758-8135.
Rama Jama's, Sports-centric bar and grill. 1000 Paul Bryant Drive. (205) 750-0901.
Waysider, Breakfast restaurant. 1512 Greensboro Avenue. (205) 345-8239
Buffalo Phil's, Wings, Burgers and Sandwiches. 1149 University Boulevard. (205) 758-3318
City Café, Meat-and-three. 408 Main Avenue – Northport. (205) 758-9171.
Archibald's, Barbeque. 1211 Martin Luther King Jr Blvd – Northport. (205) 345-6861
Check out:
Midtown Village: Plenty of places to shop and eat, including "big box" stores.
Downtown Northport: Great for strolling and shopping, quaint downtown Northport is tucked neatly beside the Black Warrior River, just minutes from Bryant-Denny.
The Riverwalk: Peaceful trail that runs along the Black Warrior River — great for walking, jogging or a romantic stroll. Saturdays are better when you incorporate the Tuscaloosa River Market into your schedule. Shop for fruits, veggies, homemade items, and much, much more.