ALABAMA
The Ultimate Orange Bowl Preview: Oklahoma will score on Alabama, but can the Sooners score enough?
Historically speaking, high-stakes bowl games pitting the Heisman Trophy winner against the runner-up have been a mixed bag. The last time it happened, in 2005, the result was an instant classic between Texas (Vince Young, runner-up) and USC (Reggie Bush, winner) that regularly tops the list of the greatest games in the BCS/Playoff era. But that came just one year after USC (Matt Leinart, winner) annihilated Oklahoma (Adrian Peterson, runner-up) in a brutal, start-to-finish rout, and just three after USC (Carson Palmer, winner) crushed Iowa (Brad Banks, runner-up) in the unofficial launch party for the impending Trojan dynasty. Just two years before that, Oklahoma (Josh Heupel, runner-up) trudged past Florida State (Chris Weinke, winner) in an unwatchable, 13-2 slugfest in which both quarterbacks were swallowed whole by superior defenses. The only thing those games had in common were the stakes.
Saturday night's Orange Bowl semifinal date between Oklahoma (Kyler Murray, winner) and Alabama (Tua Tagovailoa, runner-up) is certainly not going to be low-scoring, and if it's not a down-to-the-wire thriller in the vein of USC-Texas — or of, say, last year's instant-classic semifinal date between a high-octane Oklahoma offense and a more balanced SEC champ in the Rose Bowl – it won't be because either headliner finds himself in over his head on a big stage.
The Heisman vote mirrored their respective seasons as a whole: The Sooners and Crimson Tide also rank 1-2 nationally in scoring offense, yards per play, and pass efficiency, with Murray barely edging Tagovailoa in their race to post the best single-season passer rating on record. In that sense, their landing on opposite sides in a playoff game feels as inevitable as any head-to-head, winner-take-all dual since Bush-Young, and rivals it as a collision of two of the most productive and dynamic offenses in modern college history.
The defenses, of course, are another story: Alabama has one, Oklahoma decidedly does not.
But this edition of the Bama D (while very good) isn't the impenetrable, soul-crushing unit that Nick Saban has fielded in the past, and it hasn't faced an attack with the consistency, versatility, and across-the-board firepower of Oklahoma's. It hasn't faced an opposing play-caller with Lincoln Riley's reputation for innovation, or an opposing quarterback as gifted as Murray, a world-class athlete who combines the short-area elusiveness of Johnny Manziel, the open-field speed of Nick Marshall, and the next-level pocket presence of Deshaun Watson.
How could it have? Only one other offense can plausibly stake its own claim as the best in college football in 2018, and only one other quarterback, and they both reside on Bama's own sideline. The potential for fireworks on Saturday night is historic. If the actual game lives up to it, or even comes close, it will go down among the most entertaining showdowns of its generation.
When Oklahoma has the ball …
In contrast with his high-flying background, Riley's offensive philosophy begins and ends in the trenches, where the Sooners are used to having their way against all comers: Oklahoma led the Big 12 in rushing for the second year in a row, led the nation in Rushing S&P+, and has a chance to end the season with three 1,000-yard rushers despite losing last year's leading rusher, Rodney Anderson, to a season-ending injury in Week 2. (Redshirt freshman Kennedy Brooks has already passed the 1,000-yard mark, as has Murray if you exclude negative yardage on sacks; sophomore Trey Sermon, the nominal starter at tailback in place of Anderson, needs to hit his season average of 71.4 yards on Saturday to join them.) Before the Big 12 Championship, OU came in on a streak of six consecutive games with at least 300 yards rushing (excluding sacks) on at least 7 yards per carry.
That's a testament above all to the nation's best offensive line, especially senior mainstays Ben Powers, Dru Samia and Cody Ford, each of whom came in for a first-team all-conference nod from Big 12 coaches; Powers, a JUCO product who has logged 35 career starts at guard, was Oklahoma's only consensus All-American. At times the running lanes for the Sooners' backs have been almost comical, and not only against the Texas Techs and Oklahoma States of the world — essentially the same front paved the way for 242 yards rushing on 5.4 per carry in last year's shootout loss to Georgia, the best performance against UGA's defense all season.
1/1/18 (Rose Bowl): Oklahoma RB Trey Sermon runs for 31-yard gain vs. Georgia. pic.twitter.com/ZW4DysKmng

— College Football Clips (@CFB_Clips) January 5, 2018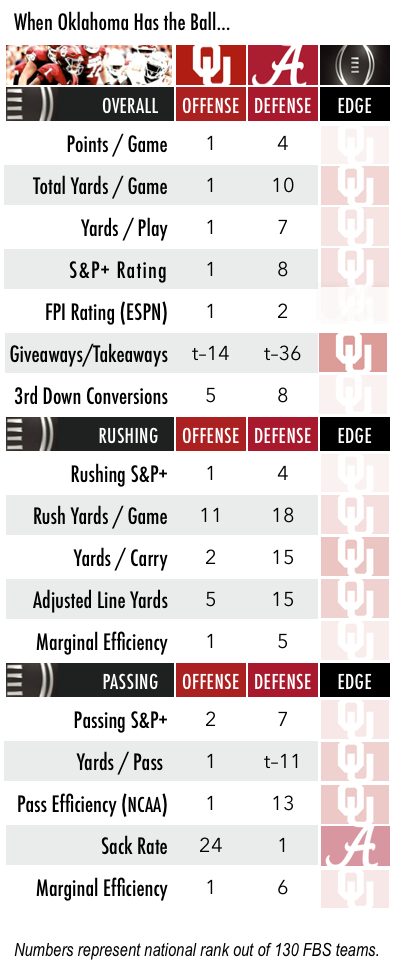 The big question, as always, is how much of that success is translatable against Alabama's dancing-bear defensive line. On paper, the Tide are as vulnerable against the run as they've been in a decade, yielding more yards per game (117.0) and per carry (3.4) than in any season since Saban's first season in Tuscaloosa in 2007. But those numbers are somewhat distorted by uncharacteristically mediocre outings against the likes of Arkansas State, UL-Lafayette, Arkansas, and The Citadel, i.e. garbage yards in games that were effectively over by halftime at the latest.
The reality is that, man-for-man, the starting trio of Isaiah Buggs, Raekwon Davis, and Quinnen Williams is as sturdy and disruptive between the tackles as any Saban-era front to date, with Williams on track to become (incredibly) the first Bama d-lineman since Marcell Dareus in 2011 to go in the top 10 of the draft. The Sooners will attack with a steady diet of counters, screens, and RPOs with multiple reads built in in an effort to catch the Tide out of position. Even for a line as decorated as Oklahoma's, attempting to load up and run straight ahead against this group, LSU-style, is a no-go.
There's a straight line between OU's ability to establish the run and its ability to consistently move the chains through the air. For all of their downfield prowess (see below), the Sooners' every-down passing schemes are heavily indebted to their favorite run concepts and frequently take advantage of seemingly run-oriented personnel like fullback Carson Meier, a lead-blocking type who emerged over the second half of the season as a reliable intermediate threat off play-action.
Riley is a master at exploiting his backs and tight ends in the passing game — Meier and TE Grant Calcaterra averaged 15.9 yards per catch with 10 touchdowns between them, which was actually a step back from last year's combination of Mark Andrews and Dmitri Flowers — a tendency that will take on even more urgency against an Alabama pass rush that boasts the nation's best sack rate. Oklahoma is outstanding in protection, and Murray is as slippery as they come under pressure. But the more opportunities that Buggs (9.5 sacks), Williams (8 sacks) and outside 'backers Christian Miller and Anfernee Jennings (12 sacks between them) have to pin their ears back on obvious passing downs, the fewer opportunities for Murray and his big-play threats on the outside to strike it big.
Key matchup
Oklahoma WRs Marquise Brown and CeeDee Lamb vs. Alabama CBs Patrick Surtain II and Saivion Smith
Brown and Lamb are arguably the most lethal downfield combo in the country, speedsters who hauled in a combined 20 touchdowns with 32 receptions that gained 25 yards or more; on the latter front, no other FBS duo even came close. Brown, who's already eclipsed 1,000 yards for the second year in a row, is on the short list of the fastest players in college football, as Georgia learned last year the hard way.
Unfortunately for the Sooners, Brown is also dealing with a lingering ankle/foot injury that could put his status for Saturday night in doubt. At full speed, his presence alone is a game-changer: Alabama will have to account for Brown on every play, and possibly devote safety help to his side of the field — especially if he lines up opposite Smith, who was briefly benched in September after giving up a long touchdown on the first snap of the game at Ole Miss …
DK Metcalf beasting already. #Devy He didn't get many catches deep & outside the hashes last season. pic.twitter.com/QwwlerFKN8

— Greg Brandt (@devywarehouse) September 15, 2018
… and remains the more likely of the two corners to be picked on, as he was in the SEC title game:
Jake Fromm for Heisman. The #UGA QB is dropping dimes from heaven. pic.twitter.com/pioixv3UyL

— UGA Football Live (@UGAfootballLive) December 1, 2018
Whatever Bama gives up in terms of speed, though (which, let's be clear, is not much) it more than makes up for in terms of size: Surtain (6-2, 200 pounds) and Smith (6-1, 200) both have a significant edge in length on the diminutive Brown (who's listed, generously, at 5-10, 168) and boast sturdier frames than Lamb (6-2, 189).
Their ability to disrupt routes at the line of scrimmage and outmuscle the Sooners on contested throws will be one of the decisive factors in how consistently Oklahoma is able to move the ball.
When Alabama has the ball …
Usually, this would be the point where I endeavor to convince you that Oklahoma's defense is not really as bad as its reputation — that it stiffens in the red zone, bends but doesn't break, forces takeaways at an unusual rate, fares better in advanced metrics than the raw numbers suggest, etc. That's not happening this time, though, because none of those things are even remotely true. The Sooners are as bad as advertised, by any standard, pretty much across the board.
For a Playoff team, in fact, they're arguably worse than advertised.
OU ended the regular season ranked among the bottom 40 nationally in scoring defense (96th), yards per play allowed (102nd), pass efficiency defense (106th), total defense (108th), third-down defense (116th), takeaways (119th), first downs allowed (121st), and passing defense (129th, tied for dead last). In the advanced metrics the Sooners are 89th overall in Defensive S&P+ and 92nd according to ESPN's Football Power Index.
Relative to the rest of Alabama's schedule, those numbers fall squarely in the "September cupcake" range: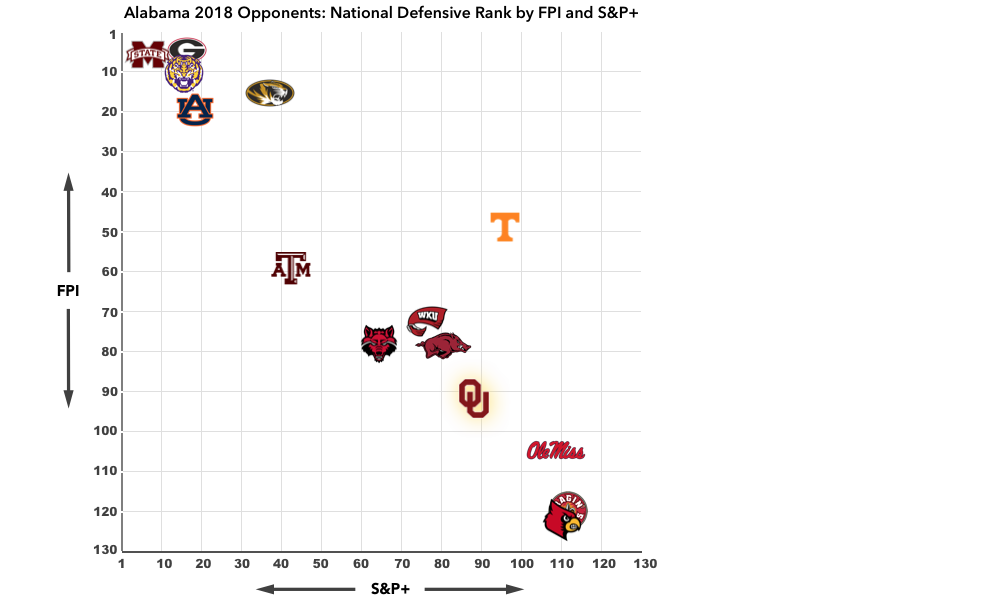 Be wary, too, of any suggestions that the defense found its groove late in the season. Quite the opposite: In October, Riley fired embattled defensive coordinator Mike Stoops in the wake of a 48-45 loss to Texas, which led to some immediate changes in the depth chart under the new coordinator, Ruffin McNeill, but made no difference whatsoever on the scoreboard.
In November, the Sooners allowed at least 40 points in four consecutive games, an unprecedented run that included a 48-47 shootout at Oklahoma State decided on a failed 2-point conversion by the Cowboys; a 55-40 win over Kansas in which the perennially last-place Jayhawks churned out 348 yards rushing; and a 59-56 scorcher at West Virginia that saw the Mountaineers ring up 704 yards of total offense on a Friday night.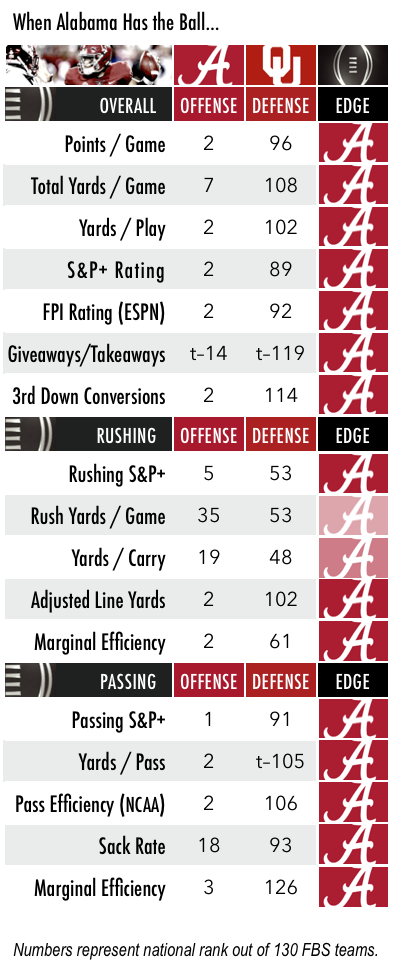 The most encouraging thing you can say about this group is that their potential is much higher than their output to date and we haven't necessarily seen them at their best. It should go without saying that any team that recruits on Oklahoma's level can hold its own in terms of raw talent; five full-time starters on defense (DT Neville Gallimore, DE Ronnie Perkins, LB Caleb Kelly, DB Brendan Radley-Hiles, and DB Robert Barnes) were blue-chip recruits rated among the top 100 overall prospects in their respective recruiting classes. It's also true that the defense is coming off one of its best efforts of the season in the Big 12 Championship Game, the turning point of which came when blitzing DB Tre Brown blindsided Texas quarterback Sam Ehlinger for a safety midway through the fourth quarter. And even at its worst, McNeill's unit managed to score two touchdowns against West Virginia on fumbles created by the pass rush. Obviously, with Oklahoma's offense, the bar for "good enough to win" isn't very high, and the defense has made enough plays to consistently clear it.
At the end of the day, though, it's impossible to deny that this is (statistically, at least) the worst defense to take the field with a national championship at stake in recent memory, one that's almost totally devoid of star power and boasts no obvious strengths in any category.
And of any opposing offense the Sooners could have drawn at this stage of the season, Alabama's is arguably the worst possible scenario: In one corner, an explosive downfield passing attack that's connected on more plays of 20 yards or more than any other FBS offense; in the other, a highly flammable secondary that's allowed more 20-yard completions than all but three others nationally. The Crimson Tide's top five receivers — Jerry Jeudy, Jaylen Waddle, DeVonta Smith, Henry Ruggs III, and TE Irv Smith Jr. — all average upwards of 17 yards per catch with at least 5 touchdowns apiece. Regardless of how Oklahoma plans to align against them, every individual matchup is a big play waiting to happen on any given snap.
The x-factor on Alabama's end is Tagovailoa's health. He was clearly limited by his ailing knee over the final month of the regular season, and although his recovery from the ankle injury that knocked him out of the SEC Championship Game is reportedly ahead of schedule the residual effects could still affect his ability to drive the ball deep with the kind of accuracy he's accustomed to.
If Tua is less than 100 percent, Bama might have to lean more heavily on the ground game, where its on-paper advantage is clear enough but less overwhelming; Oklahoma has been thoroughly mediocre against the run, to be sure, but not nearly as vulnerable as when the ball is in the air.
It's anyone's guess how badly Tagovailoa would have to sputter before Saban opted for Jalen Hurts off the bench, but after watching the spark Hurts gave the offense in the Tide's come-from-behind win over Georgia a cameo or even an outright switch isn't out of the question. Under certain circumstances (i.e. if Tua's ankle isn't right, or the passing game looks out of sync for some other reason), Hurts' capacity to serve as a de facto tailback can serve the offense just as well or better in run-first situations.
With a rested, reasonably healthy Tua, on the other hand? Bombs away. If the Tide aren't going long early and often against this group, it will be an act of mercy.
Key matchup
Alabama OT Jedrick Wills Jr. vs. Oklahoma DE Ronnie Perkins
A major factor in Oklahoma's struggles against the pass is its lack of a reliable pass rush from the front seven: The Sooners rank 99th in sack rate, rarely generate pressure without blitzing, and frequently hang the secondary out to dry:
Collin Johnson is going off today for the Horns 🤘
(via @CBSSports )pic.twitter.com/PJUENgZEfO

— Sports Illustrated (@SInow) December 1, 2018
Their most disruptive presence off the edge is Perkins, a true freshman who took over as the starter at "Jack" linebacker at midseason and finished with a team-high 5 sacks. Two of those takedowns came in the past two games, in addition to a key QB hurry against West Virginia that set in motion the second of OU's two defensive touchdowns on the night:
🚨🚨🚨TOUCHDOWN🚨🚨🚨

Ronnie Perkins with the pressure.

Kenneth Mann with the strip.

Curtis Bolton with the scoop and score.#BoomerSooner pic.twitter.com/g1SLfI6d6K

— Sooner Gridiron (@soonergridiron) November 24, 2018
One of the shocks of Alabama's near-miss in the SEC Championship Game was the consistent pressure Tagovailoa faced from a previously pedestrian Georgia pass rush; on top of a pair of sacks, Tua absorbed at least half a dozen other hits and looked as uncomfortable in the pocket as he has at any point all season.
Wills, a true sophomore, has started all 13 games at right tackle opposite All-American anchor Jonah Williams on the left and looks like a future All-American himself; in no way does he qualify as a weak link. But Oklahoma has one shot at forcing enough stops to give its offense a chance, and if it doesn't happen by virtue of Perkins and/or some combination of linebackers Curtis Bolton, Kenneth Murray, and Caleb Kelly getting their hands and helmets on Tagovailoa then it's not going to happen at all.
Special teams, injuries and other vagaries …
Bama fans are justifiably skittish over true-freshman kicker Joseph Bulovas, whose erratic track record on extra points — he clanged 4 PATs in November alone — has overshadowed his steady improvement on field goals over the second half of the season. After a shaky start, Bulovas has connected on 8 of his past 9 field-goal attempts since the start of October, the only miss in that span coming from 52 yards out. There's no question about his leg strength, but at this early stage of his career Bulovas remains a threat to hit or miss from just about anywhere on the field and a major source of stress in case of a close game.
On the opposite end of the spectrum, there's Oklahoma's Austin Seibert, a four-year starter who handles place-kicking, punting, and kickoff duties for the Sooners and has accounted for more career points than any other player in Big 12 history.
Last year, Seibert played a key role in OU's Rose Bowl loss to Georgia when he had a crucial field goal blocked in overtime, setting up Sony Michel's game-winning TD run. This year, he's connected on 15-of-17 attempts and hasn't missed since September. Only one of those attempts came from beyond 40 yards (which probably says more about Oklahoma's relentless efficiency between the 20s than it does about Seibert's range), but from shorter distances he's been virtually automatic.
The return game looks like a non-factor: Punts will be few and far between, and Seibert buries more than 80 percent of his kickoffs for touchbacks. If they get an opening, Alabama's Josh Jacobs (kickoffs) and Jaylen Waddle (punts) are perennial threats to take it the distance. On the other hand, while Oklahoma doesn't have a touchdown in the return game it has scored twice off blocked punts.
Tagovailoa notwithstanding, the biggest question mark injury-wise is Marquise Brown, whose wonky left ankle arguably means as much for the Sooners' capacity to stretch the field as Tua's ankle does for the Crimson Tide.
Brown is one of the nation's preeminent deep threats, to say the least, and won't be as easily replaced if he's limited as Anderson was in the backfield; Oklahoma has leaned as heavily on Brown the past two years as any other skill player, all the more so in its biggest games. Murray is OU's only truly irreplaceable player, but Brown ranks right behind him. If he's less than full speed on Saturday it will be a major blow.
Bottom line
Alabama is a two-touchdown favorite, a huge spread for a Playoff game but frankly an accurate reflection of the gap between these two defenses. The Tide might not lay waste to Oklahoma's offense in vintage Bama fashion, but they're still bringing a top-10 defense to the party that should generate at least a handful of stops. On the other side, the Sooners' D looks so overmatched it's not inconceivable that Alabama will score every time it touches the ball.
Barring a miraculous turn of events for the defense, the only way the story ends happily for Oklahoma is by virtue of a career day from Murray, who might be playing in the last football game of his life before embarking on a career in pro baseball. The Heisman is his no matter what; the legacy is still very much open for debate. Even among Heisman voters who cast their ballots with Murray — a no-brainer, based strictly on the numbers — there has to be a deep-down suspicion that in the long run Tagovailoa's star will be the one that shines the brightest, beginning on Saturday night.
Murray has one chance to make his case for posterity. Pull it off, and his place in the college football firmament will be guaranteed.
6 predictions …
1. Oklahoma tops 150 yards rushing, but the majority of that output comes courtesy of Murray scrambling from the pocket as the Sooners struggle to establish the run with any kind of consistency.
2. Damien Harris and Najee Harris both eclipse 100 yards on the ground as Alabama goes for 250 rushing and passing for the fourth time this season.
3. Murray accounts for more than 400 yards of total offense and multiple touchdowns but also commits multiple turnovers.
4. OU finishes at least 2 full yards below its season average of 8.8 yards per play, costing the Sooners the FBS single-season record.
5. Tagovailoa throws touchdown passes to at least three receivers.
6. Alabama wins, 48-33.