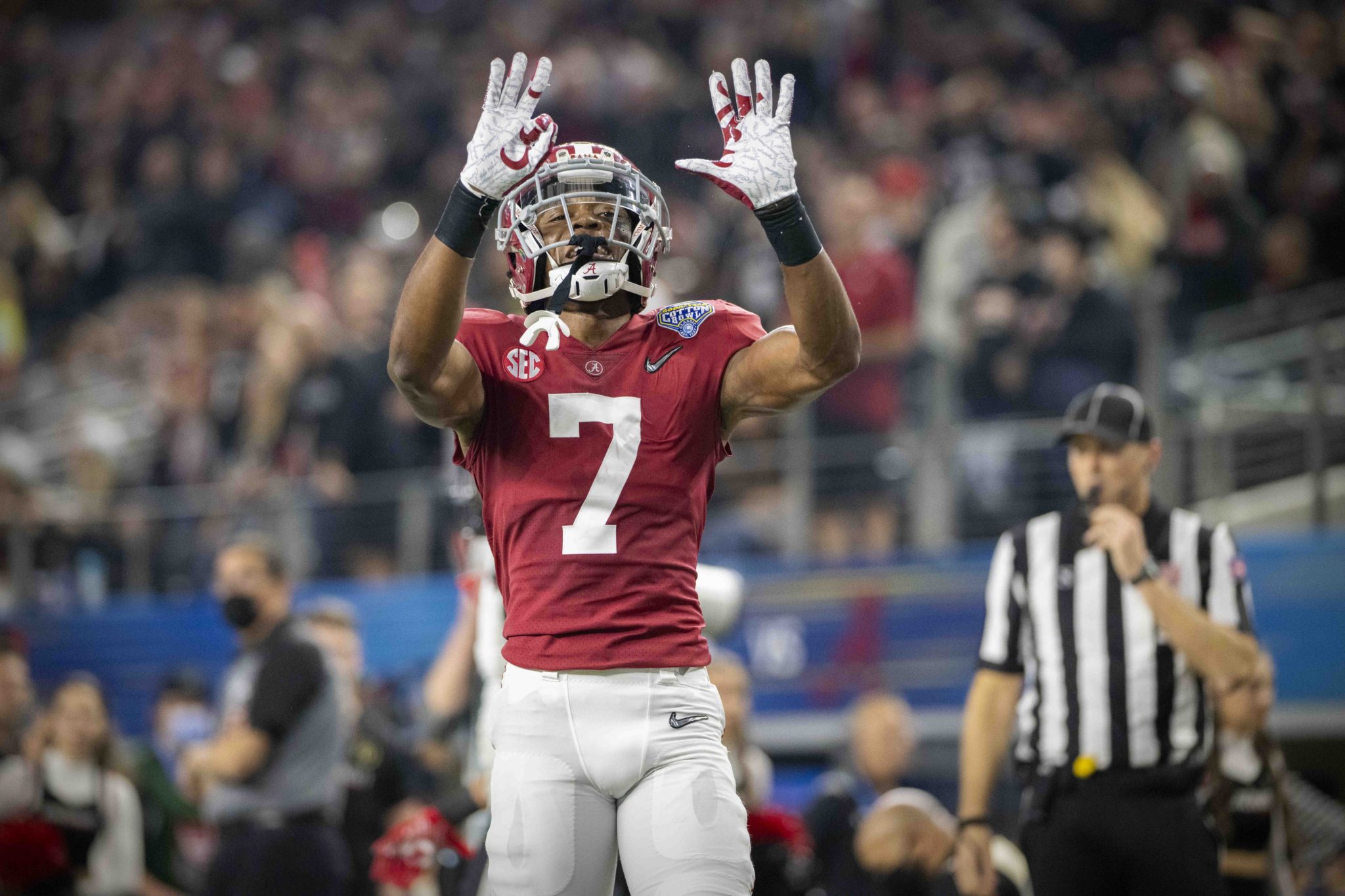 ALABAMA
Why Ja'Corey Brooks is suddenly Alabama's ultimate X-factor
Ja'Corey Brooks didn't have to put his hand up, but he did so anyway. By that point, Bryce Young already saw him. The Alabama quarterback knew that he had the true freshman receiver lined up in the slot facing press coverage. Cincinnati slot corner Arquon Bush did his best to force Brooks to the left sideline. What Bush failed to realize in that moment was that Brooks was going over the top as Young's first read.
And just like that, Alabama doubled its lead in a win-or-go-home semifinal matchup.
Never mind the fact that until the Iron Bowl, Brooks had yet to play 15 snaps in a game against FBS competition. Young trusted him. Against Cincinnati, Young trusted Brooks just like he did in the final minute of the Iron Bowl. On that day, Jameson Williams was sidelined in the second half because of a targeting ejection, which meant Young had to turn to a receiver who entered the game with just 2 career catches.
In the Cotton Bowl, All-SEC receiver John Metchie was sidelined because of a season-ending knee injury that he suffered in the SEC Championship. Enter Brooks, stage left. Fitting, it was, that the ESPN cameras immediately panned to Metchie after Brooks' score:
This was a DAGGER of a touchdown pass from Bryce Young to Ja'Corey Brooks. #CFBPlayoff #CottonBowl

— Lukas Weese (@Weesesports) December 31, 2021
Alabama needed a game-changer to emerge in both of those spots to shake slow offensive starts. Brooks, so far at least, checked that all-important box.
Go back to that specific play against Cincinnati, which was 1 of 4 catches that Brooks had on the day. It wasn't just that Brooks was facing press coverage on a deep route. It was that he, not being Williams, didn't have to deal with Coby Bryant (the Jim Thorpe Award winner, not the late hoops legend) or Ahmad "Sauce" Gardner (the dude with cover skills even better than his nickname). Those are the types of plays you cannot miss.
In an extremely limited sample size, Brooks is developing a habit of delivering in those spots. Getting a step of separation and a chance for a game-tying touchdown down 10-3 in the final minute of the Iron Bowl with Playoff hopes on the line would certainly qualify as "a play you cannot miss."
Ja'Corey Brooks becomes an #Alabama legend after heroic Iron Bowl

"In a game as big as this, in a moment as big as this, to run that route and make that catch, that says a lot about him, his preparation, his hard work and the kind of player he is."pic.twitter.com/CPf8cTIh2J

— Tony Tsoukalas (@Tony_Tsoukalas) November 28, 2021
You might look at that quote, which came from Young, and think blah, blah, blah. That's your typical quote about a lightly used player shining in a big moment.
That would be a mistake. We're talking about a former 5-star recruit who appears to be emerging into a star.
Pre-Iron Bowl, Brooks was indeed lightly used. He played in just 88 offensive snaps before the regular-season finale. In his past 3 games, he totaled 166 offensive snaps. Seven of his 9 career catches came in the last 3 games. In 4 of those 6 halves, Alabama was without either Williams or Metchie. That's exactly when Brooks delivered his 2 biggest plays to date.
Brooks waited his turn behind a couple of great wideouts, which has been par for the course in Tuscaloosa dating back to the last time Alabama faced Georgia in a national championship. How did that game end 4 years ago? With a certain true freshman receiver beating Cover-2 for one of the most memorable plays in college football history.
Does that mean Brooks is on his way to becoming the next DeVonta Smith? No, at least not the fully grown version of Smith. But perhaps there are similarities with 2017 Smith and 2021 Brooks. Those comps are already out there in full force. They should be, especially for someone who entered college as Alabama's highest-rated receiver signee since fellow South Florida native Jerry Jeudy in 2017.
Just like Williams in a Metchie-less Alabama offense is the clear go-to target in the 2021 offense, the same was true of Calvin Ridley in the 2017 Alabama offense. Ridley was the only player who averaged more than 2 catches per game. Jeudy, Henry Ruggs and Smith were all still finding their way as true freshmen during the regular season. "Second and 26" launched Smith into superstardom for the rest of his historic career.
We don't know what awaits Brooks in the national championship or beyond that, but it's hard not to be optimistic about his future. JoJo Earle, Agiye Hall and Brooks are the true freshmen wideouts who are still finding their way. Bill O'Brien praised their improvement ahead of the Cotton Bowl.
But it's clear that Brooks is standing out from the pack. That's why he played 60 offensive snaps against Cincinnati while Hall and Earle played a combined 23 snaps. It's the boring Alabama thing to simply say "he earned those snaps by working hard and refining his craft," but it's true.
Go back to Brooks' 247sports recruit evaluation from Andrew Ivins:
" … Drew rave reviews from the strength staff at IMG Academy, who viewed the Miami native as a hard worker. Posted a disappointing time in the 40-yard dash the spring before junior season, but owns some impressive times on the track. Also has shown that he can pull away from defenses in pads. Already has what he needs in his tool box to emerge as a WR1-type for a Power 5 program. Will, however, need to keep perfecting his craft as he's far from a polished product … "
Nine college catches doesn't make you a finished product. Brooks has plenty of "perfecting his craft" ahead of him to be included with the same greats who starred at Alabama before him.
Starting in place of Metchie at the "X" receiver position, Brooks is far from a high-volume, possession guy yet. But like Metchie, Brooks showed the ability to play both out wide and in the slot. That's required of the great receivers at Alabama. At least it's been required since Lane Kiffin arrived in Tuscaloosa.
In 2021, Metchie spent 30% of his offensive snaps in the slot (PFF). Brooks is only at 17% of his snaps in the slot, but that's exactly where he was lined up before scored that touchdown against Cincinnati. Williams ran the underneath route and Brooks tested the speed of the non-Bryant/Gardner Cincinnati defensive backfield.
Against Georgia, one might assume that Williams is in position to go off again. After all, he torched the Dawgs for 184 yards and 2 scores.
Consider that all the more reason Brooks has to step up. Georgia, coached by former defensive back Kirby Smart, will likely do everything in his power to make sure that Williams doesn't beat his defense a second time. That's a different task without Metchie. In the 6 quarters that Alabama played without him, the passing game hasn't had the same level of efficiency:
Alabama offense
Pre-Metchie injury
Since injury (6 quarters)
Completion percentage
68%
58%
Points per quarter
11.2 (excluding non-off. TDs)
6.2 (excluding non-off. TDs)
And sure, part of that dip is the reality of facing 2 of the best defenses in the country. It'd be weird if there wasn't a drop-off with facing Georgia and Cincinnati. We knew that Alabama wasn't going to want to test those aforementioned Cincinnati corners with such high volume.
But at the same time, it wasn't like Alabama turned into a service academy. Young still attempted 45 passes in those 6 Metchie-less quarters. Five of those were completions to Brooks.
How much more will Young target Brooks against Georgia this time? And is the true freshman due for another huge play on the sport's biggest stage?
We don't know the answer to either of those questions. What we do know is that Brooks picked an ideal time to emerge for the Tide. More reps doesn't always guarantee that. Brooks assumed the position of "legitimate No. 2 option."
Against Cincinnati, he was the team's leading receiver and the only skill-player who had a play go for 30-plus yards. Against Georgia, he's got a chance to be something even more than that.
"Legitimate X-factor for national champion."