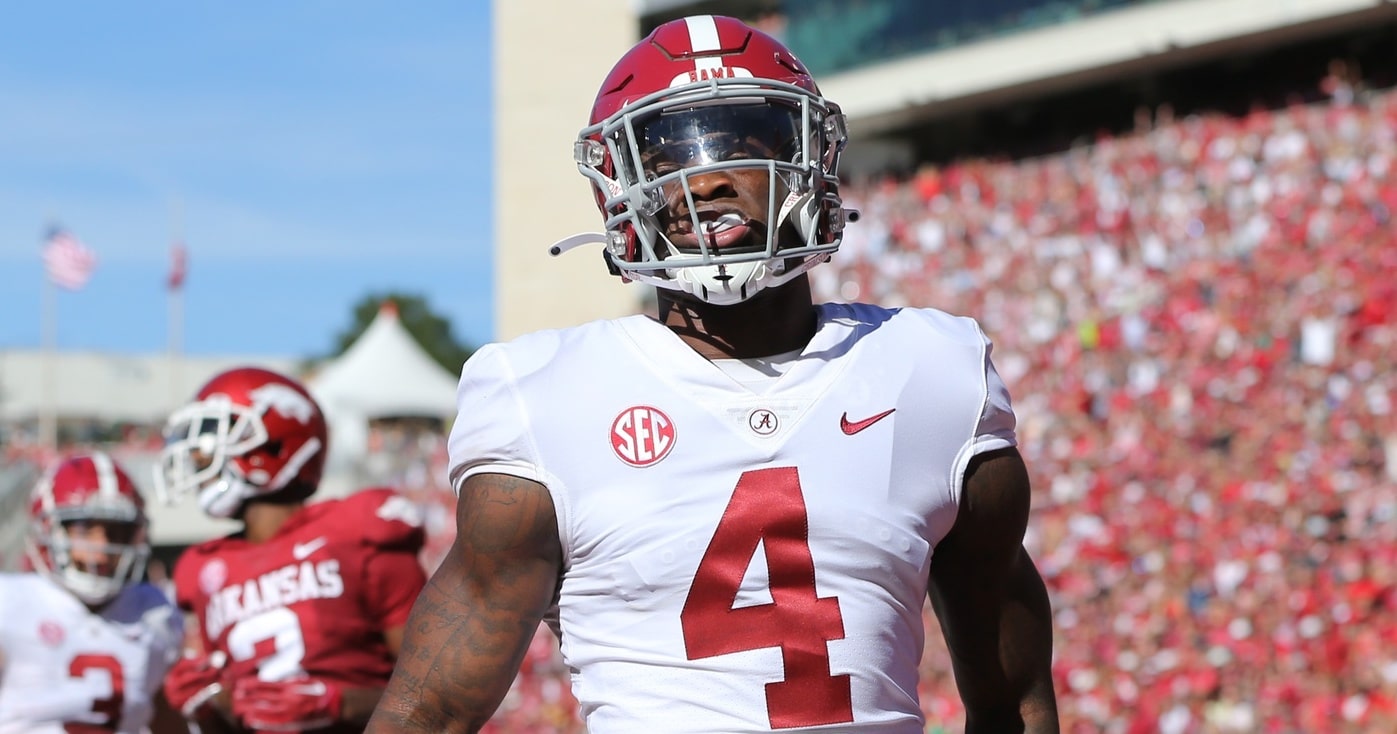 ALABAMA
With Bryce Young injured, a flawed Alabama team grew up in a major way
It was happening.
Arkansas fans could feel it after watching their team score 23 consecutive points thanks in part to Alabama's stalled offensive drives, defensive breakdowns and special teams miscues to nearly blow a 28-point lead.
In many ways, it was typical Alabama in recent memory. You know, in a 1-score game in the 4th quarter against Power 5 competition. The Tide played in a 1-score game in the 4th quarter 6 times in SEC play in 2021. After a nail-biter win against Texas, Alabama's road woes appeared to be continuing. The team who had 4 of its 5 road games decided by 3 points or less since the start of 2021 was in an all-too familiar spot staring at 3rd and 15 deep in its own territory.
Oh, except for one thing. Bryce Young wasn't available to throw his cape on.
Enter Jalen Milroe, stage left.
With the bright lights on the Alabama backup quarterback, he delivered a superstar play to save the day. A scramble included an escape of sure-handed tackler Bumper Pool, a dynamic cutback in space and 77 yards of exhale for Alabama.
Milroe's run set up an Alabama touchdown, and while it won't go down as a game-winner, it felt like it. Disaster was avoided. The "Alabama can't function without Young" storyline had life for a bit. Perhaps that'll have life at a later date. But for now, it was clear that the Tide grew up without Superman. Er, Young.
We'll wait and see the status of Young, who left in the 2nd quarter with a shoulder injury after giving the Tide a 3-touchdown lead. Young was brilliant while he was on the field. An Alabama passing offense who had 1 passing play of 40 yards through 4 games had 3 such plays in the first quarter alone. All signs pointed to Young giving last year's record-setting performance against Arkansas — he had a program best 559 passing yards — a run for its money.
But the durable signal-caller took a rare awkward fall while trying to escape former teammate Drew Sanders.
Here are multiple angles on the play that might've hurt Bryce Young's shoulder. pic.twitter.com/69vSXJf2VI

— Connor O'Gara (@cjogara) October 1, 2022
Young tried to stay in the game, but an incomplete pass told him that he couldn't play through his shoulder injury.
At the time, it made a 21-0 nothing lead for Alabama feel somewhat insignificant. Young hasn't missed a start since taking over as the starter last season. Shoot, Alabama hasn't needed to turn to a backup quarterback to start a game since Tua Tagovailoa's hip injury against MSU forced Mac Jones into action late in the 2019 regular season.
The good news for Young's status was that he was down on the field giving handoffs at halftime. He had his helmet on and spent the second half on the sideline. Take that for what it is.
The bad news was that without Young, Alabama's passing game was non-existent in the second half. Milroe under-threw Jermaine Burton on a play that would've been a walk-in touchdown to give Alabama some much-needed breathing room. Milroe struggled to get on the same page as the Tide receivers in the second half.
The good news was that in addition to Milroe's 77-yard run, Jahmyr Gibbs busted 2 long touchdowns to put the game on ice.
This was an Alabama team who was without its starting center and had just 3.6 yards per carry in the first half. A pretty lackluster Tide ground game — at least against quality competition in 2022 — found its mojo in a big way. Gibbs had running lanes and he capitalized.
Jahmyr Gibbs goes off again and then hits them with the "Night, Night." pic.twitter.com/u3hN9uu6Ze

— CBS Sports (@CBSSports) October 1, 2022
Gibbs got rolling in the 2nd half when it was clear that the Tide didn't have much of a passing game to speak of. If Milroe is going to get significant reps, that has to improve. Of Milroe's 65 passing yards, 22 of them came on a screen play to JoJo Earle, who somehow escaped a handful of Arkansas defenders for 6.
Again, though. The history books won't remember that the Tide turned into a 1-dimensional offense. They'll remember that when Alabama was in jeopardy of giving the ball back and potentially blowing a 28-0 lead, it stood tall thanks to Milroe's poise.
In this Playoff system, it's not that a loss would've been all she wrote on a run to a national championship. But it would've been a catastrophic way to find out Young's value.
You know, just in case that was somehow in question.
Instead, though, Alabama found a way to avoid being the story of the day in college football. A collapse like that would've been unprecedented in the Nick Saban era. This is the team who went 10 seasons (2011-20) without losing to a team outside of the top 15 in the AP Poll. A loss to Arkansas would've marked the second consecutive season of doing just that.
But for the time being, that didn't happen. Time will tell if Saturday was a defining moment for Alabama's season. We'll play the results on that one. We saw the flaws in that 3rd quarter. Young's absence didn't suddenly cause Alabama to have a horrendous snap, and it didn't necessarily lead to some poor tackling on Arkansas ball-carriers. It was that Young's presence was usually what covered up those flaws.
On Saturday, it had to be Milroe. Anything less than Young-like poise and the conversation coming out of Fayetteville would've been a whole lot different.
It was awfully nice of Young to let Milroe borrow his cape for an afternoon.