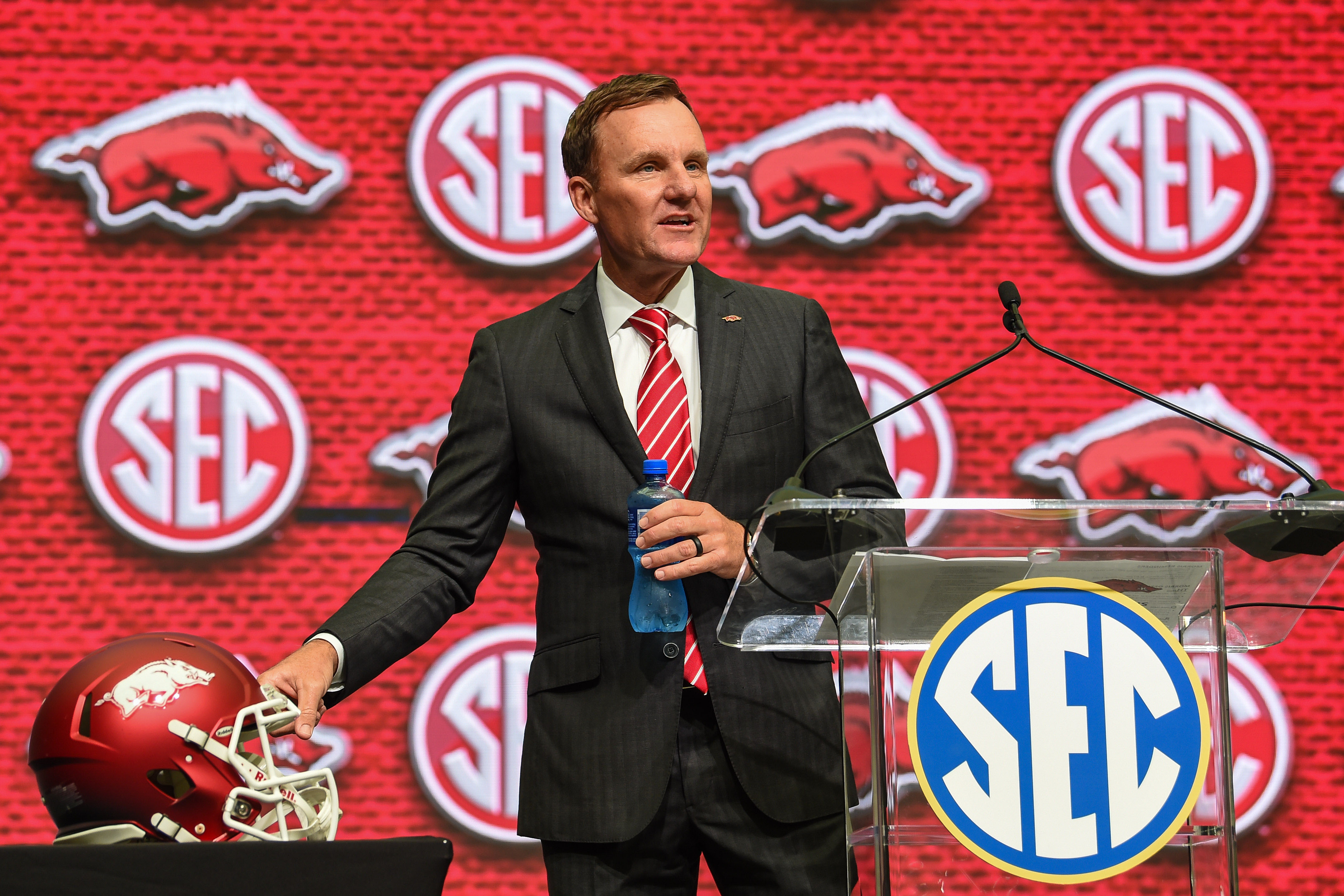 ARKANSAS
Arkansas football: 5 biggest position battles in fall camp ... and who wins them
Arkansas has a lot to shore up coming off a 4-8 season, including roles that haven't been defined. The Hogs return 17 starters, but Chad Morris has mentioned many positions are up for the taking. This includes the quarterback spot after Austin Allen graduated.
Here are the five most important positions Morris needs to decide on before the season begins.
QB: Cole Kelley vs. Ty Storey
For the first time since 2012, an Allen will not take a snap this season. Instead, either Cole Kelley or Ty Storey snag the reins of the offense. It would surprise many if Connor Noland or Daulton Hyatt played significant minutes this season with their lack of experience.
Outside of injury, Arkansas has not had to worry about this position the past few years. With a offense so predicated on the quarterback, Morris needs one of these guys to step up. Neither has yet.
"It's the main one everyone wants to hear about," Chad Morris said in a press conference on Monday. "No update outside of the fact that all of them had a really good summer."
Winner: Cole Kelley
Nickel: D'Vone McClure vs. Derrick Munson/Joseph Foucha
Kevin Richardson had surgery on Monday and is expected to be back by conference play. Richardson is a valuable veteran asset the Arkansas staff was saddened to see suffer another injury. His leadership won't be replaced, but his position needs to be.
D'Vone McClure looks to take over his former Jacksonville High School teammate's role. Derrick Munson will give McClure a run for his money. Joseph Foucha might find himself in this situation when it presents itself. Hayden Henry might grab a snap or two this season too, but he's more suited for the linebacker role.
McClure has the advantage at 23. Age might be the difference in this battle.
Winner: D'Vone McClure
Kevin Richardson has had a tough road. Former walk-on missed 2016 because of injury. He was still voted team captain in 2017. He petitioned the NCAA for a sixth year of eligibility in 2018, then hurts his foot while moving into a new apartment. Morris says surgery today.

— Kyle Deckelbaum (@KATVKyle) July 30, 2018
LT: Dalton Wagner vs. Johnny Gibson/Jalen Merrick
Dalton Wagner has been moved to this from the guard position in accommodate the loss of depth with Colton Jackson going down. He will start there at the beginning of fall camp. Johnny Gibson and Jalen Merrick will also be expected to compete for the position.
Gibson played some left tackle last season. Bret Bielema never saw Merrick reach his potential. Morris needs to coach something out of Merrick if he wants the high-caliber recruit to live up to expectations.
"We really need him," Morris said. "It's time for Jalen to take the next step."
Winner: Dalton Wagner
C: Dylan Hays vs. the field
Dylan Hays is the starting center. Competition can be the greatest motivator and Hays will get plenty during fall camp. Hjalte Froholdt has been cross-training for this position since the spring and Deion Malone moved back to the offensive line.
Ty Clary and Audry Horn are slated to compete for the job too. Not trying to slight Hays as a fellow Little Rock Christian Academy alum, but it's going to be difficult for him. Hays only played 32 snaps on offense in 2017.
He's undersized and has to follow Frank Ragnow, who was one of the best centers in Razorback history. Most of his competitors have seen more game action. Despite these circumstances, he perseveres for now.
Winner: Dylan Hays
SLB: Hayden Henry vs. D'Vone McClure
Henry has not had the same road as his brothers. He did not earn a scholarship until after the 2017 season, unlike Hunter who had a scholarship offer from everywhere before choosing Arkansas. Hudson has earned a number of scholarship offers as of late. Hayden will try and earn his keep this fall by grabbing an open linebacker spot.
He'll have to fend off McClure, who will be vying for time at the nickel spot,, too. Dee Walker and Deon Edwards will also challenge for playing time. Expect Henry to pull the job out.
Winner: Hayden Henry
* Note: The running back and tight end positions are still up in the air, too. Fortunately for Razorbacks fans, Arkansas has a lot of depth in these two positions. Thus, they didn't make the list.