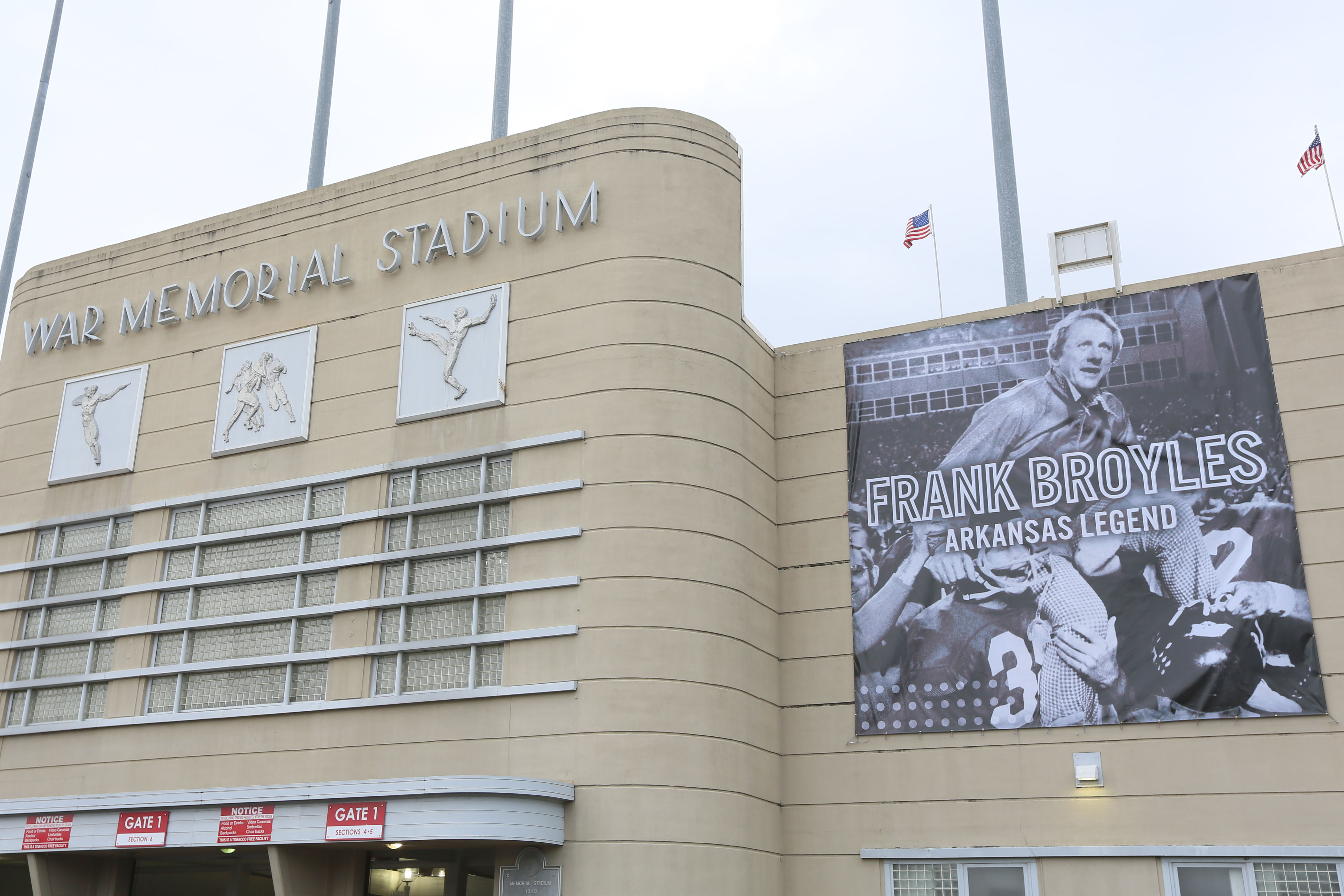 ARKANSAS
5 reasons playing the Arkansas spring game in Little Rock instead of Fayetteville is a really good idea
Football season is getting closer folks, and we get an appetizer on Saturday — the Arkansas Red-White spring game.
In late January, Arkansas athletic director Hunter Yurachek announced that the Razorbacks spring game would be held at War Memorial Stadium in the capital city of Little Rock. This was a major announcement since the game had been played in recent years at home — Donald W. Reynolds Razorback Stadium
According to Ginny Monk of Arkansas Online, the stadium needs about $17 million for renovations. This event will be huge for the future of Razorback games in central Arkansas, since the contract has not been renewed. Saturday's spring game starts at 1 p.m. (local) and will be televised on the SEC Network.
Here are five reasons fans should be excited about the spring game being played in Little Rock.
1. Tailgating is some of the best in the country
Fans outside of Arkansas will read this portion and think "hogwash!" No, it's actually a scientific fact (sarcasm implied.) Tailgating outside of Donald W. Reynolds Razorback Stadium is a tepid atmosphere relative to other SEC schools. In comparison, the pregame doesn't hold a candle Alabama, Ole Miss and LSU.
Tailgating outside of Little Rock games is a completely different story. Just outside of War Memorial Stadium is War Memorial Park Golf Course. Most residents' greatest memories haven't been putting a 40-footer on the green. Instead, their greatest times have come before, during, and after Razorback football games in War Memorial Stadium.
Parents aren't the only ones who get in on the action. You'll see thousands of kids playing football on the multiple grassy areas surrounding the stadium. The greens are taped off, but kids still toss the pigskin on them.
There will also be the Spring Game Fan Fest going on in the mid-morning on the east side of the stadium. The Razorback mascot Tusk will be in attendance and kids will have plenty of inflatables to bounce around on.
University of Arkansas Announces Plans to End War Memorial Tailgating #WPS – http://t.co/oMDxXakufz pic.twitter.com/BkXzQ6Syny

— Rock City Times (@RockCityTimes) October 18, 2014
PS: The school didn't …
2. Current players and possible new teammates like to play here
It's no secret players love playing in front of their hometown fans. Kids from the 501 area code are no exception. This game gives them an opportunity to have multiple friends and family members watch them play rather than just a few.
Current San Diego Charger Hunter Henry is one of the many examples.
"Little Rock is cool, it's a unique atmosphere" #ProHogs TE @Hunter_Henry84 talks about the game day vibe at War Memorial Stadium. Experience it for yourself this Saturday for the @RazorbackFB Spring Game! #WPS pic.twitter.com/sgRJcePTjs

— Arkansas Football Recruiting (@RazorbackFBRec) April 2, 2018
There is a lot of football history in Little Rock whether certain parties want to admit it or not. Both "Miracle on Markham" and "Miracle on Markham II" took on this field (last-second wins against LSU in 2002 and 2008.) The name derives from Markham Street, which is the historic road that runs parallel to the stadium.
Arkansas will host recruits and possible future players who will be watching the game from the stands. These players will get to watch the Razorbacks in their hometown. For many like Henry, that is a special feeling.
3. Gives central Arkansas fans another game in Little Rock
This could be the last hurrah this season with the new contract being up in the air. Last year, fans were furious that the Razorbacks chose to open their season in Little Rock against Florida A&M. To make matters worse, the game was played on a Thursday, which destroyed most of the tailgating opportunities with work in the way.
Though some fans might wish the game was pushed back to 3 p.m. for more pregame time, they'll settle for a 1 p.m. start. At the moment, the projected high is 51 degrees. Safe to say it will be colder in Fayetteville.
4. Makes the crowd look bigger
You might laugh at this initially, but think about it. Arkansas doesn't draw an attendance at its spring game like Ohio State or Alabama. Shifting to a smaller area — around 54,000 seats — might give the impression more people are excited for the football season.
5. It's a change of pace
Chad Morris is entering this job wanting to change up many parts of the program. Why not shift the game to Little Rock? He needs to get rid of the bad juju that the final year of the Bret Bielema era.
Besides hiring a new staff, this is another good chance for Morris to establish his tradition as head coach. He'll also get to meet many Little Rock fans when he and his players sign autographs Friday at the Double-A Arkansas Travelers baseball game before to first pitch.
5️⃣0️⃣1️⃣ HERE WE COME!
Can't wait to PACK War Memorial Stadium full of ? fans this Saturday!!! #WPS #HammerDown pic.twitter.com/9l3sGaElxr

— Chad Morris (@coachchadmorris) April 3, 2018
At the end of the day, it's still just a spring game.