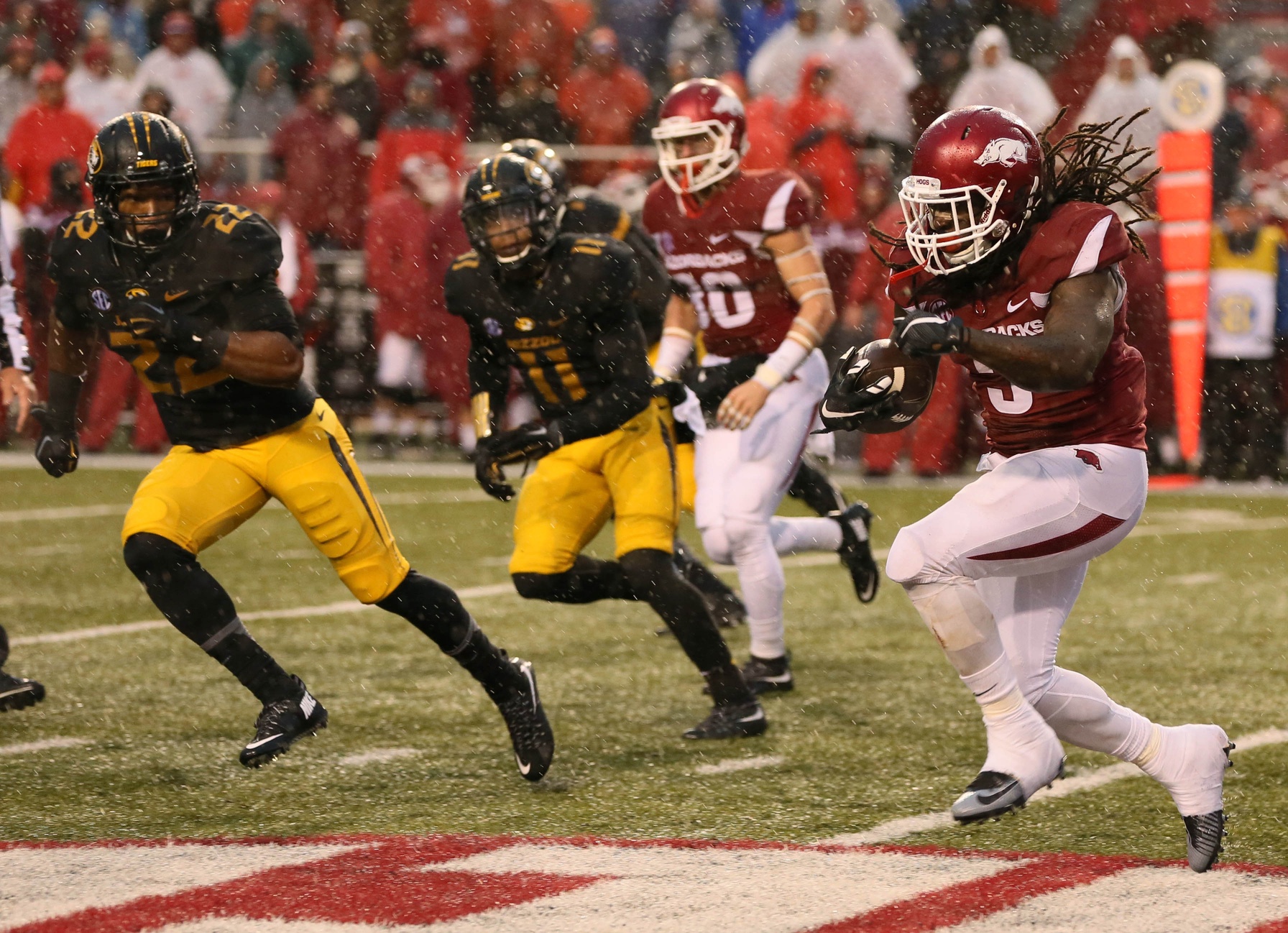 ARKANSAS
Arkansas wins the old fashioned way against Missouri
Arkansas showed its character in being able to rebound from a 2-4 start to finish 7-5.
It showed it again Friday, when it quickly moved past last week's 51-50 loss to dominate Missouri 28-3.
5 TAKEAWAYS
1. TE Hunter Henry makes the Arkansas offense dynamic. Henry caught just two passes against Missouri yet his work as a route-runner and blocking on the offensive line continue to be invaluable. Backup TE Jeremy Sprinkle generated headlines last week with 3 TDs, but it's Henry's work that continues to go under appreciated.
On the team's first scoring drive, Henry set Arkansas up at 4-yard line after a beautiful hitch to keep the Mizzou defense on its toes after posing as a blocker to start the play. The Razorbacks scored on the next play to go up 7-0, a lead they would not surrender.
2. Arkansas O-Line finished the season as well as anybody. Whatever held the line back to begin the season clearly isn't a problem now as the team ran it down one of the SEC's top defense's throats Friday. Whether any of the starting five get drafted remains to be seen, but as a unit, this group is playing better than anybody in college football.
3. Arkansas will have trouble replacing RB Alex Collins next year. Even though backup RB Kody Walker finished the Mizzou game with 77 rushing yards and a TD, you can't replace a guy like Collins overnight. He's the third SEC running with three 1,000-yard seasons to start his collegiate career (Darren McFadden, Herschel Walker) and has been the engine that drives the Razorback offense all season.
Bielema: I think Alex Collins really felt the vibe that this could have been his last game. Lot to talk about in the future.

— Bo Mattingly (@SportsTalkwBo) November 27, 2015
Friday was Collins' third game of at least 130 rushing yards and 2 TDs in his past five as he will continue to climb up draft boards leading up to April's draft.
4. Your QB better be good. Arkansas' bowl opponent better have a strong QB because you've got to have a dynamic game from the QB to beat Arkansas' defense. Kyler Murray threw from 358 yards and two TDs, and Mississippi State QB Dak Prescott had a career game to beat the Razorbacks.
With the fire-power they have on offense, and the improvements they've made at stopping the run on defense, Arkansas will be tough to beat if the opponent doesn't have a capable QB.
5. Allen's stock rising. Allen's slow start contributed to Arkansas' 2-4 record, but dominant performance after dominant performance kept both bowl eligibility and draft hopes alive. Even in a game where he only threw 17 passes, Allen looked poised in managing the game in unfriendly throwing conditions.
REPORT CARD
Offense: A. The performance wasn't as flashy as we're used to seeing, but with the offense had the ball for 40 minutes and controlled the game from the opening kickoff.
Defense: A. Missouri finished with just 171 total yards and three points. Not exactly the SEC's most potent offense, but a strong performance to end the season nonetheless.
Special teams: B. Special teams played a very minor role other than a few nice hits in the punt coverage. The Razorbacks pinned the Tigers in their own territory throughout, leading to many three and outs and just three offensive points.
Coaching: A. Coach Bret Bielema and OC Dan Enos came into Friday with the game plan to run the football and executed to perfection. The two stuck with the run against a tough Missouri defense and it allowed the Razorbacks to control the ball from start to finish. Pass plays: 17. Run plays: 52.
GAME BALLS
RB Alex Collins: An emotional Collins likely played his final game at Donald W. Reynolds Stadium. He finished with 130 yards and 3 TDs, his fifth 100-yard performance in six games. Collins ends 2015 with 17 rushing TDs (second most in the SEC).
DE Deatrich Wise Jr: Two more sacks for Wise gives this rising star seven sacks in the Razorbacks' final four games.
INJURY REPORT
Dominique Reed was carted off the field late and headed into the locker room for X-rays. The injury does not appear to be serious.
Bielema: Dominique tweaked ankle. Shouldn't be any setback, be ready for bowl prep

— Razorbackers (@RazorbackersFS) November 27, 2015