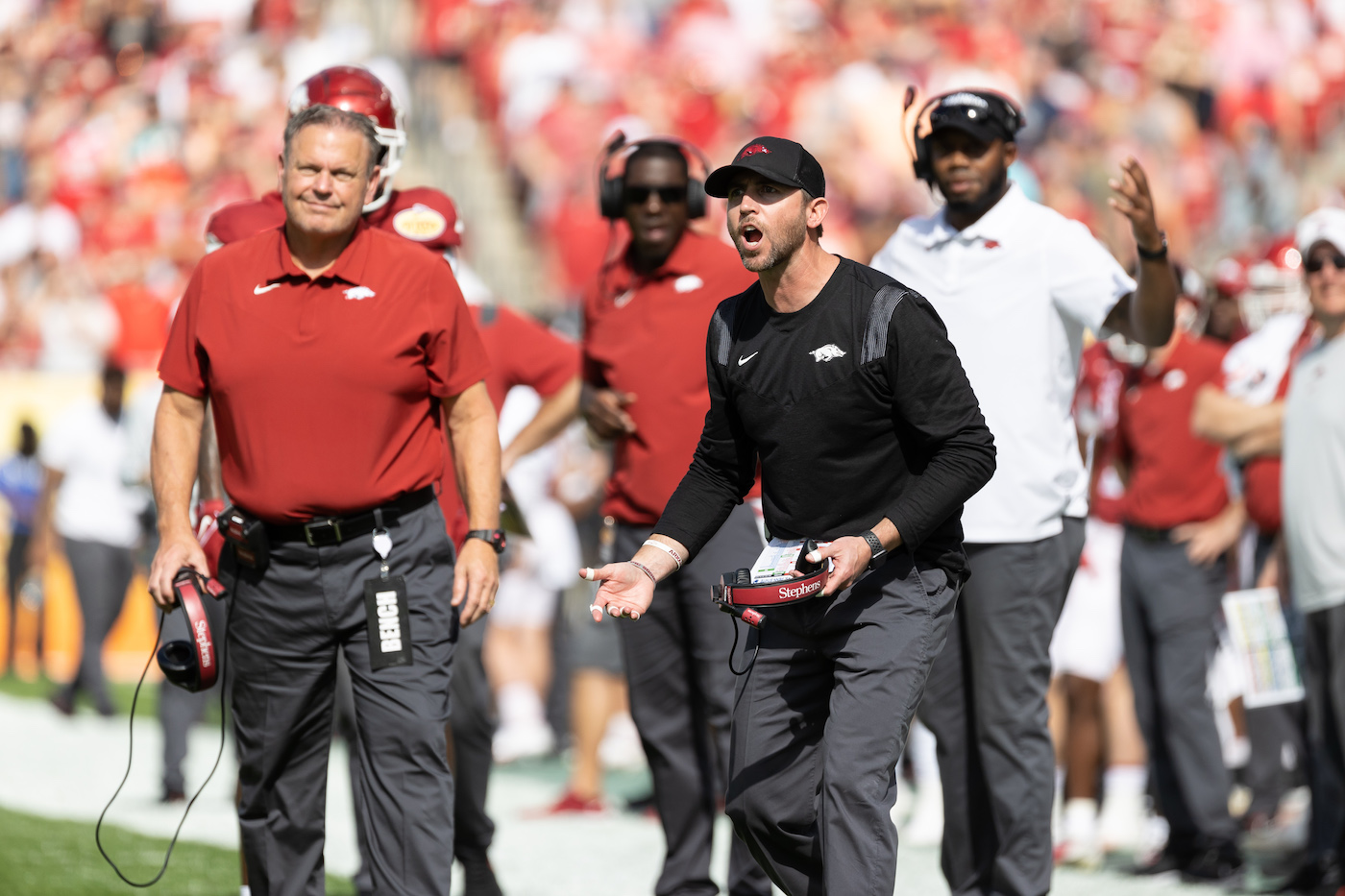 ARKANSAS
10 most critical questions Arkansas must answer in 2022
The excitement around Fayetteville is swirling like it's 2011 or something.
Days of mediocrity and losing to San Jose State at home are likely over. However, there are still a multitude of questions surrounding this Razorbacks team in 2022. After a 9-4 overall record and a win over Penn State in the Outback Bowl, is Sam Pittman's team ready to take the next step and contend for an SEC championship this fall? Here are 10 questions that Arkansas must answer if it plans to exceed its 2021 win total.
1. How will carries be divided up among a loaded stable of RBs?
Arkansas has Rocket Sanders and Dominique Johnson, who are certified studs in the backfield. Then you have AJ Green, who seemed to hit a freshman wall during October and never recovered. Arkansas also signed 4-star back Rashod Dubinion, who could be just as electric as Green.
What we already know is that Dubinion will receive plenty of opportunities for playing time, even if it is not only in the backfield. He could be set for return duties as well.
Johnson has been recovering from a lower leg injury, so the majority of work was done this spring with Sanders. The Hogs likely have a 4-headed monster once again, and it could be awfully special. The carries could be broken up with Sanders and Johnson receiving 80 percent, Green with 15 percent and Dubinion seeing limited action with 5 percent.
2. Will the defensive line be able to generate a pass rush?
The recruiting hasn't lived up to what it could be, and that's surprising with the amount of experience this Razorbacks coaching staff has with the defensive line. What it did do this offseason was use the transfer portal and recruit the JUCOs. Arkansas signed Jordan Domineck (Georgia Tech), Landon Jackson (LSU), Terry Hampton (Arkansas State) and Taylor Lewis (College of the Canyons).
The Hogs are going to have to replace former transfers John Ridgeway, Tre Williams and Markell Utsey, but they do have talented players returning. Zach Williams, Eric Gregory, Isaiah Nichols and Jashaud Stewart were all highly rated coming out of high school and are now in their 3rd and 4th years in the program. There should be reason for optimism, as they have developed into solid contributors the past couple of seasons.
Arkansas ranked 86th in FBS last season with 1.8 sacks per game. If the Hogs want to compete at the next level and contend in the SEC West, they need to find a consistent threat rushing the passer.
3. Who will start at right tackle?
Pittman is known as the best offensive line coach in all of college football. He and his protege, Cody Kennedy, have a good problem: finding the best 5 along the line.
Arkansas has about 7-8 guys who could start at any position. Returning right tackle Dalton Wagner is a super senior and is expected to start again. He does have a young guy hot on his heels. Ty'kieast Crawford, a 4-star tackle in the 2020 class, was committed to the Razorbacks before having to go to Charlotte for a season. The 3rd-year player out of Carthage, Texas, is a mammoth 6-5, 350 pounds, and is pushing for playing time. Can Wagner hold him off or will Crawford solidify himself as the man?
4. How will Kendal Briles' offense replace Treylon Burks?
It was well known last season that Burks' Arkansas career would be over after the Missouri game. He finished as one of the best players in school history, and he will likely go on to have a tremendous career in the NFL. Now, the Hogs have to find an answer at receiver, and they'll likely do it by committee.
Arkansas added true freshmen Sam Mbake, Quincey McAdoo and Isaiah Sategna, plus Matt Landers (Toledo) and Jadon Haselwood (Oklahoma) out of the portal. Plenty of fans worry about how it's going to replace Burks, but what many have not thought about is how spread out the Razorbacks offense can be without him.
5. Jalen Catalon is back. How does that impact the back end of the defense?
Getting an All-America safety candidate back this season is huge for Arkansas if it wants to take the next step.
Catalon hits hard, makes tackles in space and is a true team captain. There is no doubt that Arkansas will be better with him in the lineup. With a solid year, he will likely go down as one of the best Razorbacks safeties ever, joining the likes of Steve Atwater, Kenoy Kennedy and Ken Hamlin.
6. Are there any freshmen who will step up?
We already know that the Hogs have a trio of 4-star receivers who can make an impact this fall, but what about other positions? Defensive line does desperately need help. Arkansas added Nico Davillier in the 2022 class, and he could be a perfect candidate to make an impact at defensive tackle. The Maumelle, Ark., product recorded 74 tackles with 26.0 tackles for loss, 2.0 sacks, 15 quarterback hurries, 3 forced fumbles and 1 pass broken up as a senior.
As unlikely as it is for a freshman to step up along the line, Davillier will be Arkansas' best bet.
7. Can Bumper Pool break the school record for career tackles?
Pool has been as consistent as any Razorbacks linebacker in recent history. He can hit and is a sure tackler, and he knows the Barry Odom defense inside and out. Pool has recorded 349 career tackles as a Razorback and trails Tony Bua's record by only 59. If Pool simply tackles at the same rate he did last season, he will break the record at some point during the game at BYU in Week 7.
The answer is that he absolutely will, and he'll set a record that likely will never be broken.
8. How will Arkansas manage its midseason road trip?
The Razorbacks head on the road to Mississippi State, BYU and Auburn during a 4-week stretch.
Luckily, there is an off week between the matchups against BYU and Auburn. Still, that has to be one of the hardest gantlets in the country — but Arkansas should be used to that.
Last season, it was Texas A&M-Georgia-Ole Miss in consecutive weeks. The Razorbacks hobbled into the home game against Auburn bruised and beaten. They finished 1-3 in that stretch, but they rebounded.
The Hogs will need to keep their focus and confidence up, because it will be like this every season. Are they ready for that kind of road trip again this season? It's still to be determined.
9. Will the Hogs be able to replace the heavy production at linebacker?
Replacing Grant Morgan and Hayden Henry — former walk-ons whom Odom wrenched every ounce of talent from for 2 seasons — will be tough. Those 2 exceeded all expectations and set a high bar for linebacker play. Arkansas added Drew Sanders (Alabama) out of the portal this offseason, and many around the team rave about what the Hogs are getting at the position.
There was certainly some excitement on display throughout the spring, and the head Hog had plenty to say about it.
"He's fast," said Pittman. "I mean, the guy can run. I don't know what his 40 time is or anything like that, but he runs sideline to sideline. The first scrimmage we had, he made the first 2 plays just running people down. I mean, he had angles, but today, that was a wow deal for me, too, because Malik (Hornsby)'s out there in the open, and usually he's leaving everybody.
"I'm not saying Drew can outrun Malik, I'm not saying that. But he did turn him up, he did tag him up. So yeah, I think he's a pretty good player."
10. Finally, can the Razorbacks end the 15-year streak against Alabama?
Mitch Mustain to Ben Cleveland.
That was the winning connection in 2006, the last time Arkansas was on the winning side of this series.
In 2021, the Hogs ended plenty of streaks, including making a bowl game, defeating Texas A&M, being ranked in the top 10 and many more.
Arkansas could reach out and touch victory last season in Tuscaloosa, eventually losing, 42-35. This year, with the game being in Fayetteville, a possibility of both teams being ranked in the top 10 and dreams of College Gameday on site, the excitement is simply boiling out of the pot for fans.
Yes, there is a chance Arkansas ends the long streak.