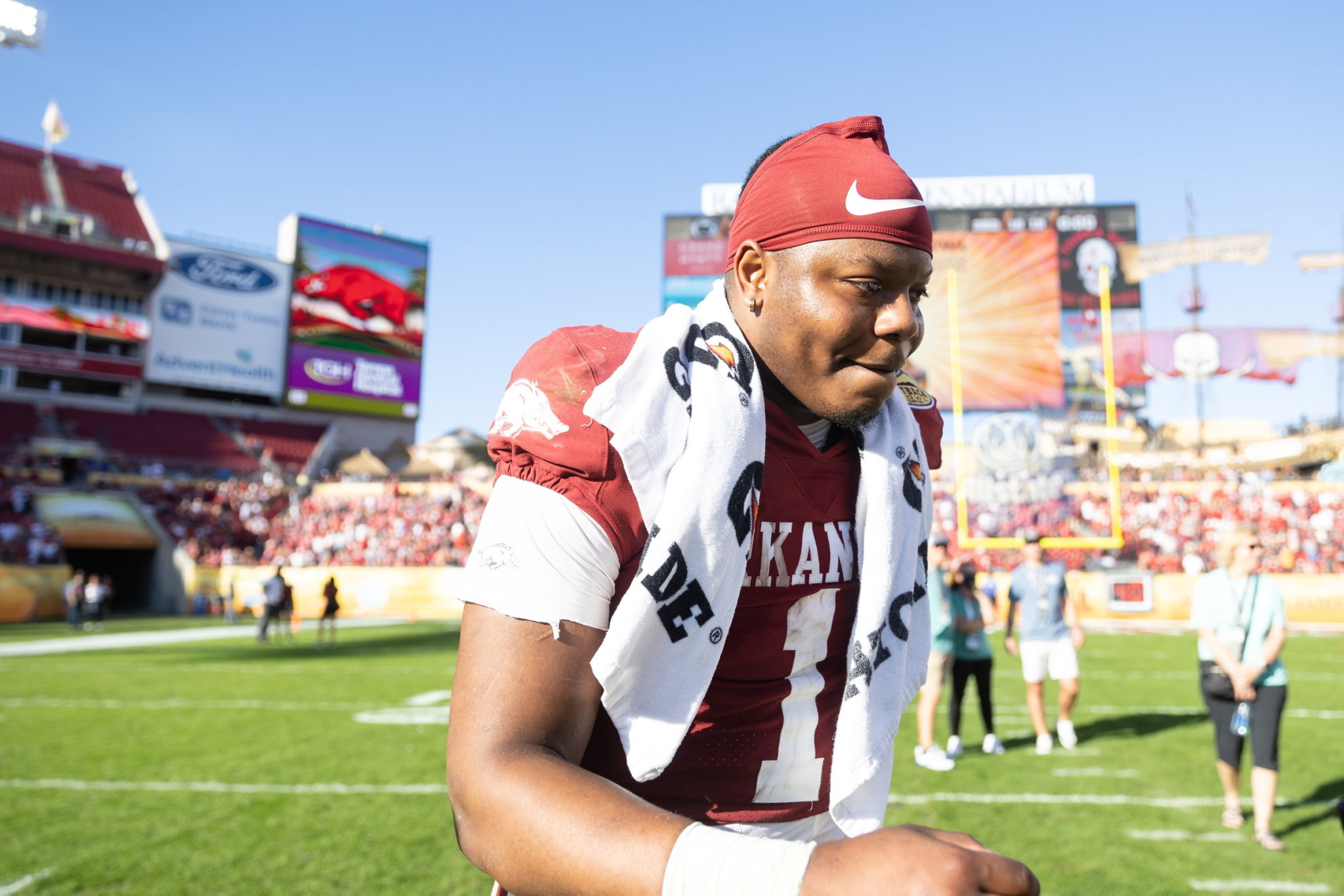 ARKANSAS
Arkansas football: 5 Razorbacks I can't wait to watch in Saturday's scrimmage
While Garth Brooks stole the spotlight for what was supposed to be Arkansas' annual Red-White Game on Saturday, April 23, head coach Sam Pittman and the Hogs will instead hold a scrimmage on Saturday. Brooks' concert bumped the Razorbacks' spring game, but it didn't dampen the enthusiasm that surrounds the surging football program.
What can Pittman and the Razorbacks do for an encore, coming off a 9-win season that included a bowl victory over college football blue-blood Penn State?
Here are 5 players I will want to watch on Saturday.
1. QB KJ Jefferson
I asked what the Razorbacks can do for an encore. The same question could be posed to the Hogs' dual-threat quarterback. Jefferson's breakthrough season of 2021 was most impressive – a 67.3 completion percentage, 2,676 yards passing, 21 TDs and only 4 INTs to go with 664 yards rushing and 6 TDs.
He's a year more mature now and a veteran of SEC battles. How will he use that to become an even better quarterback in 2022? I can't imagine there's much more room for improvement, but I'm hoping Jefferson proves me wrong and is even better than last year; like Heisman-like better.
2. WR Jadon Haselwood
The transfer from Oklahoma could be headed for a breakout year. The former 5-star recruit wasn't fully utilized by the Sooners, he caught just 39 passes for 399 yards and 6 TDs last season. He has the ability to blow those numbers out of the water in 2022 and with a quarterback like Jefferson using him as a target, big things are expected. The Hogs also have a huge need for him to become the guy.
I want to see how the timing has progressed this spring between Jefferson and Haselwood, whose development as a deep threat is critical to the Razorbacks' passing game this season. He should complement Warren Thompson well as Arkansas reloads at the wide receiver position.
3. OT Luke Jones
The offensive line should once again be a team strength in 2022. But to solidify the group, the left tackle position must be filled. That's where Jones could step in and provide the answer. I want to see if he can provide some senior leadership and how he has progressed in working with the rest of the group in the trenches.
4. LB Drew Sanders
The 5-star transfer from Alabama, Sanders is coming off a knee injury that ended his season and subsequently his career in Tuscaloosa. But Alabama's loss is Arkansas' gain. Pittman and veteran LB Bumper Pool already are raving about how Sanders fits Arkansas' culture.
An outside linebacker at Alabama, I want to see how the 6-5, 232-pounder has progressed in moving inside and taking on a different set of responsibilities.
5. CB Dwight McGlothern
Another transfer from LSU, the wiry McGlothern (6-2, 182) was starting to bud into a star for the Tigers before deciding to bring his talents to Fayetteville. I'm eager to see how he fits in with the secondary, which was one of the best in the conference last season.
Last season at LSU, McGlothern played in 10 games and recorded 32 tackles, including 26 solo, and returned his only interception for a touchdown, racing 37 yards to the end zone. He had 2 tackles for loss, broke up 5 passes and forced a fumble. He's a budding star, who could reach his potential at Arkansas.
He was dinged up in a recent practice, so how much we'll get to see him on Saturday is unknown but it doesn't appear to be anything serious.