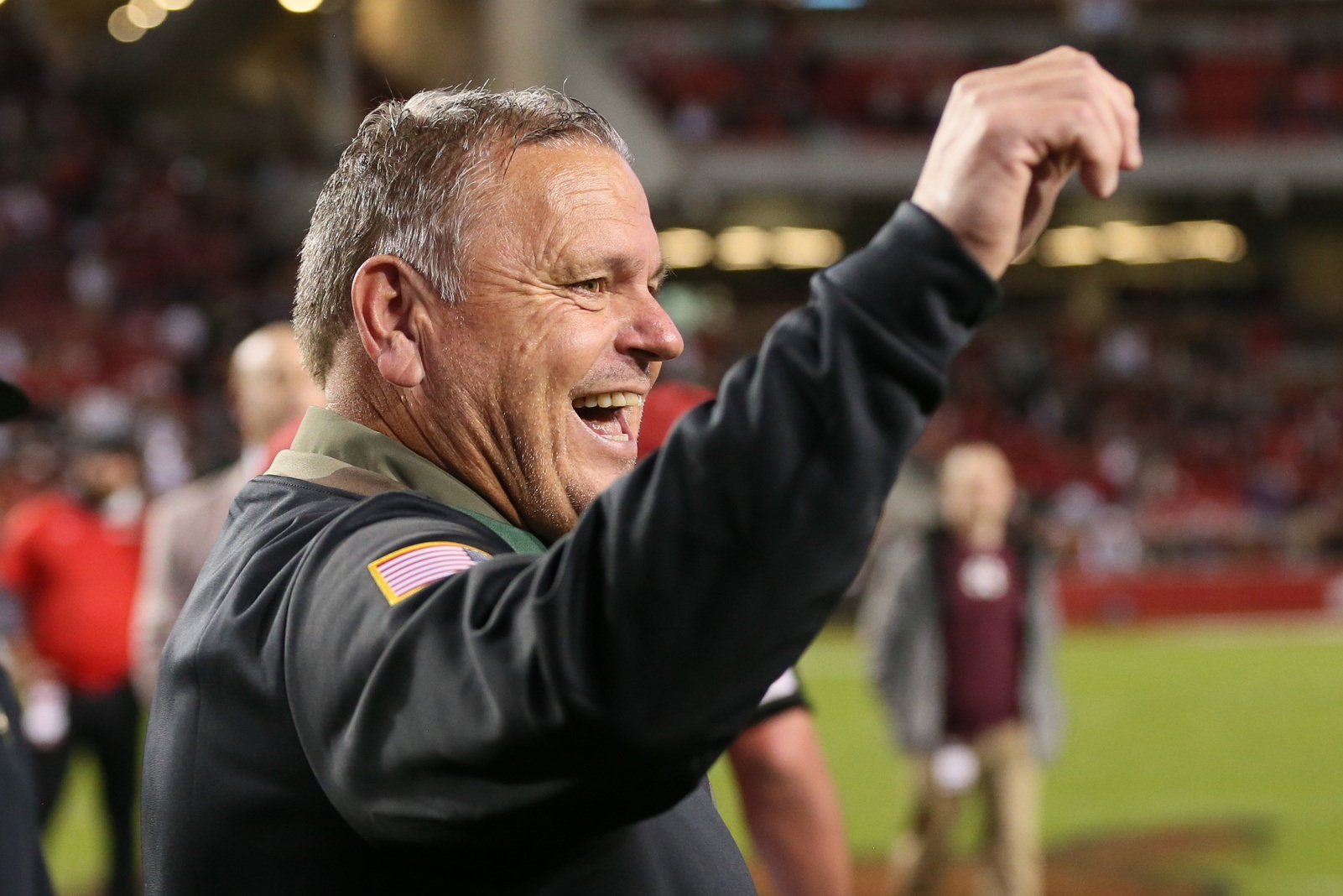 ARKANSAS
Arkansas football: Can bowl-bound Hogs keep the party going against LSU?
That damn juke box might just blow a fuse before the season is complete. Overused to the delight of head coach Sam Pittman, the Hogs' symbol for victory has blared more often than not in the Razorbacks postgame locker room. And after hosting enough celebrations that Arkansas is now bowl eligible, it isn't done yet.
Yes, at 6-3 the Razorbacks are going bowling. That statement hasn't rung true in several years; not since 2016 in fact.
Pittman celebrated the accomplishment with the team by rolling a bowling ball (named "Larry") down the length of the locker room floor after Arkansas' stirring 31-28 victory over Mississippi State. Pittman has rolled a strike with the program since becoming its head coach and all signs point to that positive trajectory continuing its course.
An 8-win regular season is certainly possible. The Hogs haven't won that many games in the regular season since 2011. They won 8 games in the 2015 campaign but only after a Liberty Bowl victory got them to that point after a 7-5 regular-season showing.
The first step toward that goal comes Saturday night at Tiger Stadium against a schizophrenic LSU team that one week loses by 3 touchdowns at Kentucky and on another comes within a Hail Mary pass away from beating Alabama in Tuscaloosa.
You don't know what you're going to get from these Tigers. They appear in one game to have quit on the season only to scratch and claw their way to within an eyelash of beating the No. 2 team in the College Football Playoff poll.
It's tough to get a handle on this team. It seems to have the ability to rally the troops when it wants to. For the big games (see Florida and Alabama) they look like contenders, then yet at other times, for games that aren't as emotionally packed (see Kentucky, UCLA, Ole Miss) they don't seem to have the same fire.
So, which team will Arkansas get on Saturday? That is the question.
Lame-duck head coach Ed Orgeron is pulling out all the stops. He's already announced that backup quarterback Garrett Nussmeier will play Saturday. That's at least one week too late for some Tigers' fans who would have liked to have seen what the highly-touted freshman could have done in a game against Alabama that was perhaps one big quarterback play away from putting in the win column.
But Nussmeier had already played in 3 games this season and putting him into the Alabama game would have burned his redshirt. Consider it burned. Orgeron said that after conferring with Nussmeier and his dad, Doug Nussmeier (quarterbacks coach for the NFL Dallas Cowboys), it has been decided that the freshman will lose his redshirt and see action Saturday.
Nussmeier is a gunslinger. He can spin it. He doesn't have great stats … yet. But he has the raw talent to be a good one for years to come. He's raw; one play he leaves you dropping your jaw in awe, and the next he leaves you scratching your head. He's only thrown 26 passes at the collegiate level, completing 11 for 150 yards and a touchdown. He has yet to throw an interception.
Tigers fans have been waiting for Orgeron to unwrap the former 4-star recruit from the Dallas area who was also recruited and offered a scholarship by Arkansas in January, 2020.
For all that has gone sideways this season, the Tigers are still 3-1 at home with a 5-point loss to Auburn the only blemish. Arkansas is 0-2 in true road games this season. So, the Razorbacks must put the jukebox on pause and get back to work. A solid week of preparation will be necessary in getting ready for both LSU quarterbacks.
The Tigers' defense was scary good in holding Alabama to 6 rushing yards, the fewest ever by a Tide team in an SEC game.
Arkansas will enter the game leading the SEC in rushing with an average of 243.78 yards per game. Pittman struggled with getting Dominique Johnson sufficient carries. So, he started the freshman and wasn't disappointed. Johnson ran for career highs: 107 yards on 17 carries and 2 TDs (as well as a 2-point conversion run).
He adds to an already stacked group of runners. Running backs Trelon Smith and Raheim Sanders, along with quarterback KJ Jefferson have combined for more than 1,700 yards rushing already this season. Now you add Johnson to mix and the quartet has surpassed the 2,000-yard mark.
Arkansas' run game against an LSU defense that suddenly constructed a road block against the run, shapes up to be one of the key matchups on Saturday.
It should be another entertaining SEC battle, one that like so many others could go right down once again to the final possession.
The jukebox awaits its next celebration.