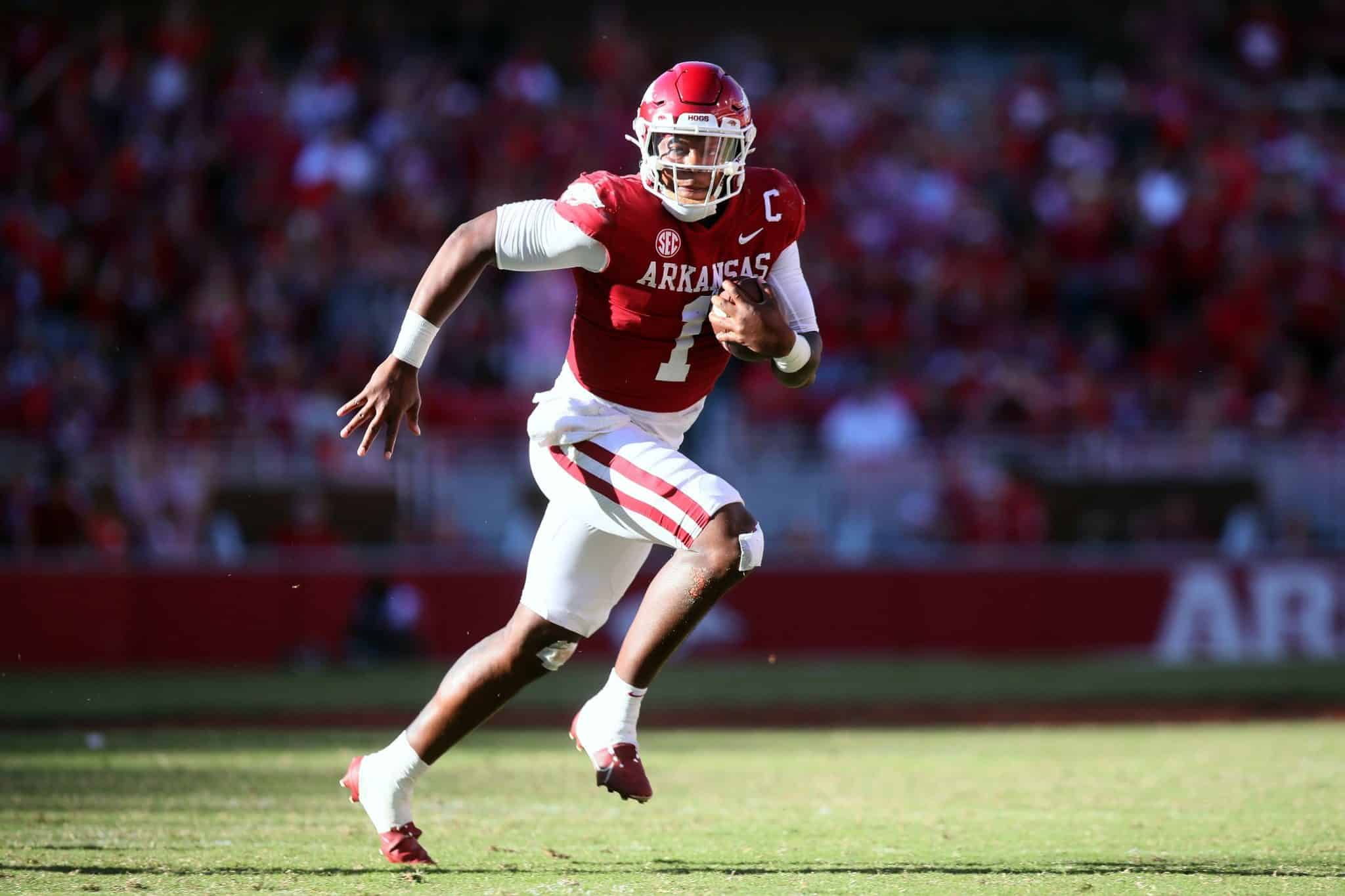 ARKANSAS
Arkansas football: Where would the Hogs be without KJ Jefferson? We know the answer ...
It's been a weird season so far for Arkansas. The defense has been non-existent at times but the offense seemingly can score at will. The good-news-bad-news result: Big plays on both sides of the ball.
Offensively, Kendal Briles has turned Arkansas' offense into something nearly video game-like when it comes to chunk yardage, 3rd-down-conversion rates and total yards each week.
Defensively, the Hogs have been dreadful in Year 3 for coordinator Barry Odom. But, he can be given a break since the program doesn't have the depth it needs to improve.
So, with the record at 4-3 there are positive and negative trends to assess on both sides of the ball, starting with the offense.
Rushing offense is the go-to
Sometimes the Razorbacks get away from their identity offensively. Rushing the football is the foundation for a Sam Pittman offense. Playing big-boy, physical offensive lineman up front will always be present with him leading a team.
Rocket Sanders is having a stellar season for Arkansas. Through 7 games the sophomore from Rockledge, Fla., has totaled 1,059 all-purpose yards (870 rushing, 189 receiving). He is the constant for the offense to be as effective as possible.
In Saturday's 52-35 defeat of Brigham Young, Sanders surpassed his career high in single-game rushing yards for the 3rd time this season. He recorded 175 yards on just 15 carries against the Cougars. With several struggling defenses awaiting on the back half of the schedule, Sanders could put up a landmark individual season in program history.
Two other backs are holding their own, as well. Rashod Dubinion is only a freshman but is playing big boy football. With 8 touches against BYU, Dubinion totaled 56 yards and 1 touchdown.
Briles is also finding ways to get the ball to AJ Green in space. The sophomore speedster from Oklahoma had 15 touches against BYU for 96 yards. He is among the Hogs' more improved offensive players and is starting to get into a groove.
Red-zone hiccups
Goal-line offense has been somewhat questionable, especially when factoring in one of the biggest lines in all of football. The Hogs have only converted on 19 of 26 red-zone attempts this season. That includes 2 of 6 against Mississippi State. They have to be better moving forward. The performance against the Cougars is just what is needed.
3rd-down conversions
On the flip side, the big men up front have won the battle on 3rd downs this season. Arkansas succeeded on 12 of 15 3rd-down attempts against BYU on Saturday.
The Hogs may find themselves in peculiar situations throughout games but they are converting at an exceptional rate of 49 percent for the season (53 of 108).
Defensive back woes
Aside from the final 22 minutes against BYU, Arkansas has been dreadful in the back end of the defense this season. It's understandable: Depth has been tested after a collection of injuries.
Players being out of position … players being bested by their opponents … players missing or not finishing tackles … all have been common themes for Arkansas' defense.
Missing starters like Jalen Catalon and Myles Slusher has hampered the effectiveness of Odom's defense. With both playing, it's possible the Razorbacks could have cut yards allowed and points allowed by 10 to 15 percent.
Arkansas has struggled to play through it. At this point of the season a trend becomes a trait. Odom's group is poor on pass defense. The Hogs will need to outscore teams in their final 5 games.
They might do that with KJ Jefferson running the offense.
Jefferson trusting teammates
This has been a huge talking point, especially against BYU. Treylon Burks now catches passes in the NFL. A generational talent like the Warren, Ark., native is hard to replace, but dependable option are starting to emerge for Jefferson.
Ketron Jackson has come along nicely during his sophomore season. The highly ranked receiver from Texas has 11 catches for 227 yards. Explosive plays and dependable pass catchers weren't prevalent early on but have improved throughout.
One other interesting statistic from Saturday's win: Out of 29 completions, 10 players caught a pass from Jefferson. That's spreading the ball around and trusting your teammates. It remains to be see it that lasts.
Arkansas goes into its bye week after a big win and momentum on its side. A trip to Auburn is next.