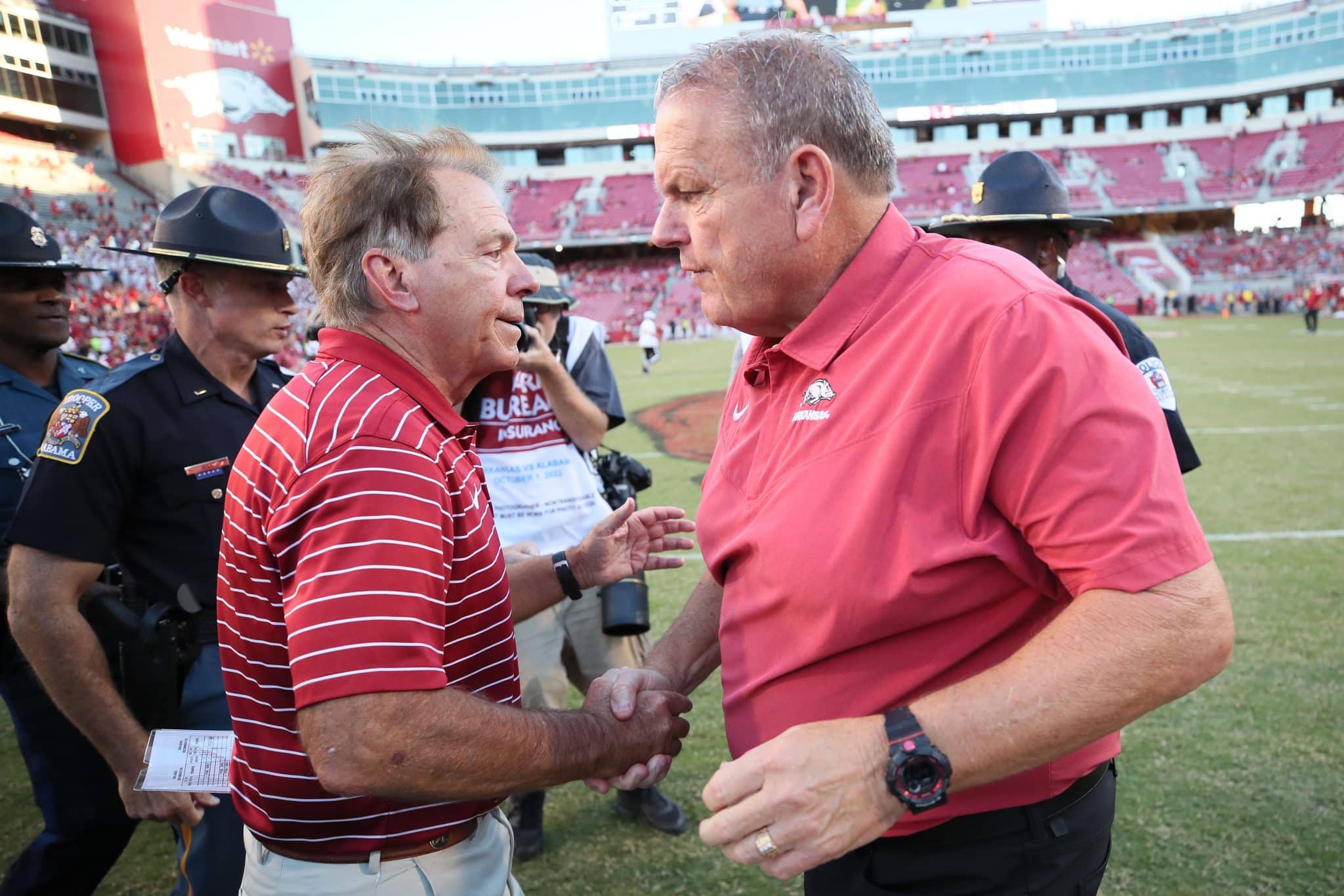 ARKANSAS
Two losses in a row for Arkansas display glaring issues in once-promising season
Spotting the 2nd-ranked team in the country 28 points isn't necessarily the way to win. That's exactly what the Arkansas Razorbacks did in their 49-26 loss to Alabama on Saturday.
There still was pride shown by an Arkansas team that fought back in the third quarter to get to within 5 points. However, it was too much to overcome and Alabama did what Alabama does: It squeezed the life out of an opponent.
When Bryce Young and Brian Branch went down with injury things might have unravelled for Alabama. And although the Crimson Tide completely controlled the game at 28-0, things weren't always easy.
Let's not get it wrong here. Arkansas did some good things, mostly for one quarter. But there are glaring issues with this team. Here's the list.
Missing a leader
The Hogs absolutely miss all-everything safety Jalen Catalon. He brought the energy in 2020 to help begin the turnaround of the program. He has played only 6 games since, but losing a leader like Catalon in back-to-back seasons is exposing just how far off this group is in the secondary.
Inability to get defensive stops
Third downs have been killers for the Razorback defense this season. Alabama converted 9 of 14 third downs on Saturday. Five of those either led to a score or set up another on the next play. Put simply: The Hogs need to solve their issues on 3rd down because 21 points could've been negated with more efficiency in that situation.
The Arkansas defense was a bit over-aggressive in blitz packages on multiple plays and was gashed by Alabama for big plays or touchdowns. Arkansas can be very good at sacking the opposing quarterback, but porous in pass defense. It's been a steady issue through the first quarter of the 2022 season.
Sputtering offense
How about the offense, though? Where was the intensity on that side of the ball throughout the 1st half? Arkansas punted on 5 out of its first 6 drives and fumbled on the other one. It was an extension of what's been a pattern of slow starts with offensive Kendal Briles.
In taking the bad with the good, Arkansas has been effective at keeping drives alive. The Hogs had converted at a 48-percent clip before Saturday which was good enough for 20th nationally.
Alabama did what it does to a lot of teams: limiting its opponents' strong points. The Tide limited the Hogs to a 5-of-17 performance on 3rd downs.
Playing a complete game
Finally, there is the Hogs' motivation throughout game. There has been an issue for 3 games in maintaining energy through all 4 quarters. Arkansas spotted Alabama a huge lead. What seemed to be a lack of energy on offense to take momentum away from Alabama set the home team back.
Whatever move might be necessary to keep his team juiced for a whole game, Pittman needs to make it. The Razorbacks seem to take not plays off but quarters at a time. However, they still find ways to make things interesting.
The bright side of things for fans is that 8 games remain in the regular season. Expectations for a double-digit-win season are still reasonable. This Arkansas team doesn't fold up and quit like others have before. There's fight in this hog and it's still to be seen exactly how much fight is left.