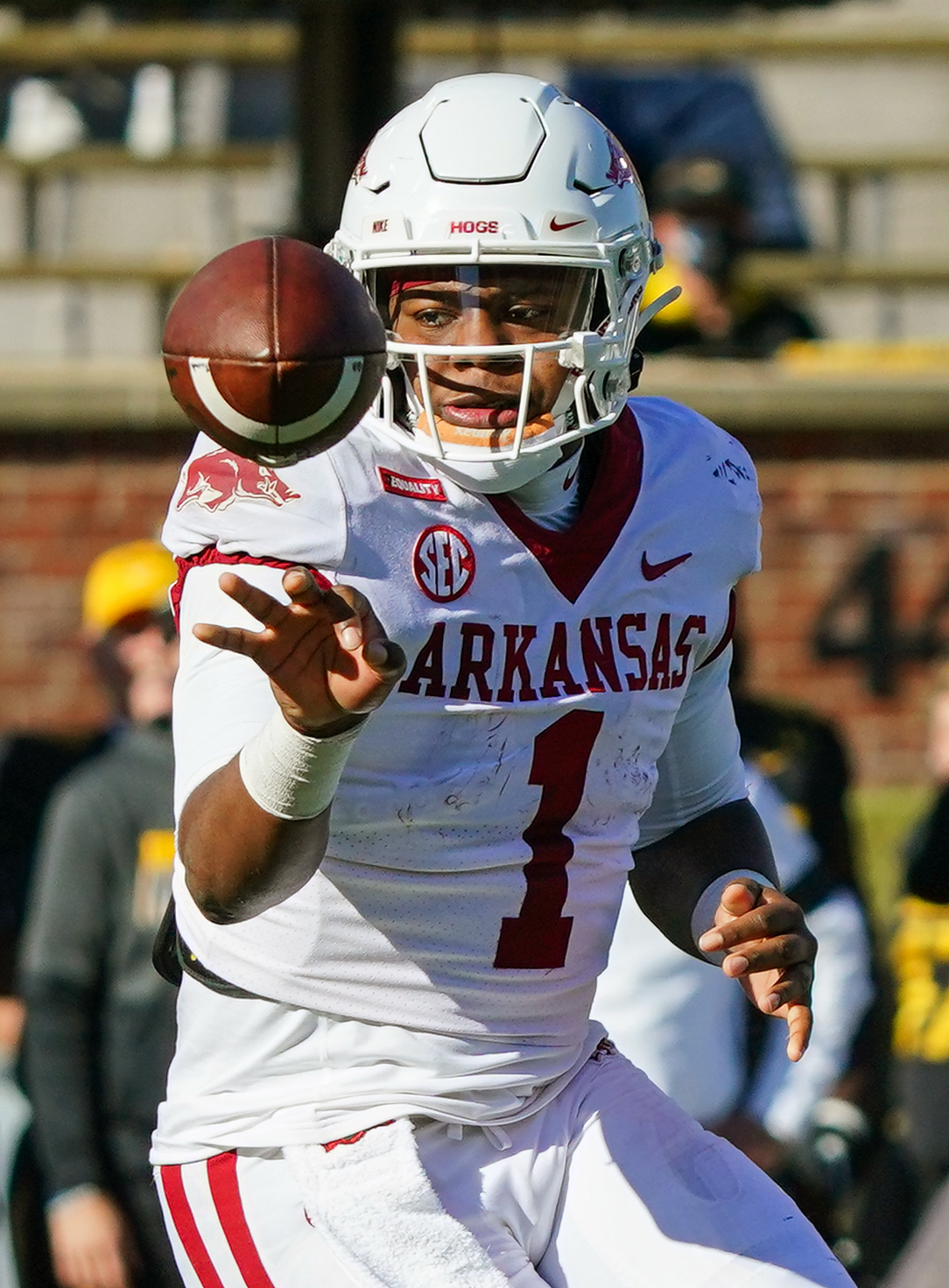 ARKANSAS
KJ Jefferson flashes both good and bad in Arkansas opener
The first game of the KJ Jefferson era at Arkansas was full of up and downs.
The Razorbacks entered halftime of their season opener against Rice trailing 10-7. The Owls struck first in the third quarter to push the lead to 17-7, and things began to look grim. But Jefferson and the Hogs turned it up a notch from that point.
Arkansas outscored Rice 31-0 the rest of the way to secure a 38-17 victory. There were several highlights, including interceptions by Jalen Catalon and Montaric Brown. Late in the fourth quarter, Jefferson threw his first touchdown pass of 2021. a 9-yard connection with Tyson Morris.
Razorbacks coach Sam Pittman said after the game that he would rather forget the first half. But he liked what he saw out of his quarterback in the second.
"It was a bad start, but I mean, I can't remember the halftime score, so we scored 31 in the second half and he's our quarterback," Pittman said. "We snapped the ball and hit the motion guy. Just things that … guys, I swear we never did that in practice, but we did today. Only thing I can hold that to is nerves. We finished the game out.
"I'm proud of him. He knows that. He knows he's got to play better. Hell, I've got to coach better."
Jefferson finished 12-of-21 for 128 yards, 1 touchdown and 1 interception. He did most of his damage on the ground, rushing for 89 yards and 2 touchdowns. The quarterback had a third rushing touchdown of 68 yards called back because of a holding penalty.
Jefferson's second rushing touchdown came right after Rice scored to make it a 10-point game. The Razorbacks tied it at 17 heading into the fourth quarter.
Catalon's interception set the Razorbacks up at the Rice 9. A pass interference call bailed them out on third down and allowed Trelon Smith to punch in the go-ahead touchdown. It was all Arkansas from there.
Jefferson looked shaky to start things off and often overshot his receivers. He struggled to find much of a connection with Treylon Burks, who finished with 5 catches for 42 yards. The sophomore rebounded after starting just 4-for-10 and throwing an interception to go 8-for-11 the rest of the way.
Although it certainly wasn't the debut Hogs fans hoped for, Jefferson rallied toward the end of the game to salvage his Week 1 performance somewhat. He'll need to do more going forward, but for now, he has the trust of his coach.
"Anytime you start a new quarterback, it's his team," Pittman said. "It's a different team than what it was with Feleipe (Franks). KJ obviously has different assets than what Feleipe did, as well as Feleipe having different assets than what KJ does. I think if we're looking in the future for a quarterback to run this offense, a guy like KJ or a guy like Malik (Hornsby) is what we're looking for."
Jefferson's next opportunity to make an impression will come Saturday at 6 p.m. CST against Texas. The Longhorns defeated Louisiana, 38-18, in the first game of coach Steve Sarkisian's inaugural season. Texas certainly has more talent than Rice, so the quarterback will need to be more consistent to lead Arkansas to a win.