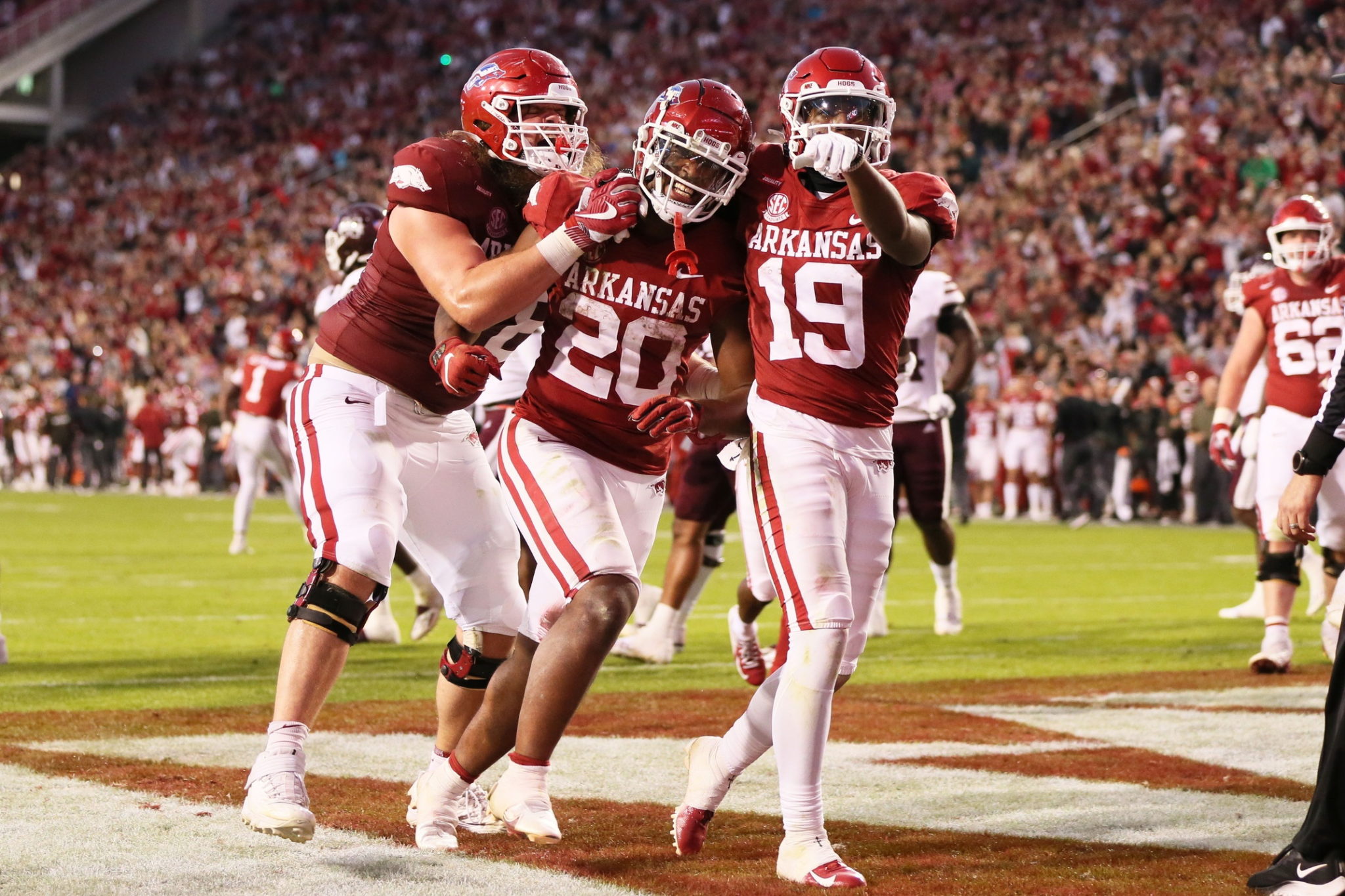 ARKANSAS
Arkansas football: A new day has dawned for Razorbacks
This was the kind of game that Arkansas had become accustomed to losing. That includes this year. Heartbreak has been an old, familiar nemesis.
And when Mississippi State quarterback Will Rogers threw his 4th touchdown pass, putting the Bulldogs in front, 27-23, with 2:22 left in the game, that old feeling began creeping in once again — a sinking feeling reminiscent of a missed 2-point conversion and a 52-51 loss to Ole Miss just 3 weeks prior.
It didn't seem to matter on Saturday that the Hogs had played their guts out and done just about everything they could to claim victory. It didn't seem to matter that the offensive line punched holes in a Mississippi State defense that was tied with Alabama for 2nd in the conference against the run.
It didn't seem to matter that the Hogs rushed for 202 yards against a defense that was allowing only 89.6 per game. It didn't seem to matter that quarterback KJ Jefferson was on his way to a 166.7 QB rating.
It didn't matter what the Razorbacks did; these were the games they couldn't win. These were games that left fans lamenting one more time how it's a shame that somebody has to lose this one. That somebody was usually Arkansas.
But a 20-10 victory earlier in the year over Texas A&M gave the Hogs a glimmer of hope that maybe things had turned around. On Saturday, that notion was confirmed with a 31-28 victory over the Bulldogs. The Hogs have learned how to win these types of games. They've become comfortable with the confidence it takes to pull out these games in the clutch.
The game-winning drive was a thing of beauty. Jefferson completed 6 of 7 passes for 45 yards. He scrambled for another 5 yards before turning to rising star Dominique Johnson, who ran for the final 4 yards and then bulled his way into the end zone again for the 2-point conversion and the final nail in the Bulldogs' coffin.
Sure, it took the help of 3 missed Bulldogs field goals, including on the game's final play, but sometimes that's what it takes. Whatever it takes. Arkansas put itself in position to win a 50-50 game. Good teams come out victorious in those games. They do whatever it takes to be on the winning side.
That's what Arkansas did Saturday. That's what it hasn't been able to do on a consistent basis for a very long time. That's what gives Hog Nation hope for even bigger and better things to come.
Saturday's victory made Arkansas bowl-eligible for the 1st time since 2016 and was a thing that changes culture. It speaks to the success of head coach Sam Pittman and what his staff has been able to do in a very short time.
"We're going to a bowl," Pittman told the media after the game. "I don't know which one, but we're going to a bowl."
Well, we don't, either. But at 6-3, the Hogs still have plenty of opportunities to move even higher up the bowl pecking order. Arkansas should be favored in games at LSU and at home vs. Missouri. An 8-win season is certainly doable. And the way the teams in the SEC continue to knock each other off from week to week, that could put the Hogs in a pretty good position for postseason play.
Perhaps a Florida trip is in the future for this deserved bunch, which has discarded the old ways and is starting anew under Pittman.