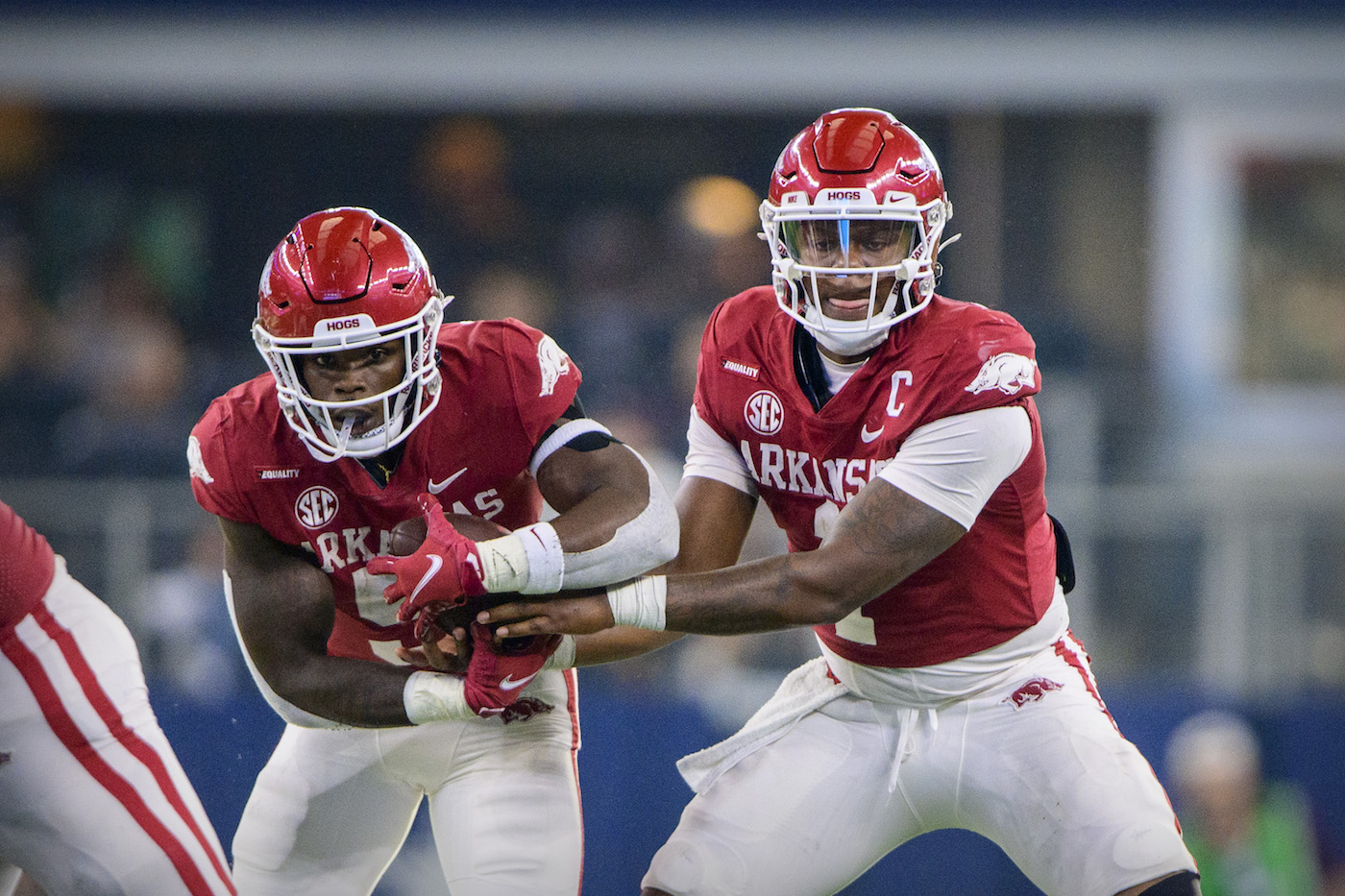 ARKANSAS
Arkansas suffers crushing loss to Texas A&M but there's plenty left to play for
This was the time for Arkansas to cash in on all the momentum they have gained throughout the Sam Pittman era.
Seeing the dejection on Cam Little's face as his late field goal attempt clanked the top of the goal post's right upright was saddening. The kick would've given the Razorbacks the lead with 1:30 left. The loss wasn't on him at all though.
Fumbles, missed tackles, poor execution on both sides of the ball were the story for the Razorbacks on Saturday. All those issues have been stumbling blocks covered up by winning early on this season.
Arkansas may have been the better team. However, they still lost by 2 points to one-loss Texas A&M.

The game turned sideways for the Razorbacks once KJ Jefferson's fumble at the goal line turned into 6 points the other way for the Aggies.
At the time it didn't seem too much to overcome but the issues that have hurt the Hogs throughout the season were decisive in the loss.
Play-calling has been a heavy topic of discussion on social media. It seemed every time the Hogs would find something going in the run game, whether it be with a 14-point lead or coming from behind, there would be a puzzling call.
Was it the trick play, double pass by Jefferson and Jadon Haselwood? That ended terribly. How about Arkansas crossing the 50-yard line only to throw 3 times in a row and then punt.
What really hurt them was a bad snap even if disaster was avoided when Rocket Sanders fell on it. That mistake proved costly when it turned a likely chip-shot field goal into a deeper attempt.
Leaning away from the run game throughout the night cost Arkansas on many drives, too. Chunk yardage was up for grabs all night for the Hogs but poor accuracy from Jefferson and some drops could be blamed for stalled drives
It's like the queen of country music, Shania Twain said in a song, "dance with the one that brought you."
The run game has gotten you to this point and it may be time to stick with it more often than not.
Key moments in this game will play continuously throughout the week in preparation for Week 5 but sloppiness should've been done away with in Week 2.
Similar to last week, Arkansas leaving points on the field throughout the game proved costly. At least 17 points were given up due to mistakes and it cost the 10-ranked Razorbacks a chance to start 4-0 in back-to-back seasons for the first time since 1988 and 1989.
Disappointment stretched end to end on the sideline for the Razorbacks. Little and all-SEC center Ricky Stromberg and many more had their heads down in disappointment. Victory was in their grasp but was pulled away at the last second.
Many pieces to this team need to be corrected at every position. That's the thing about losses, there are lessons to learn.
Losses like these can humble a group of guys or tear down the culture. This one certainly wasn't nearly the loss they suffered against Georgia last season. That was an accumulation of catastrophes from the jump. However, they turned something negative into a positive and fought on.
Just like last year Hogs fans knew the deficiencies of the team early in the season. But, they grew up in a hurry by coming together and winning 6 of their final 7 games in 2021 to reach heights that seemed far gone in the Chad Morris era.
Going back and reliving the hurt from this loss whether it be with for a fan's perspective is needless.
There's still plenty of positives to talk about, though, with an elite pass rush that likely will lead the country in sacks after this week. Credit the running game with dominance, too, since all runners seem to have good vision and beg for contact.
Razorback players should realize the season isn't done and the Aggies are a solid team; they've recruited top-level athletes for years and this loss is nothing to scoff at. Now Arkansas players must remember what it's like to claw way back into the win column again. Alabama is next at home, could they overlook your team?
There's nothing like a bunch of angry Hogs with their backs against a wall. It's time for them to regroup, gain focus and remember one loss doesn't define a season.