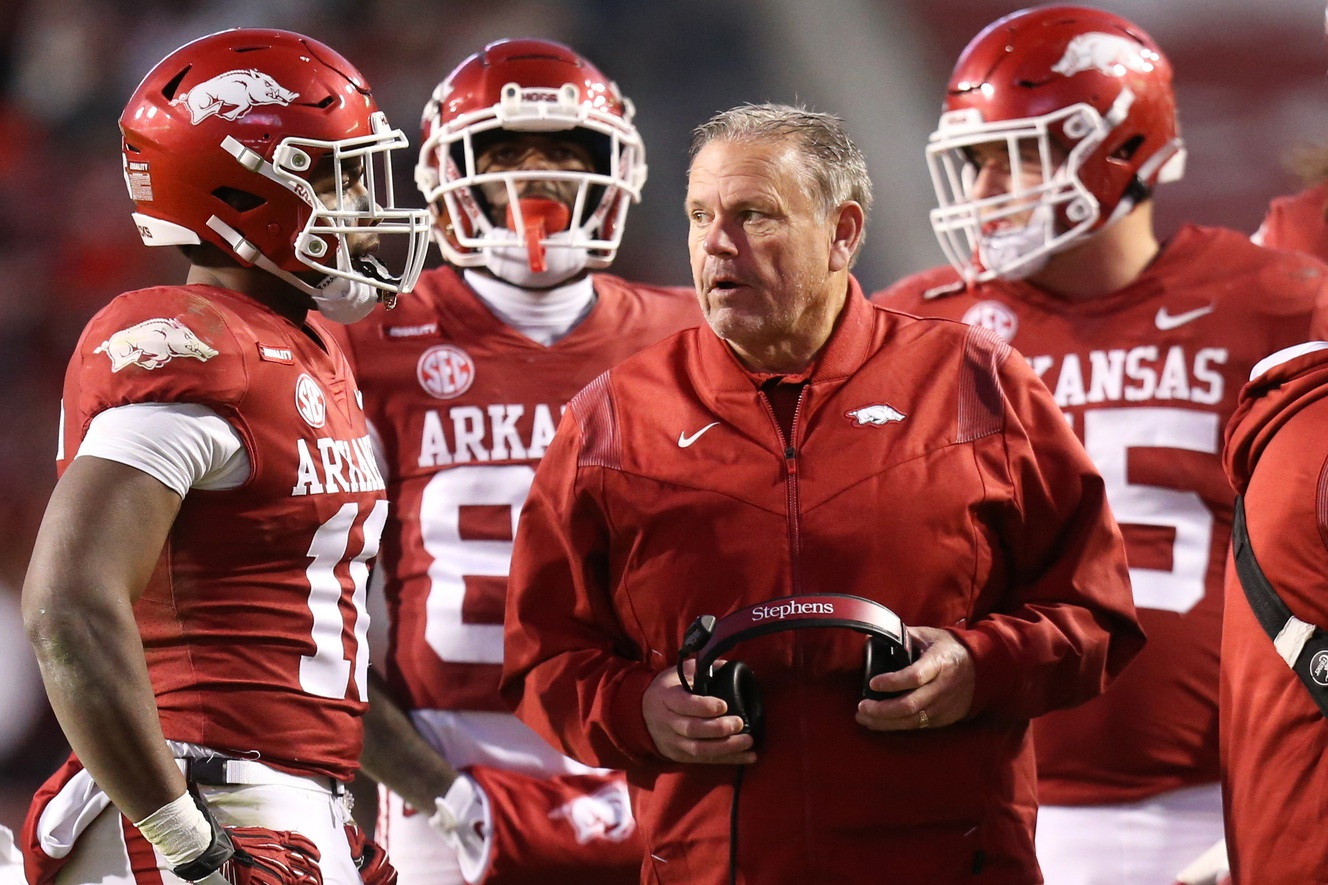 ARKANSAS
Arkansas recruiting: What you need to know about the Razorbacks' Early Signing class
The news just keeps getting better and better for Arkansas football as head coach Sam Pittman brings the program back into contention in the SEC. A solid recruiting class is expected as the Early Signing Period begins on Wednesday.
Here is what is expected for the Hogs in regards to the Early Signing Period.
By the numbers
Overall rank: No. 15
SEC rank: No. 6
5-stars: 0
4-stars: 5
Did they find a future QB?
There are no quarterbacks in the Early Signing Period class. The Hogs have a solid starter in redshirt sophomore KJ Jefferson. Redshirt freshman Malik Hornsby is a talented backup. So, the need isn't as pressing as perhaps for some other positions.
The Hogs have the position locked down for the next year or 2. That's not to say they won't be on the lookout for the next star QB to keep the momentum going.
The highest-rated QB in the state is Austin Myers, a 3-star prospect. Arkansas hasn't offered him a scholarship. Most of the QBs Arkansas did offer have committed to other programs.
Who is the best offensive player?
Homegrown WR Isaiah Sategna is a 4-star recruit who ranks as the top recruit out of the state of Arkansas. At 5-11, 170 pounds, Sategna is ranked No. 29 nationally at his position.
The Fayetteville HS product committed on Nov. 3 and could very well make a sudden impact considering that Arkansas' leading receiver, junior Treylon Burks, has declared for the NFL Draft, and 3 of the Hogs' next top 4 receivers are seniors.
Who is the best defensive player?
Safety Myles Rowser is a 4-star recruit from Michigan. At 6-0, 185 pounds, Rowser is ranked No. 4 among recruits from Michigan. He is also ranked No. 17 nationally at his position.
Rowser should fit nicely into a secondary that will be losing a senior at safety (Joe Foucha) and another at corner (Montaric Brown).
What position did they recruit the best?
Wide receiver is a position that Pittman and staff hit hard. With 4 hard commits in addition to the apparent addition of Oklahoma transfer Jadon Haselwood, the position looks to be solid for the future.
Haselwood is sophomore and former 5-star recruit rated the nation's top receiver in addition to the No. 1 recruit out of the state of Georgia. He led the Sooners in receptions (39) and TD receptions (6) this season but entered the transfer portal shortly after head coach Lincoln Riley left for the same position at Southern Cal.
In addition, the Hogs are expecting to ink Sategna, and another in-state 4-star, Quincey McAdoo. A couple of 3-star WRs, Georgia's Tyrus Washington and in-state talent Dax Courtney, round out the haul.
What position do they still need to recruit?
The Hogs have just 1 commitment at running back. James Jointer is a 3-star from Little Rock. At 6-0, 210, he's a powerful runner.
But running back isn't Arkansas' biggest need. Trelon Smith led the Hogs in rushing and is a senior, but the Hogs' next 4 top rushers are freshmen or sophomores.
Still, it doesn't hurt to keep the cupboard stocked and it certainly wouldn't be a bad idea to add to the position before the 2022 class is complete.
Did they keep the best players home?
To say they cleaned up in state would be an understatement. Arkansas has hard commits from 8 of the state's top 10-ranked recruits for this class. In total, 10 of Arkansas' 20 hard commits are from Arkansas.
Pittman has commitments from all 6 of the state's top-ranked recruits. In addition to snagging Sategna, he has hard commits from OTs Andrew Chamblee and E'Marion Harris, McAdoo, DL Nico Davillier and LB Mani Powell.
Overall, how you should feel about this class …
Not since 2001, a class that ranked No. 9 nationally, has Arkansas had a top 15 recruiting class. That just about says it all. Pittman is changing the culture at Arkansas, not only mentally but also physically with some of the state's top talent as well as a couple from outside the boundaries of Arkansas.
It is shaping up to be a solid class, one of the best this century, and that should continue the rapid progress Pittman has made to date.