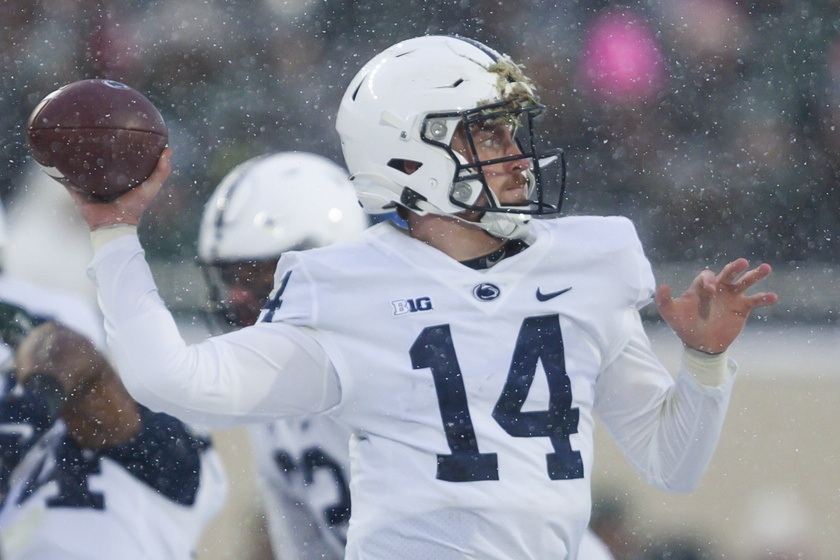 ARKANSAS
Arkansas vs. Penn State: 5 things to know about Hogs' Outback Bowl opponent
Arkansas' breakthrough season has 1 game left. The No. 22 Hogs (8-4) will take on Penn State (7-5) in the Outback Bowl at noon ET on Jan. 1 at Raymond James Stadium in Tampa, home of the Super Bowl champion Buccaneers.
This isn't one of the New Year's 6 bowls. But playing on New Year's Day means you've had one of the outstanding seasons in college football.
The Razorbacks' opponent finished 4th in the B1G East. The Nittany Lions beat Wisconsin in the season opener, the 1st of 5 consecutive victories. But things went downhill from there. Penn State lost its next 3 and finished the year winning just 2 of its last 7.
Here are 5 things to know about Penn State.
1. QB Sean Clifford can spin it
The senior needs 88 passing yards to reach 3,000 for the season. He ranked 5th in the B1G in passing yardage and in TD passes (20). He was 2nd in the conference in passing attempts (396) and threw just 6 interceptions. In the regular-season finale at Michigan State, Clifford threw for 313 yards and 3 TDs on 23-for-34 passing.
For his career, Clifford has thrown for 7,644 yards and 61 TDs against only 22 INTs. He is also a threat to move the ball on the ground, with 857 career rushing yards and 10 rushing TDs. However, he has been hampered by an injury this season, and his rushing stats have suffered. Over the final 6 games, Clifford ran for minus-56 yards on 43 attempts. That's because the Lions tied for last in the B1G with 32 sacks allowed.
2. Jahan Dotson is the go-to WR
The senior had a big season and capped it against Michigan State with 8 catches for 137 yards and 2 TDs. It was the 5th time in his career that Dotson racked up 100-plus receiving yards and 2 TDs.
For the season, Dotson ranked 2nd in the B1G with 91 receptions and 12 TDs and 3rd with 1,182 receiving yards. For his career, Dotson has piled up 2,757 receiving yards and 25 TDs. He had 92 career receptions before this season.
3. Secondary ball hogs
Penn State returned 3 interceptions for touchdowns this season. That's the most by the Lions since 2003. Daequan Hardy was the latest to add to that total, returning an interception 17 yards for a score in Penn State's 30-27 loss at Michigan State.
Overall, the Lions ranked 4th in the conference against the pass, allowing an even 2,500 passing yards (345.5-yard average). They have had their ups and downs. They yielded a season-high 371 passing yards to Maryland after giving up 305 at Ohio State. Conversely, they allowed just 93 passing yards to Rutgers and a season-low 38 to Illinois.
4. Stingy defense
The Nittany Lions led the B1G by allowing just 21 touchdowns this season. Twice, they kept the opposition out of the end zone (Indiana, Rutgers), and in 3 other games they gave up just 1 TD (Wisconsin, Ball State, Illinois).
Overall, the Penn State defense ranked 3rd in the conference with 16.8 points allowed per game.
5. Rushing woes
Penn State ranked 13th in the conference in rushing, averaging just 106.58 yards per game. In 7 games, the Lions failed to rush for 100 yards.
Sophomore Keyvone Lee and junior Noah Cain shared duties in the backfield. Lee totaled a team-high 495 yards rushing on 104 carries (2 TDs), while Cain rushed for 322 yards on 101 tries (4 TDs).
There were a few glimmers of hope. Penn State rolled up 240 rushing yards against Ball State and another 209 vs. Indiana. But those were the only games in which the Lions rushed for more than 145 yards.