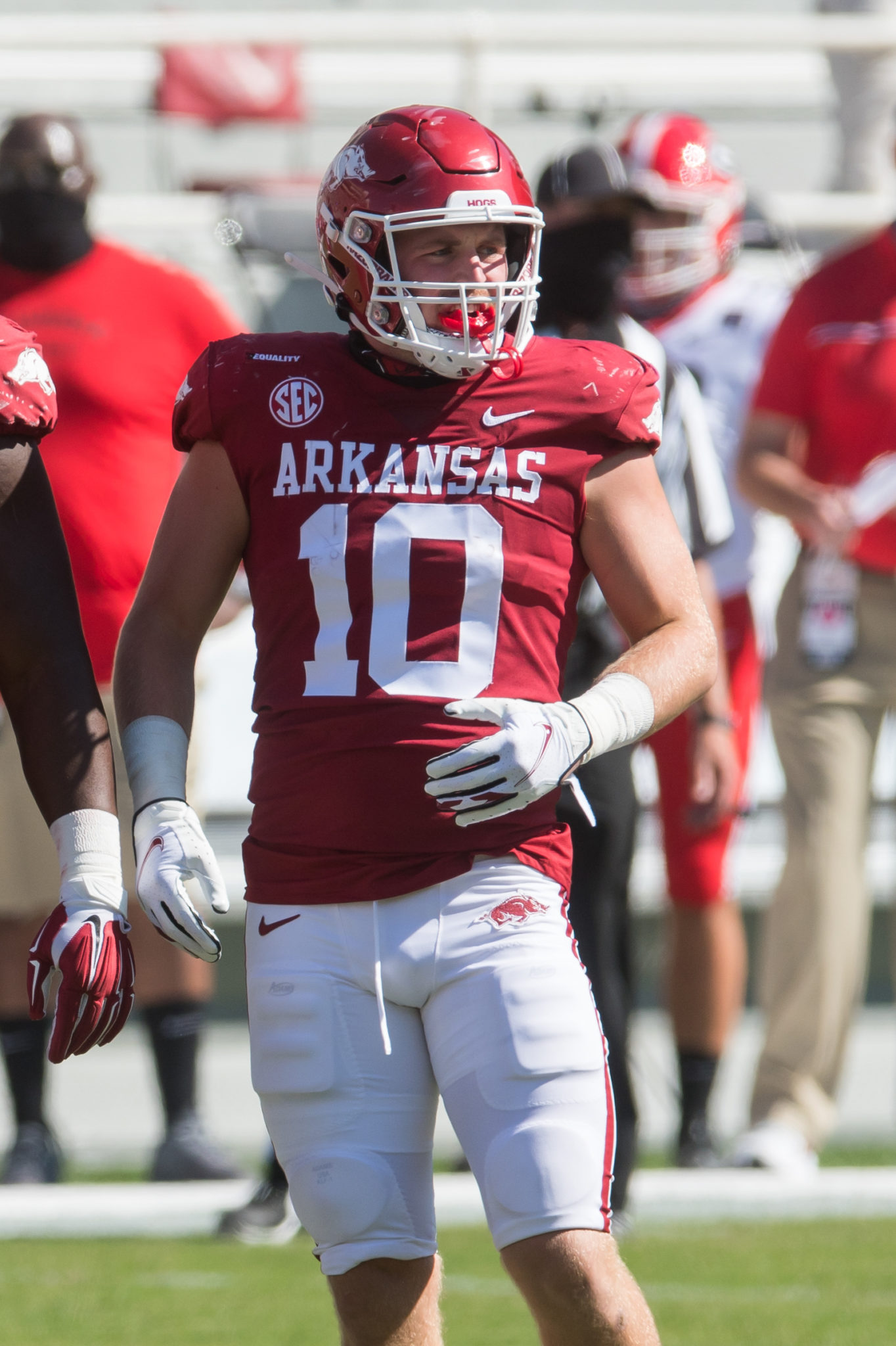 ARKANSAS
Better or worse? Previewing Arkansas' defense in 2022
Where do you even begin with this group of Hogs on defense?
They're led by one of the best defensive coordinators in all of college football in Barry Odom, who dramatically defenses at Memphis and Missouri in Year 3 as their defensive coordinator. Now, he's in Year 3 at Arkansas. You can already see the progress, too.
Take a look at Arkansas' defensive numbers in 2019:
Sacks: 21 (12th in SEC)
Run defense: 221.5 yards per game (14th)
Pass defense: 229.2 (11th)
Total defense: 450.7 (14th)
Scoring defense: 36.8 (14th)
Compare that to the 2021 defense and you get the clue: They're improved.
Sacks: 25 (13th)
Runs defense: 153.9 (9th)
Pass defense: 213.8 (6th)
Total defense: 367.7 (7th)
Scoring defense: 22.9 (6th)
The questions we are answering today is whether Arkansas will be better than they were a year ago. Across the board, they added quality depth to what they had just last season at every position. So, let's get started.
Pressuring the QB: Better
The Razorbacks will have a few pieces to build a solid rush around this season. Transfers Jordan Domineck (Georgia Tech) and Landon Jackson (LSU) give the defensive line a boost with their athleticism and length.
Coach Sam Pittman said he was especially excited to land Domineck, who is 6-3, 250 and can run.
The Hogs return a chiseled Zach Williams. His transformation in the weight room is undeniable. There have been spurts where he has played really good ball. Could this be the season he puts it all together and becomes a force?
Jashaud Stewart and Eric Thomas will be asked to provide quality depth. The return of journeyman senior, Dorian Gerald, will also give the Hogs a boost, particularly if he can stay healthy.
The addition of playmaking linebacker Drew Sanders cannot be overstated. Alabama thought so much of Sanders that he was ahead of emerging star Dallas Turner. Sanders' injury opened the door and Turner took advantage of the opportunity. But Sanders absolutely will be a playmaker for Arkansas.
Run defense: Likely same
Look, it's not like the Hogs were terrible last season against the run. They just weren't great.
There are depth issues up front, especially after losing Taurean Carter for the remainder of the spring and likely a full summer. He was expected to start at defensive tackle, but the extent of his leg injury is unknown.
Eric Gregory and Isaiah Nichols provide plenty of experience in the interior, but they'll definitely need a few others to step up.
Marcus Miller of Warren, Ark., was recruited with the great Treylon Burks. He hasn't really done much along the line, but his size alone (6-5 300 pounds) gives the team hope.
Cameron Ball from Atlanta could be a run-stuffer, too. The staff praised the 6-5, 315-pound redshirt freshman's progression this offseason.
"On the d-line, I think we'll see some good things by Cam Ball," Pittman said during the spring period.
The linebacker lineup will look different. The Razorbacks lost All-American Grant Morgan and heavy hitter Hayden Henry. They each had 101 tackles last season, tied for 6th in the SEC.
Sanders will help in the run game, too, forming a new dynamic duo with Bumper Pool, who led the Hogs with 125 tackles last year.
Before an injury that sidelined Sanders for the second half of the season, he started at linebacker recording 24 tackles and 1 sack for the Crimson Tide.
Sanders' abilities suit Arkansas' defense well.
"I really like Drew, and it's because of his athletic ability and he wants to get to the ball," Pittman said during the spring.
The Alabama transfer will lineup beside one of the best tacklers in school history in Pool. He is the active leader in tackles for the Hogs with 349. He needs 60 more tackles in 2022 to break Tony Bua's career record.
Pass defense: Better
How can a pass defense that ranked in the top 5 of every category be any better? Well, the Hogs upgraded across the secondary and also have key players back.
The new blood comes from a couple of SEC rivals. Projected starters Dwight "Nudie" McGlothern (LSU) and Latavious Brini (Georgia) both started many games at their former schools. Simply put, their talent and experience are invaluable.
Pairing them with All-American safety candidate Jalen Catalon gives Odom options. The violent hitter is coming off season-ending surgery in 2021 but looks better ever. Catalon enters 2022 among the top safeties on 2023 NFL Draft boards.
Myles Slusher is another defensive back who is cross-trained as a safety, cornerback and nickel. He has 65 career tackles and 2 interceptions.
"I think (Slusher) can play either of the corner spots, any of the safety spots and the nickel position. That's hard to do. There's not many guys that can do that, in my opinion, at the level that he's doing it," Odom said. "I think it's important that you understand where you have help, where you don't when you play. And no better way than right now during spring is to cross-train guys and really find out."
Special teams: Very likely better
Outside of some personal changes at returner, not much will be different in 2022.
Obviously, the Hogs return one of the best kickers in the country with Cam Little. Last year's SEC All-Freshmen pick was chosen as an All-American by Phil Steele and it was a very deserving honor. He was 20-for-24 on field goals with a long of 51 yards last year and also 46-for-46 on extra points.
He likely will take over kickoff duties, too. Former specialist Vito Calvaruso transferred to Wisconsin after the season to pursue all kicker roles.
Punter Reid Bauer returns after a solid 2021 season. Teams now gameplan around him after proving himself as a weapon on fakes. Bauer had a fake punt rush attempt go for 23 yards against LSU and also threw a touchdown pass against Alabama on a fake.
Arkansas has several options at kick returner, including speedster AJ Green and fellow running back Rocket Sanders. LaDarrius Bishop was second on the team returning kicks at an average of 24 yards.
Bryce Stephens averaged 17.7 yards per punt return. He'll replace Nathan Parodi, who returned a punt for a TD last season — Arkansas' first since 2011. Parodi essentially retired after the season.
Thank you, Arkansas❤️ pic.twitter.com/s3Gxmq2anz

— ???? (@nathan_parodi) February 1, 2022
Special teams weren't always pretty under Scott Fountain early on. However, since the midway point of the 2021 season, it's been nearly magical.
Overall: Better
Finally, to keep it short, the Hogs will be better at every level. They've offset personnel losses with huge pickups via the transfer portal. Catalon's return is critical.
There is a reason some analysts view the Hogs as a dark-horse Playoff contender in 2022.
And this defense, led again by Odom, will more than handle its share of the challenge.