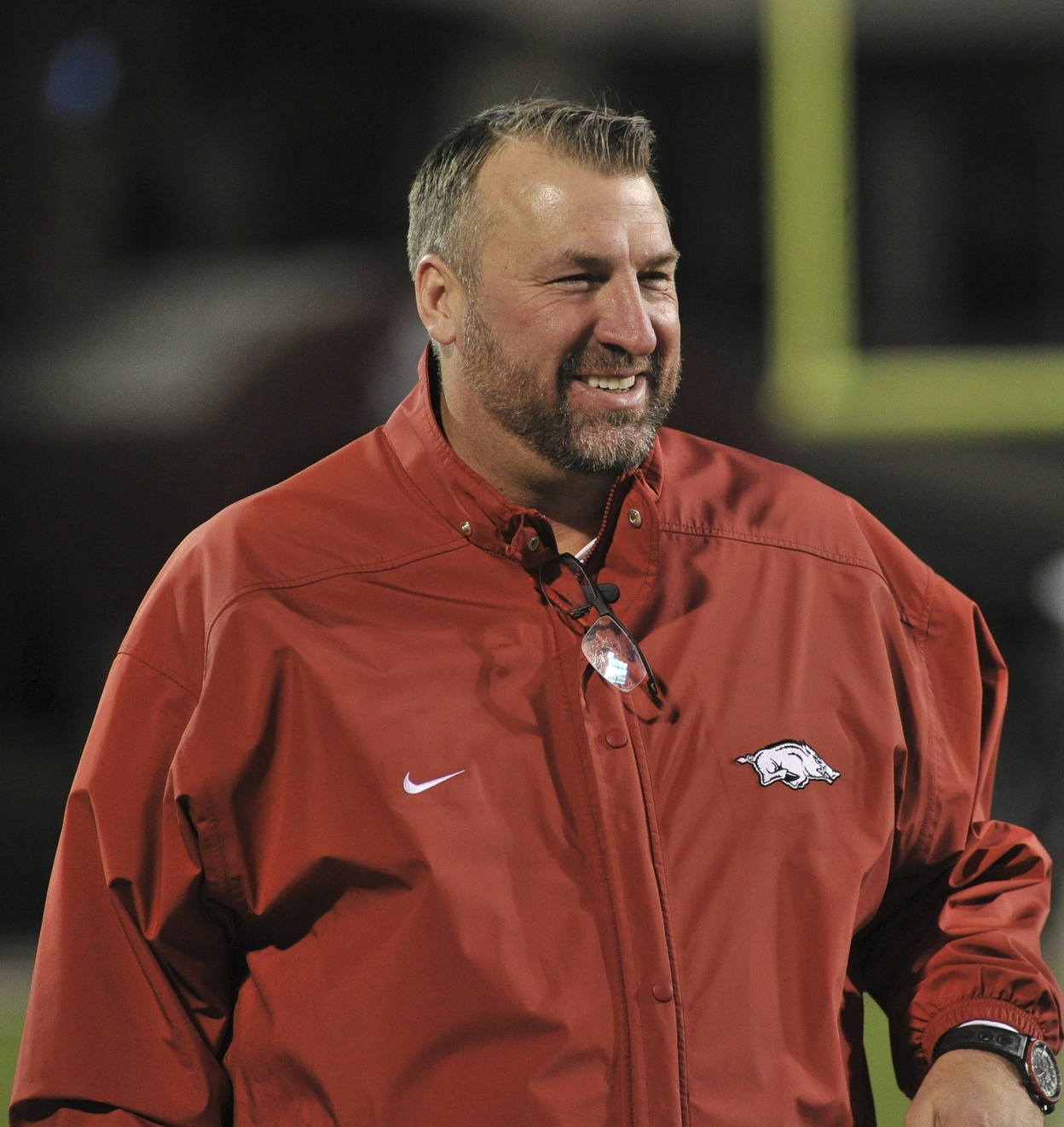 ARKANSAS
Bret Bielema winning every press conference, but not winning enough games at Arkansas
Spend some time around Arkansas football players, and you'll hear the word "uncommon" a lot. That's coach Bret Bielema's favorite buzzword.
"We will recruit uncommon men here," Bielema said in December of 2012 at his introductory press conference in Fayetteville. "We will recruit men that are held to higher standards. I don't want people to be normal. I want them to be uncommon."
Bielema is quite uncommon himself. That's a fair way to describe his decision to leave Wisconsin after three straight appearances in the Rose Bowl to take over the Razorbacks, who had just gone 4-8 under John L. Smith.
A son of the Midwest, Bielema was born in Illinois, played football at Iowa — then-Hawkeyes coach Hayden Fry would eventually give him his first job in coaching — and even suited up in the Arena Football League for the Milwaukee Mustangs. Everything about him suggested that he was a loyal Big Ten guy through and through.
But national championships were being won in the SEC. The paychecks were also bigger, not just for him but his assistants, too.
Inheriting a team still recovering from the scandalous Bobby Petrino era, Beliema went 3-9 in his debut season with the Hogs in 2013. That included an 0-8 record in conference play, the worst for Arkansas since joining the league in 1992.
The recovery was rapid, though. The Razorbacks won seven games in 2014 and eight in 2015, including steady improvement in the SEC — 2-6 and 5-3, respectively. Both campaigns ended with victories in bowl games. Recruiting continued to be solid if not spectacular, ranking somewhere in the 20s each year.
While the college football landscape was changing around him, even in this sometimes resistant-to-change conference, Bielema was still Bielema.
However, the Hogs' ascension hit a snag this past year. Ranked as high as No. 16 in the AP Poll at one point, they fell to 7-6 and 3-5 in league competition — just a fifth-place finish in the West. Worst of all, they blew a 24-7 lead to Missouri in the regular-season finale and then a 24-0 edge on Virginia Tech in the Belk Bowl.
It's fair to wonder if Bielema has already taken this program as far as it can go. Radical change isn't really in his DNA.
"You don't change the core fundamentals of what you believe in," he said later in that first presser. "I'm not going to a no-huddle, hurry-up offense. We're going to stick to our principles and do it better."
Nevertheless, his coaching staff has indeed undergone some change this offseason. Robb Smith is out as defensive coordinator. In is Paul Rhoads.
"I think Bret would be the first to tell you he has wanted and expected to win more than he has," said Otis Kirk, who covers Arkansas for 247Sports.com. "It really appeared in 2015 the program might have turned the corner, but it took a step back this year. Thus the change on defense to make an effort to get that fixed."
Being squeaky clean is great and all, but Bielema isn't in the Big Ten anymore. This is the SEC. It just means more. The "it," of course, is winning.
"Until this past season, everything has trended upwards," said Trey Biddy, who covers the Razorbacks for Rivals.com. "He does target a certain type of kid from a character and academic standpoint, and it shows in the community and in the classroom. They regularly set academic records, and Arkansas may have fewer arrests the past four years than any Power 5 program in the country. If not, they're close to the best. But those things get highlighted only when a team isn't winning big, sad as that might sound."
Naturally, the hope is that a stumble in 2016 is the precursor to a leap in 2017. For many, it remains a glass-half-full situation.
"He's turned the program around to 3-9 first year, 7-6 second year, 8-5 third year, and then this past year wasn't the way we wanted to go," former Hogs receiver Drew Morgan said. "But I still see it turning and progressing."
Whatever Bielema told his new players upon his arrival, even the ones fresh out of eligibility are still buying what he's selling.
"That consistency wasn't quite there this year," former offensive tackle Dan Skipper said. "And I know that's a big focus for all these guys coming back, to make sure that they continue the growth pattern. We had a little bit of a stall-out this year, but we were on track to win 10 games. We're right there. We've just got to finish through."
That being said, many Arkansas fans are getting restless. Likable as he may be, Bielema was hired to win games, not press conferences.
the new mouth of the south
Nobody wants Bielema to take Arkansas to the next level more than the media. He makes their jobs a whole lot easier.
From a personality perspective, sometimes the coaching ranks in the SEC can be dryer than a stale cracker. Media Days in July is a snoozefest until Bielema makes his way to the podium and finally injects some life into the proceedings.
Following Steve Spurrier's sudden departure from South Carolina a few weeks into the 2015 campaign, Bielema became the resident quote machine for the best conference in America. Funny, honest — not to mention a unique vocabulary largely void of the dreary coachspeak we tend to hear from the likes of, for example, Tennessee's Butch Jones.
There was the time in Hoover he described 6-foot-2, 335-pound defensive tackle Bijhon Jackson as having "an incredible, incredible ass."
There was the time after a crazy overtime win at Ole Miss when he said he was "looking forward to hopping on the wife." While he meant to say "hopping on the plane with my wife," that didn't stop him from having fun with the Freudian slip.
There was the time … actually, it's just better if you read it for yourself. No introduction is truly necessary for this gem: "At Arkansas, we're not built very sexy. We're just kind of a work in progress. We need a lot of time in the bathroom to get ready and come out and look great. But when we do, we'll stop time."
On the league's weekly teleconferences during the season, Alabama coach Nick Saban sounds as if he just woke up from a Rip Van Winkle-level nap.
Thankfully, Bielema eventually picks up the phone. It's always an entertaining 10 minutes, to say the least. And then, every week, just before hanging up, he exits with a quick "woo pig" as a tip of the cap to the institution he represents.
Not only do fans of the Razorbacks want them to succeed, but most want him to succeed, too. Bielema is a joy to have as the face of a program. Additionally, he plays a hard-nosed brand of football, he take academics seriously, the police blotter doesn't have much activity — by any measure, he does it the right way.
But the measure that matters most in the SEC is the win-loss record. 'Bama is celebrated for its national titles, not its Academic Progress Rate.
To be fair, setting up shop in the same division as the Crimson Tide is a murderous assignment for any coach. Bielema may light up Media Days, but Saban owns National Signing Day. He's practically running an NFL farm team in Tuscaloosa.
The rest of the West can be had, though. Auburn, LSU, Ole Miss, Mississippi State and Texas A&M all have warts of various shapes and sizes. The East continues to lag behind, so crossover matchups — the Hogs just beat division winner Florida — are a non-issue. Petrino posted back-to-back 10-win seasons before his infamous motorcycle mishap.
Unquestionably, Arkansas fans can sleep better at night with Bielema on the sideline.
"What you see is what you get," Skipper said. "He doesn't sugarcoat stuff. He's definitely a player's coach. He wants to do what's best for us, best for the team, best for the university. But when it gets down to it, it comes down to being a good player and a good person."
Not only does Bielema know how he wants to do things, but he specifically seeks out the kind of athletes he wants doing it for him.
"The players that he recruits," Morgan said, "what he says is uncommon." (There's that word again.) "They really are. They're not your 5-star, 4-star recruits. They're guys that are not going to get in trouble. You're not going to see them on the news every day. They're going to graduate because he's big on graduation. And they're going to play with phenomenal effort and they're going to be tough. Tough as nails."
Naturally, the media can be hypocritical. They want honesty, but then they nitpick Bielema to death when that honesty rides off the rails a bit.
"I actually get so annoyed when reporters talk about how much they like him, then at the first opportunity write an article slamming him for putting his foot in his mouth," Biddy said. "I guess as a media person I get tired of hearing the same robotic answers from coaches or getting guys with no personality. Bielema speaks his mind."
But the NCAA doesn't hand out hardware for congeniality. It's all about championships. Petrino got the Hogs closer than Bielema has thus far.
"I think he has been given a longer rope than maybe some coaches in the past at Arkansas," Kirk said, "because that is one area that (athletic director) Jeff Long is different than (former AD) Frank Broyles was. Arkansas is in the SEC, and that's not an easy job."
Still, Bielema can't afford another step back in 2017. In a bottom-line business, charisma can only take him so far.
year 5 of a 5-year plan
Arkansas is a respectable program again. There's no reason to believe the Razorbacks won't be going bowling annually under Bielema.
Nevertheless, can he take them further? And if so, how exactly does that happen? The players he signs won't radically change. The schemes he runs won't radically change. To state the obvious, Alabama isn't coming back to the pack, either.
Even with the departure of its best pass catcher (Morgan) and best blocker (Skipper), there's a lot to like offensively heading into next season — especially at the game's most important position. Rising senior quarterback Austin Allen proved to just as productive throwing the ball as he was fearless in the face of pressure.
Finally having a year's worth of tape to watch this offseason with him at the controls, Allen might be the premier passer in the SEC.
Making Allen's task more manageable is the presence of Rawleigh Williams III and Devwah Whaley in the backfield. Williams was only 27 yards shy of a conference rushing title in 2016, while Whaley had moments of brilliance as a freshman reserve.
The receiving corps must be rebuilt, though. In addition to Morgan; Keon Hatcher, Dominique Reed and Cody Hollister were all seniors — not to mention tight end Jeremy Sprinkle. Outside of Jared Cornelius, no other wideout on the depth chart caught more than two passes a season ago. Williams and Whaley had just 21 grabs combined.
The offensive line has to be better, too. Allen took so much punishment in his first year as the starter. That can't happen again.
All that aside, the real problems for the Hogs are on defense. Smith's unit was 10th against the run and eighth against the pass. Scoring 30.3 points per game isn't so impressive when you're giving up 31.3.
Linebacker Brooks Ellis, the team's leading tackler each of the past two years, is gone. Defensive linemen Jeremiah Ledbetter and Deatrich Wise Jr., who have finished 1-2 in sacks each of the last two years, are gone, as well. For the first time under Bielema, Arkansas allowed more sacks (35) than it recorded (25).
In terms of reinforcements, Bielema is projected to have the No. 29 recruiting class in America. Ten SEC programs are ahead of him.
The Razorbacks are what they are at this point. Bielema has been able to reel in a grand total of one 5-star prospect since taking the reigns in Fayetteville. That one (pass rusher McTelvin Agim a year ago) produced no domino effect.
So if Bielema is still Bielema, and the Hogs are still the Hogs, is this it? Even some inside the program have trouble with that question.
"I don't know," Morgan said. "I'm not a coach. I don't recruit. I don't do all that kind of stuff. I don't make the executive decisions. I'm a player. I play, and coaches coach. I wish I could tell you. Way above my pay grade."
Unless, say, Chip Kelly is willing to come and take over, then axing Bielema for the sake of axing him doesn't seem to make much sense.
"What they need to do now instead of firing coaches is figure out how to compete better with the others in the SEC," Kirk said. "Give Bielema those tools. If that includes a bigger pool for assistants and other things, then do it and see what he does with the program then. Firing coaches hasn't worked. It's time for Arkansas to try and fix the problems since joining the SEC and were there before Bielema was ever hired, and then go from there."
The only solution may be for Arkansas to be the best — and most consistent — version of itself. This Jekyll-and-Hyde act has to disappear.
"We've just got to stick to our formula," Skipper said. "Our formula to win is don't beat ourselves. We can't have penalties. We can't turn the ball over. We've got to run the ball. We've got to play four quarters of ball, and we just didn't do that. We showed flashes. We were just a bipolar team all year. We couldn't quite get rolling on all cylinders every week. When we were rolling, I think we could play with anyone in the country."
While Bielema's seat isn't necessarily hot, it's certainly the warmest it's been to this point. And it'll take more than charm to cool it off again.
"He has always talked about a five-year plan, and his rope might be extra long because of his $15.4 million buyout," Biddy said. "People are no doubt disappointed in the way the season finished and a couple of losses along the way, but I do think the majority of Arkansas fans hope he gets it worked out and it is him who takes them to the next level. And some of that is personality-based."
By definition, a five-year plan can't take six or seven years. If Bielema is going to take the Hogs another rung up the ladder, the time is now.
* All recruiting figures courtesy of the composite rankings at 247Sports.com
---
John Crist is the senior writer for Saturday Down South, a member of the FWAA and a voter for the Heisman Trophy. Send him an e-mail, like him on Facebook or follow him on Twitter.