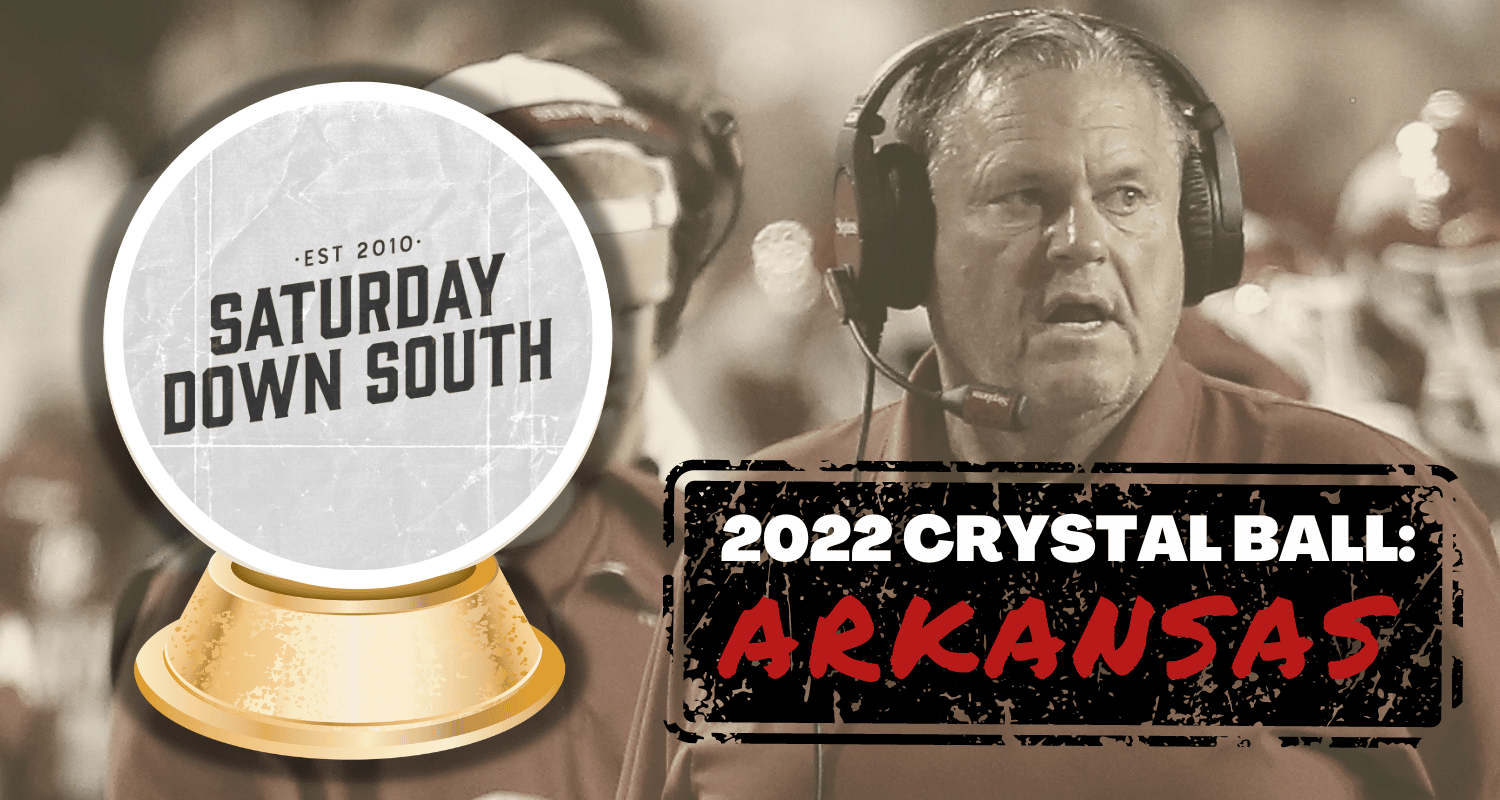 ARKANSAS
The SDS Crystal Ball: Predicting every game for Arkansas football in 2022
Editor's note: Saturday Down South's annual Crystal Ball series continues today with Arkansas. We'll stay with the SEC West all week. Next week, we'll predict every game for every SEC East team.
How do you like me now?
Whoops. Should I not have used a song from Oklahoma fan Toby Keith to quote Arkansas' post-2021 vibe? Fair. I'll take another crack at it.
"Flyin' down a back road."
That has to be what it feels like for an Arkansas program who entered the decade just trying to win its first SEC game in over 1,000 days (also, shoutout Justin Moore). Through 2 short years, Sam Pittman already has the Hogs as a legitimate preseason contender for a New Year's 6 bowl.
A 9-win season was Arkansas' best in a decade. Wins against the likes of A&M, LSU, Texas and Penn State showed this wasn't just a feel-good story like it was in 2020 when simply winning an SEC game felt like a monumental feat.
Now, though, expectations are here. Fittingly, so is Pittman's new contract. He's tasked with navigating the loaded SEC West and a nonconference schedule that doesn't feature a Power 5 team but does boast a pair of AP Top 25 finishers. Winning 7 games would be seen as a disappointment with all the momentum and talent that Arkansas boasts entering 2022.
So just how high on the Hogs should the Arkansas faithful be? Let's break it down.
Does KJ Jefferson have another gear to reach?
Jefferson delivered the best season by an Arkansas quarterback in a decade. He had a 21-4 TD-INT ratio with a top-10 quarterback rating nationally while also finishing as the leading rusher for an Arkansas squad that ran the ball better than anyone at the Power 5 level. That's darn impressive for anyone, much less for a first-time starter running an offense that was different from the one he signed up to play in.
Can Jefferson get better, though? Definitely. It's great that he had a low interception total. Keeping that number down is key in a division with little margin for error. But it's OK to see Jefferson take some more risks. It's a balance. Trusting those non-Treylon Burks receivers (more on his absence in a minute) is crucial to Arkansas taking that next step offensively.
Jefferson can make all the throws. He finished 2021 as PFF's highest-graded SEC passer on deep throws. Whether that means Jefferson will cut it loose more often remains to be seen.
In 2021, Arkansas ranked No. 115 in FBS and dead last in the SEC in passing attempts per game. Considering the circumstances, that made sense. But Jefferson showed in higher volume passing situations that he could still maintain a high efficiency rate. In his 3 games with 30 pass attempts, Jefferson averaged 8.8 yards per attempt and he boasted an 8-1 TD-INT ratio while also racking up 173 rushing yards and 3 scores with his legs.
Will Arkansas average 30 pass attempt per game with a more experienced Jefferson? Probably not, but there should be more reliance on his proven arm and decision-making, especially if it means perhaps saving his body from the pounding he takes on as a runner. Jefferson could very well finish as Arkansas' first All-SEC quarterback in 11 years, and depending on how that Alabama showdown shakes out, don't be surprised if the Heisman Trophy talk starts to grow outside of Fayetteville.
Replacing Treylon Burks isn't a 1-man job
It's cliché, but you don't replace one of the program's top players of the 21st century with 1 dude. Like, especially when the guy who left had 3 times as much production as any other pass-catcher. There will be times when Burks' absence is felt.
How many times did it feel like he just totally took over a game? That 85-yard catch and run against A&M was pivotal. Those ridiculous 37-yard catches on consecutive plays against Ole Miss was huge. Who could forget when he ran away from Alabama's entire defense? The guy was special.
Burks is off to the NFL and Arkansas' best chance to fill the gigantic shoes of the versatile play-maker came via the transfer portal. Jadon Haselwood is a former 5-star recruit who flashed potential but never really settled into the role he was hoping for at Oklahoma. His ability to get separation is in question, but that's where that aforementioned trust with Jefferson will be put to the test. Haselwood doesn't need to be Burks 2.0; he needs to be a go-to target, though.
Matt Landers has a chance to develop into that go-to deep threat after he averaged 25.7 yards per catch and led FBS with 3 catches of 80 yards at Toledo. The former UGA wideout has had issues with drops throughout his career, so his production might not be steady, but he doesn't need high volume to make his impact felt.
And in a post-Burks world, Arkansas still needs its familiar faces to step up. Trey Knox was the guy expected to form an elite duo with Burks, but he hasn't been able to become that guy since he switched to tight end. Warren Thompson had 41.7% of his targets come from 15 yards downfield, which leads all SEC returnees (via @CFBFilmRoom).
Maybe the breakout star comes in the form of a true freshman like track star Isaiah Sategna or converted quarterback Malik Hornsby can settle into role comparable to what DK Joyner does at South Carolina.
Whatever the case, Arkansas has to find options to replace the man responsible for 40% of the team's receiving yards.
The Drew Sanders impact
Amidst a successful 2 years for Barry Odom's defense, there's been an obvious area of need — a dominant edge rusher. That issue predates Odom. Arkansas' last player to finish with double-digit sacks was Jake Bequette in 2011.
Dare I say, Sanders is about to end that drought.
The former Alabama edge rusher was a solid player in his first season as a starter. So how did he end up at Arkansas? A midseason injury sidelined him and allowed true freshman Dallas Turner to step in and become a star. Pre-injury, Sanders averaged 50 snaps per game. After he returned, he averaged just 6 snaps per game. It's too bad for Sanders, who started to blossom with the opportunity.
Drew Sanders can bring the boom for @AlabamaFTBL. pic.twitter.com/ruyN68imGJ

— SEC on CBS ? (@SEConCBS) September 18, 2021
But the good news for Arkansas is that it added someone who could fill a major need. Those instincts are there. Now, so is his chance at regular snaps. He should fit in well with Bumper Pool and Jalen Catalon, both of whom are the veteran leaders of that group.
If Catalon can stay healthy coming off a shoulder injury and if Sanders picks up where he left off, it's not crazy to think that Arkansas' defense could improve in a post-Grant Morgan/Hayden Henry world.
Game-by-game predictions
Week 1: vs. Cincinnati (W)
I know that Luke Fickell's squad lost a ton of production with Desmond Ridder, Sauce Gardner, Coby Bryant, Myjai Sanders and others off to the NFL (9 NFL Draft picks). It's still a team that most recently had its season come to an end in a Playoff game. In other words, this ain't Rice. Arkansas cannot afford to sleepwalk through the first half like it did in last year's opener. Fortunately for the Hogs, they have that ground game to lean on. A 4th quarter touchdown from Rocket Sanders puts a hard-fought opener away for the home team.
Week 2: vs. South Carolina (W)
It really is a tricky September. Facing South Carolina with Spencer Rattler so early in the season could make for an interesting chess match between Odom and Marcus Satterfield. The difference, however, is at the line of scrimmage. That's where Arkansas imposes its will instead of trying to test Cam Smith and that talented South Carolina secondary. The Hogs control the clock in the second half and pull away late to kick off SEC play.
Week 3: vs. Missouri State (W)
Bobby Freakin Petrino IS BACK. My word, we're blessed. We get a week of neck brace jokes and the awkward SEC Network crew that tiptoes around the fact that Petrino only got the boot at Arkansas because, well, a picture is worth 1,000 words.
Bobby Petrino crashes his motorcycle with his mistress in it, leading to this infamous press conference and the end of his time at Arkansas (2012) pic.twitter.com/ZME7DE0SfU

— crazy ass moments in college football history (@CFBCrazyMoments) August 2, 2022
We must always be grateful that the football gods gave us Hugh Freeze returning to Ole Miss and Petrino returning to Arkansas in consecutive years. That'll dominate all the pre-game festivities, but I expect Arkansas to run all over an FCS squad (I know they're a top-5 squad. I said what I said).
Week 4: vs. Texas A&M (W)
Two in a row? Really? Last year, I watched A&M's first-time starter be totally perplexed by Odom's defense. Maybe that'll be Haynes King. Perhaps it'll even be Max Johnson, who oddly got yanked after starting that game against Arkansas last year. Either way, I don't think the Aggies will have enough success sustaining scoring drives. A&M's talented, but extremely young defensive line will be on its heels throughout the afternoon in what'll serve as a "welcome to the SEC" game against that Arkansas offensive line.
Week 5: vs. Alabama (L)
This one has massive "game of the year" potential. That's why for the first time in 16 years … College GameDay is heading to Fayetteville! The Arkansas offensive line against that Alabama front will be one of the premier matchups in SEC play. On the flip side, Sanders rushing off the edge against his former team will be an excellent storyline. So what's the difference? Jahmyr Gibbs. After a little bit of a slow start, the Georgia Tech transfer makes his presence felt with a 3-touchdown day (2 rushing, 1 receiving). In front of a raucous crowd, Alabama has to rally back from a second-half deficit for the first time, but ultimately, Arkansas' upset bid comes up just short. A pivotal SEC West battle is an instant classic.
Week 6: at Mississippi State (L)
This has quietly been a phenomenal rivalry since Pittman and Mike Leach began at their respective jobs. We had 2 highly competitive games, both of which were won by the Hogs. However, MSU gets the better of Arkansas this time. MSU's experienced defense has the answer to slow down that Arkansas ground game and it's tough sledding for AJ Green and Dominique Johnson. Will Rogers takes a page out of Jefferson's playbook and delivers a late touchdown drive to pull out a back-and-forth thriller. Call it an Alabama hangover for Arkansas, but what this will show is that the No. 2 spot in the SEC West is truly up for grabs.
Week 7: at BYU (W)
I promise I'm not sleeping on BYU. Arkansas shouldn't be, either. BYU was 6-1 vs. Power 5 competition last year with its lone loss coming against Baylor. Oh, and the Cougars are No. 2 in FBS in percentage of returning production. This should be a dog fight in Provo. But this is where Jefferson's brilliance is on display. With their backs against the wall in the middle of the 4th quarter, Jefferson connects with Landers for an 82-yard score to give the Hogs a 21-17 victory.
Week 8: Bye
Week 9: at Auburn (L)
The SEC West is gonna be weird, man. The second a team looks like it has New Year's 6 bowl potential, it gets humbled. Even coming off a bye and a "back on track" win against BYU, Arkansas falls to an Auburn team starting to hear its noise about its head coach's future. Could that be with perhaps a new starting quarterback in Robby Ashford? It wouldn't surprise me if Bryan Harsin tested out a potential wild card. Ultimately, it's Auburn's ground game that takes over and Jordan-Hare gets some much-needed life.
Week 10: vs. Liberty (W)
Go figure that Arkansas' nonconference slate consists of:
A 2021 Playoff team
Bobby Petrino
A trip to Utah against a possible Top 25 team
Hugh Freeze
That's wild. There's perhaps no more entertaining schedule from start to finish than Arkansas'. But on this day, I expect Arkansas to rely heavily on the Green/Johnson/Sanders trio with a bit of Hornsby mixed in, especially in the second half. The Hogs don't have to defend Malik Willis (NFL defenses get to do that now), but dealing with 60 minutes of Freeze at the controls is no picnic. Still, Arkansas escapes with an unblemished nonconference slate.
Week 11: vs. LSU (W)
What will LSU look like by November? Will it have the same starting quarterback? Will Kayshon Boutte still be making plays? Will a new-look defense with multiple Arkansas transfers have its footing? I can't answer these questions. I can, however, put some faith in Jefferson to test that secondary over the top with Thompson and Landers. It won't turn into a 40-pass day against LSU's impressive edge duo, but the splash plays will fuel Arkansas and keep those New Year's 6 bowl hopes alive.
Week 12: vs. Ole Miss (W)
Much like LSU, it's hard to project how a team with double-digit Power 5 transfers will look by season's end. These teams played in what was, in my opinion, the best game of the regular season. It was Jefferson's coming out party even though it came in a losing effort. This time, I don't expect him to come up short. In another high-scoring affair, Jefferson does his damage with his legs and avoids a 2021 repeat.
Week 13: at Mizzou (W)
Another Odom revenge game against Mizzou? Yep. In a lights-out performance by Arkansas' defense, SEC transfers Latavious Brini and Dwight McGlothern both step in front of a Brady Cook pass and turn this into a lopsided affair. Mizzou's run defense improves, but not enough to prevent the Hogs from capitalizing on some short fields to spoil Senior Day in Columbia.
2022 projection: 9-3 (5-3), 2nd in SEC West
#WooPig
A 9-3 season would give the Hogs a shot at a New Year's 6 bowl. That'd depend on how those wins would age. Will the likes of A&M, Cincinnati, LSU, Ole Miss and even BYU give Arkansas as many as 5 Top 25 wins? It's possible.
It's also possible that a gauntlet of a schedule yields a 7-5 season and everyone (myself included) who was high on the Hogs is reminded that the margin for error in the SEC West is no joke. Perhaps the questions about getting consistent pressure on the passer or finding those new targets for Jefferson will be a constant topic of discussion and it won't be a winning season in SEC play. Shoot, maybe that nonconference slate does trip Arkansas up once or twice to disrupt a New Year's 6 bowl bid.
Don't underestimate what a New Year's 6 bowl would mean, especially if that includes another year of a competitive game with Alabama. That would go a long way to establish the notion that Pittman and Co. aren't going anywhere.
Pittman got his team Outback Bowl rings simply because he felt like it. After what plenty of those players experienced before he got there, he was right to make that a big deal. It was. Nobody in their right mind could've predicted that Arkansas would climb out of the SEC basement as quickly as it did.
Another climb awaits. Get ready for that jukebox to be cranked up to a new level in 2022.