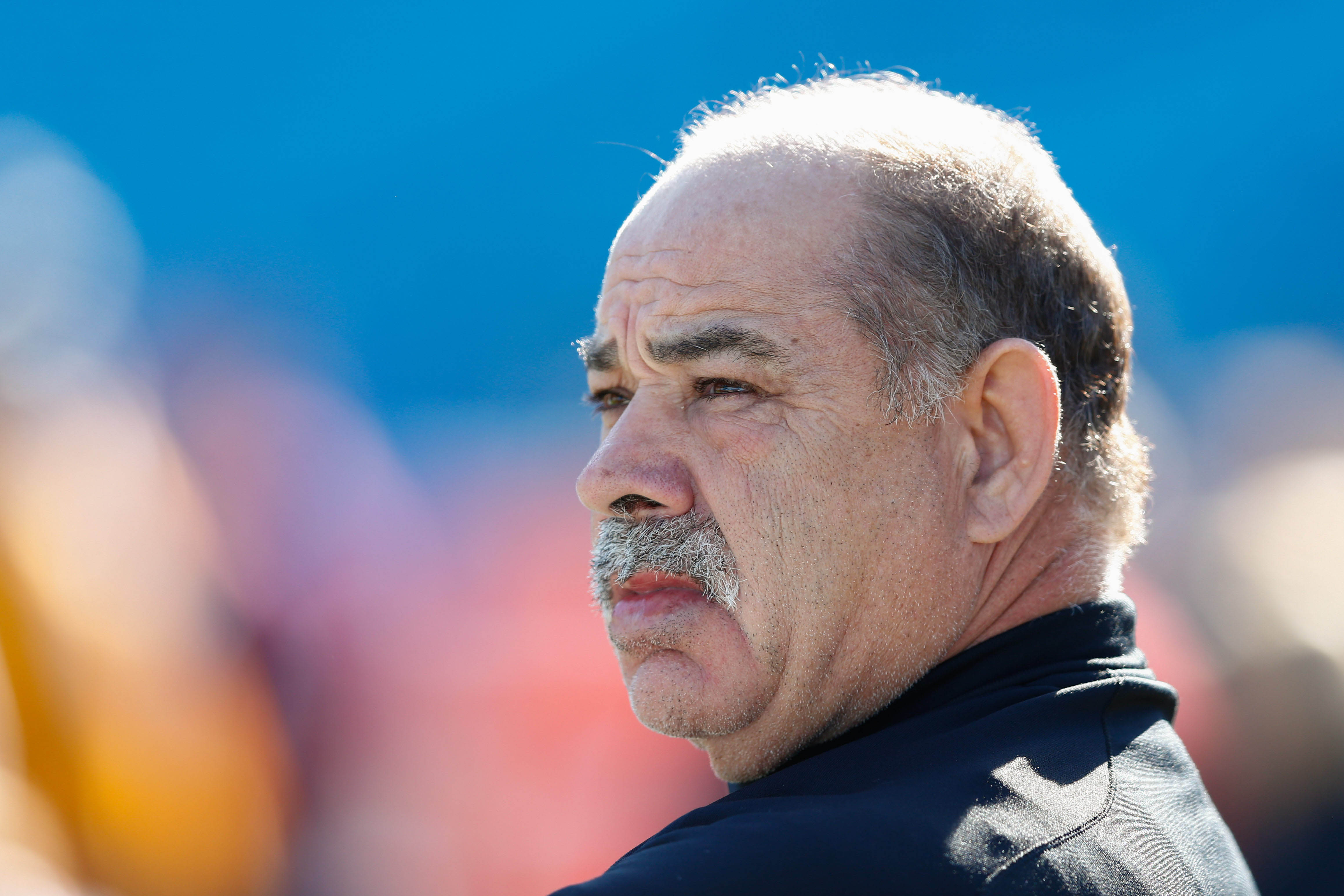 ARKANSAS
Grading the DC/OC hires at Arkansas: Chavis B-, Craddock C+
The Arkansas football program has added two key assistants who will be instrumental in shaping the "Chad Morris era" moving forward.
The offensive and defensive coordinator positions have been filled with a wily veteran and a "young buck" who many think has a bright future.
Arkansas officially announced the hires of John Chavis and Joe Craddock on Tuesday. The rumors of Chavis coming to Fayetteville have been swirling for weeks, and the move finally came to fruition. Craddock is another addition some saw coming since he worked with Morris for the past several seasons.
How good are these hires? Here's what we think:
Defensive coordinator/linebackers coach
Hire: John Chavis
Grade: B-
The majority of the fan base wasn't thrilled when Chavis was officially announced as the defensive coordinator.
Booo

— Scott Williams (@gohogsfamily) January 10, 2018
His experience isn't the problem. "The Chief" has been navigating through the SEC since 1995.
While he was at Tennessee, the Volunteers won the 1998 national championship. That season, Chavis's defense gave up 14.5 points per game, which ranked in the top 10 in the country.
When LSU won it all in 2011, Chavis's unit was second nationally in scoring defense. He won the Broyles Award that season, given to the nation's best assistant coach. Some argue the Tigers had the greatest defense in college football history that year, led by the likes of Morris Claiborne, Tyrann Mathieu and Eric Reid.
His SEC accolades are exceptional. He's had 44 All-SEC First Team selections since he began at Tennessee in 1995. During his tenures at Tennessee and LSU, his teams had six appearances in the SEC Championship Game and 70 of his players went on to be drafted to the NFL.
With his prior stops, Chavis has made himself a household name in recruiting. He will have major access in Louisiana, Tennessee and Texas.
"It's so important to play great defense in the SEC, and Coach Chavis brings a wealth of experience, knowledge and success in the league to the table," Morris said per a release from Arkansas.
"It's a great time to be at the University of Arkansas," Chavis said, "and I can't wait to get started on building a defense that our fans can be excited about."
Many Hogs fans, however, are more nervous than excited based on Chavis's work the past three seasons at Texas A&M. Some of the Aggies' defensive struggles can be blamed, at least in part, on the program's high-tempo offense, which gives opponents more time and more possessions.
That being said, Arkansas fans don't want the Texas A&M defense of 2017 that gave up 55 points to Wake Forest in the Belk Bowl.
There is something to be said for experience, but it only holds so much weight. Every top 10 scoring defense in 2017 has a current defensive coordinator who is less than 60 years old. Chavis is 61. In fact, Morris is 12 years younger than Chavis at 49.
In recruiting, relating to kids is one of the biggest parts of getting them on campus and signing their letters of intent. His past would lead many to believe he can, but the recruiting landscape is changing quickly.
Personally, I think Arkansas could have done better.
"I'll hire the best defensive coordinator in all of college football." -Chad Morris

In 2017, Texas A&M ranked outside the top 60 in passing, rushing, scoring and total defense.

At 61, I would argue Chavis' best days are behind him. https://t.co/6XkZZR13Ne

— Tye Richardson (@TyeSportsRadio) December 20, 2017
No one is questioning what he has done in the past. The future is what worries most people, and for good reason.
Offensive coordinator/quarterbacks coach
Hire: Joe Craddock IV
Grade: C+
Joe Craddock was with Morris every year at SMU from 2015-2017. This season, the Mustangs were a top 15 FBS scoring offense at 37.8 points per game.
Craddock mixed up his attack with multiple looks, leading to a 1,000-yard rusher and a 1,000-yard receiver. Balance like that is seldom seen in college football.
Before Morris and Craddock arrived, SMU was a wasteland on offense. In just one season, the Mustangs improved almost 17 points per game.
"I look forward to recruiting elite talent to Fayetteville, developing our players, putting together an explosive offense, and competing in a league as competitive and strong as the SEC," Craddock said.
Morris is pumped to keep Craddock by his side. "He has a great mind and feel for the game," the head coach said.
Craddock, who worked with Deshaun Watson at Clemson in 2014, is adept at working hands-on with quarterbacks since he played the position himself at Middle Tennessee State (2004-2008).
New offensive coordinator Joe Craddock: Our quarterback competition is going to be wide open. pic.twitter.com/P4v9ql1NdT

— Bobby Swofford (@5NEWSBobby) January 10, 2018
Craddock is a mere 32 years old and has never faced this much pressure. Coaching in the SEC causes stress unlike any job in college football.
Morris hired a guy he knows and trusts. It remains to be seen if Craddock is ready for the SEC in just his sixth year with an on-field role in Division I.