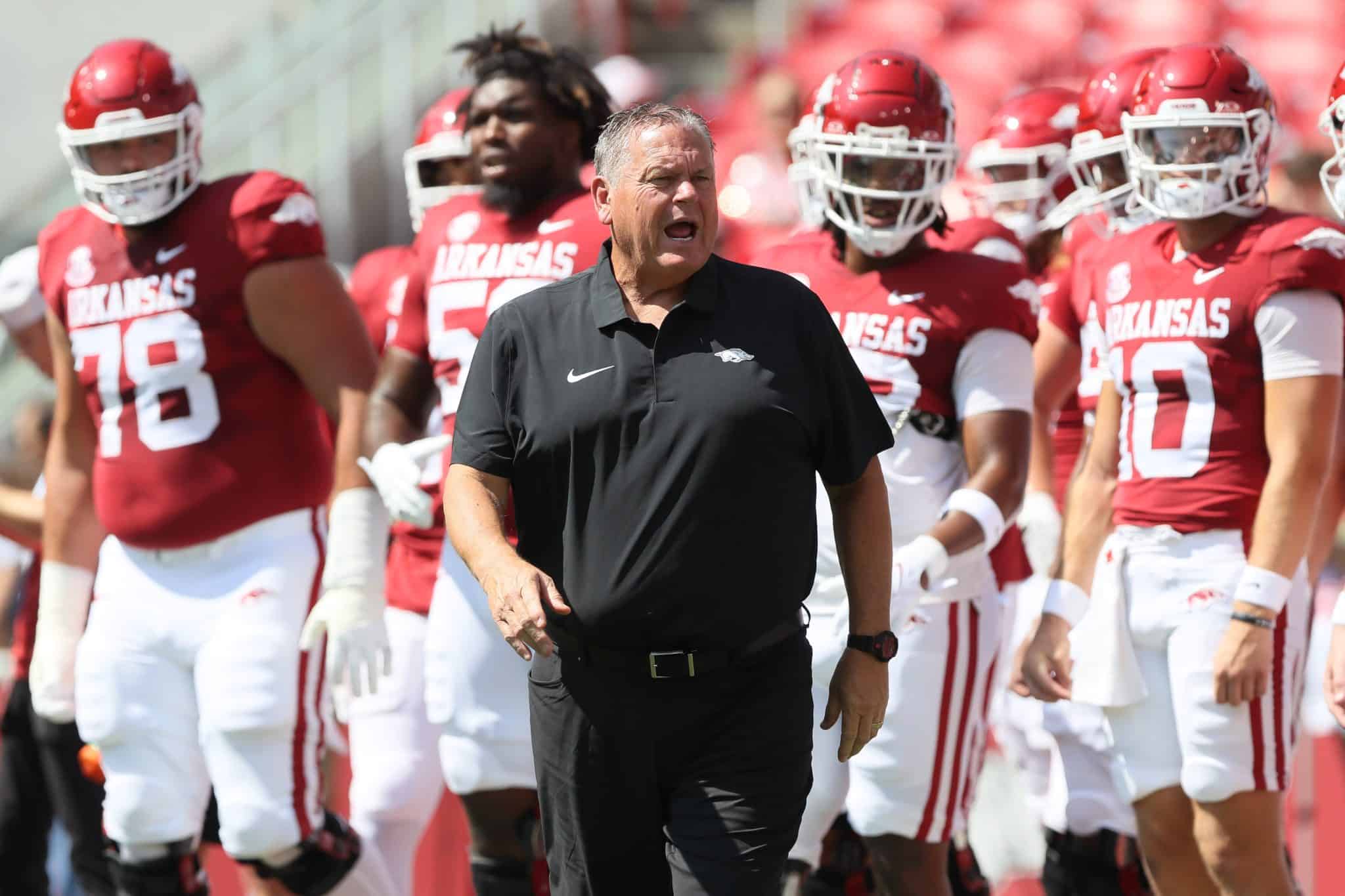 ARKANSAS
Hayes: As noise grows louder, Sam Pittman hits mute on the nonsense
It's time to look at this from a broader, rational perspective.
This isn't just football. It's more than a string of 1-possession losses at Arkansas, and losing late to your rival and living and dying with every play of every game.
This is life for young men playing a sport, a cruel and uncaring weekly pendulum that stressfully swings from 1 side (a gut punch that brings you to your knees) to the other (relief).
And Sam Pittman is fed up with it.
"I do not believe that you can hide behind a phone and address people as personally as what people do," Pittman said Monday at his weekly press conference.
But they're out in force every week, the nameless and faceless with their social media muscles enacting untold mental stress and damage because the ball didn't bounce the right way.
It is here where we return to this very moment a year ago, when the honeymoon for Arkansas under Pittman ended and the nonsense began. More to the point, the criticism of college athletes at Arkansas began.
Last year's Texas A&M game ended when a 42-yard field goal attempt from Arkansas kicker Cam Little — are you ready for this? — hit on top of the right upright and, by rule, was no good.
Inches. Literally inches from winning — or losing for the 10th time in the past 11 against the rival Aggies.
If the ball clears the right upright and goes over it — instead of hitting on top of it — the field goal is good and Arkansas has a 2-game winning streak in the series. But the unthinkable happened, and when it does, buddy, someone has to pay.
Arkansas has had 5 more 1-possession losses since, each as confounding as the Texas A&M loss. Two weeks ago, BYU went into Fayetteville and won, in part, because of unthinkable, unlucky special teams mistakes.
One of those mistakes was a shanked, 10-yard punt from Max Fletcher that gave the BYU offense a short field, which turned into a touchdown.
The response on social media, of course, was right down the middle with every other response to every other mistake made by a player in every other game by every other fan base.
"Fletcher was at practice on Monday. He's lower than low," Pittman said. "I walk by him, I said, 'Hey Max, what's wrong with you?' He said, 'Social media.'"
Went all the way to Australia to get a guy who punts it 10 yards.
How much does it cost to send him back to Australia?
"I said, 'Max, they didn't say I'm fat on there, did they?'" Pittman said. "He says, 'Yes, sir.' 'What about my chest, did they say anything about that?' He started smiling, he says 'Yes, sir.' I said, 'Was I supposed to get fired on Sunday?' He says, 'Yes, sir.' I said, 'Well, I'm still here. They got 2 out of 3 right.'"
Pittman gets paid millions to coach football. He gets it, he's fair game.
Come at him, take your best personal and professional shots. Criticize him, scream from the top of Signal Hill that he should be fired if the Hogs lose 1 more of those damn 1-possession games.
But it's a different story when the nonsense reaches players, when the anonymous poison infects those who haven't — over years of dealing with the same crap — developed thick skin.
Case in point: Colorado star Travis Hunter.
Colorado State safety Henry Blackburn hit Hunter late on the sideline two weeks ago during the bitter rivalry. Hunter missed the rest of the game, and was later diagnosed with a lacerated liver.
Right on cue, social media immediately went after Blackburn with, among other things, death threats. It didn't help that the ESPN crew announcing the game — clearly caught up and bought into the Deion Sanders hoopla — called the hit "dirty." Over and over.
Then replayed it, over and over and over.
A couple of days later, Hunter went live on social media to explain, yeah, it wasn't a dirty hit. It was a "football play."
Stand down, social media muscles.
Fletcher didn't want to shank a punt, it was a football play. Star Hogs QB KJ Jefferson didn't want to fumble the ball at the Texas A&M 3 last season, when a touchdown would've given Arkansas a 21-7 lead. It was a football play.
Pittman didn't want to deactivate his Twitter account but did, walking away from the unhinged, unhappy and unforgiving before the toxic environment began affecting even him.
"We need to help these kids," Pittman said. "There's a lot more going on in their life right now than possibly when I was a kid. And I think a lot of it has to do with (phones)."
A lot of it, like it or not — and fair or not — has to do with winning, too.
There's more nonsense on the horizon with every potential loss. It doesn't matter that Texas A&M is one of the most talented teams in the SEC.
All that matters to the social media muscles is Arkansas is playing a team that's playing its backup quarterback — even though this is Aggies QB Max Johnson's 4th season in the SEC, and his career TD/INT ratio is 42/7.
And if the Hogs don't win, guess who's hearing it?
"I think everybody thinks it's OK to bash public figures and people," Pittman said. "That could be musicians, coaches, whatever it may be. I'll be honest with you, I just got sick of it."
Stand down, social media muscles.