ARKANSAS
In case there was any doubt, the Gonzaga win cemented JD Notae's status as an Arkansas legend
In the final minutes of Arkansas' Sweet 16 showdown with top overall seed Gonzaga, JD Notae drove right into the narrow chest of possible future No. 1 overall pick, Chet Holmgren. Why? Holmgren had 4 fouls. Getting the quirky, but prolific 7-footer out of the game in those final 3-plus minutes was, by all accounts, pivotal.
Never mind the fact that Notae didn't look like the best version of himself, or that ever since he went off against Kentucky a month ago, he was a 28% shooter (not including the 9-for-29 clip he shot it at on Thursday).
Notae had to get to the bucket and force the action. And just as he's done countless times during his 2 years in the Arkansas backcourt, Notae made it happen. A (questionable) foul call, a Holmgren exit and a huge lift in a 6-point game.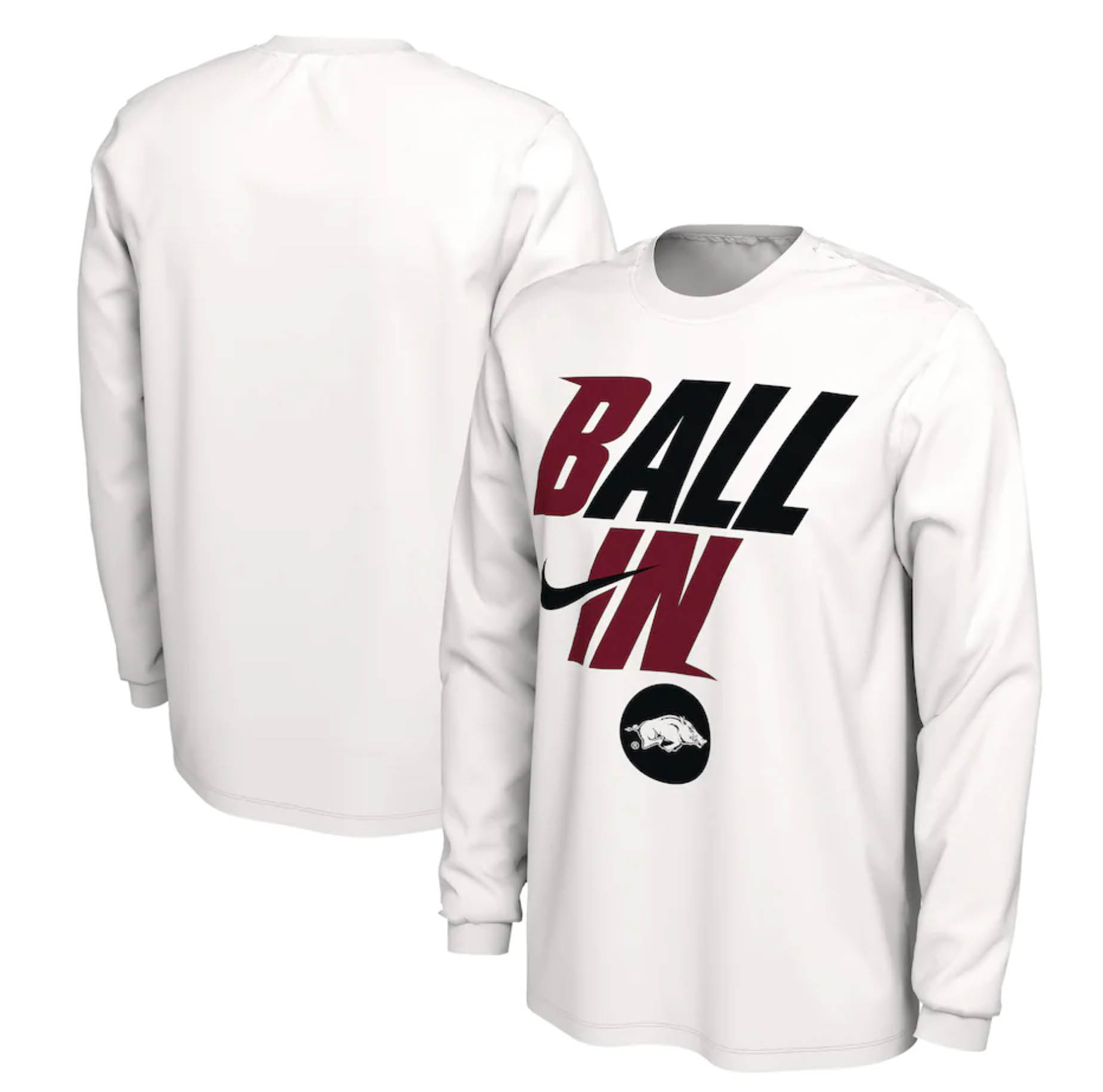 It was a crucial juncture that'll probably be forgotten in a career that keeps adding big wins. None, however, were bigger than the one that Notae fueled on Thursday night.
Notae helped Arkansas earn a place in the Elite 8 for the second consecutive year. And by busting out that kind of effort to take down top overall seed Gonzaga, Notae forever earned a place in Arkansas lore.
It wasn't that Notae needed to catch fire to lead Arkansas to an upset. This wasn't some mid-major who needed to have an out-of-body experience. Contrary to what the skeptics thought, that Hogs' half-court defense was plenty ready for the high-octane Zags. Still, though. Against the No. 1 team in the country in points per possession, the high-volume version of Notae was still essential. He had a game-high 21 points and perhaps of equal significance, he played 38 of 40 total minutes.
Yeah, Notae didn't have his fastball. Dude missed 20 (!) shots. Some will get hung up on that.
You know what he did have? A stat-sheet stuffing showing unlike anything we've seen in the NCAA Tournament since Chris Paul:
JD Notae for @RazorbackMBB tonight:

21 points
6 rebounds
6 assists
3 steals
2 blocks

The last player to reach all of those numbers in an NCAA Tournament game was Wake Forest's Chris Paul in 2004.

— Stats By STATS (@StatsBySTATS) March 25, 2022
Not too shabby, especially for a guy who got to Arkansas by way of Jacksonville University. From sitting a year (per NCAA transfer rules) to being the microwave scorer off the bench as the SEC Coaches 6th Man of the Year in 2020-21 to becoming a third-team All-American as a senior, Notae waited his turn. He became the type of guy who learned how to impact a game … even on a night when he missed 20 shots.
Oh, and just in case you were wondering, that was of little concern to Musselman:
"He only took 29 shots? He could've missed 10 more shots and I would've kept calling his number." – Musselman on JD Notae, who scored 21 points on 9-of-29 shooting.

— Austin Getz (@AustinGetzSWX) March 25, 2022
Musselman on JD Notae's missed shots: "I'm going to roll with the guys that I've rolled with all year."

— Pig Trail Nation (@PigTrailNation) March 25, 2022
That's Musselman's guy. Musselman knew Notae was his guy when he came on a recruiting visit and all he wanted to do was talk basketball and eat pizza and hamburgers. No recruit was a cheaper visit than Notae, according to Musselman.
In 2021-22, Arkansas needed the hungriest version of Notae. Musselman had to replace 3 of his 4 leading scorers from last year's Elite 8 squad. As much as Jaylin Williams turned into an indispensable glue guy in Year 2, he's still not built to be a leading scorer with an offense that runs through him, and neither is the prolific but sometimes streaky Stanley Umude.
To be fair, Notae is plenty streaky as a shooter himself. But still, he only finished in single digits once all year. For an Arkansas team who prides itself on its defense, which was No. 1 in the SEC, you can't overstate the importance of Notae's ability to get his own shot.
I mean, you can't teach this:
JD Notae WHAT A SHOT. pic.twitter.com/qH608fYpTz

— Bleacher Report (@BleacherReport) March 25, 2022
He's got shades of Gilbert Arenas, whom Musselman used to coach when he was with the Golden State Warriors. Both had the green light in Musselman's offense.
Regardless of what's next for Notae's NBA future, he deserves to be remembered for how he elevated the ceiling in the first 3 years of the Musselman era. No, he won't end up among the program's all-time leading scorers (he's still in the 1,000-point club). He's not ever going to touch the career of a Sidney Moncrief, and he didn't get to be part of an era as iconic as Corliss Williamson and Scott Thurman were part of with Nolan Richardson.
Well, maybe it's too early to say that. Anything is on the table when you knock out the No. 1 overall seed.
For all we know, we haven't seen the last of Notae's brilliance. Perhaps we're just gearing up for him to show out like he did in a monumental win against Kentucky. Maybe Notae's career will include sending Mike Krzyzewski home early in his final season at Duke.
No matter what happens on Saturday, let's make sure Notae always gets his place in history. Arkansas wouldn't be returning to the Elite 8 without him.
You can bet all the pizza and burgers in Fayetteville that they'd like to march on to the Final Four with him.