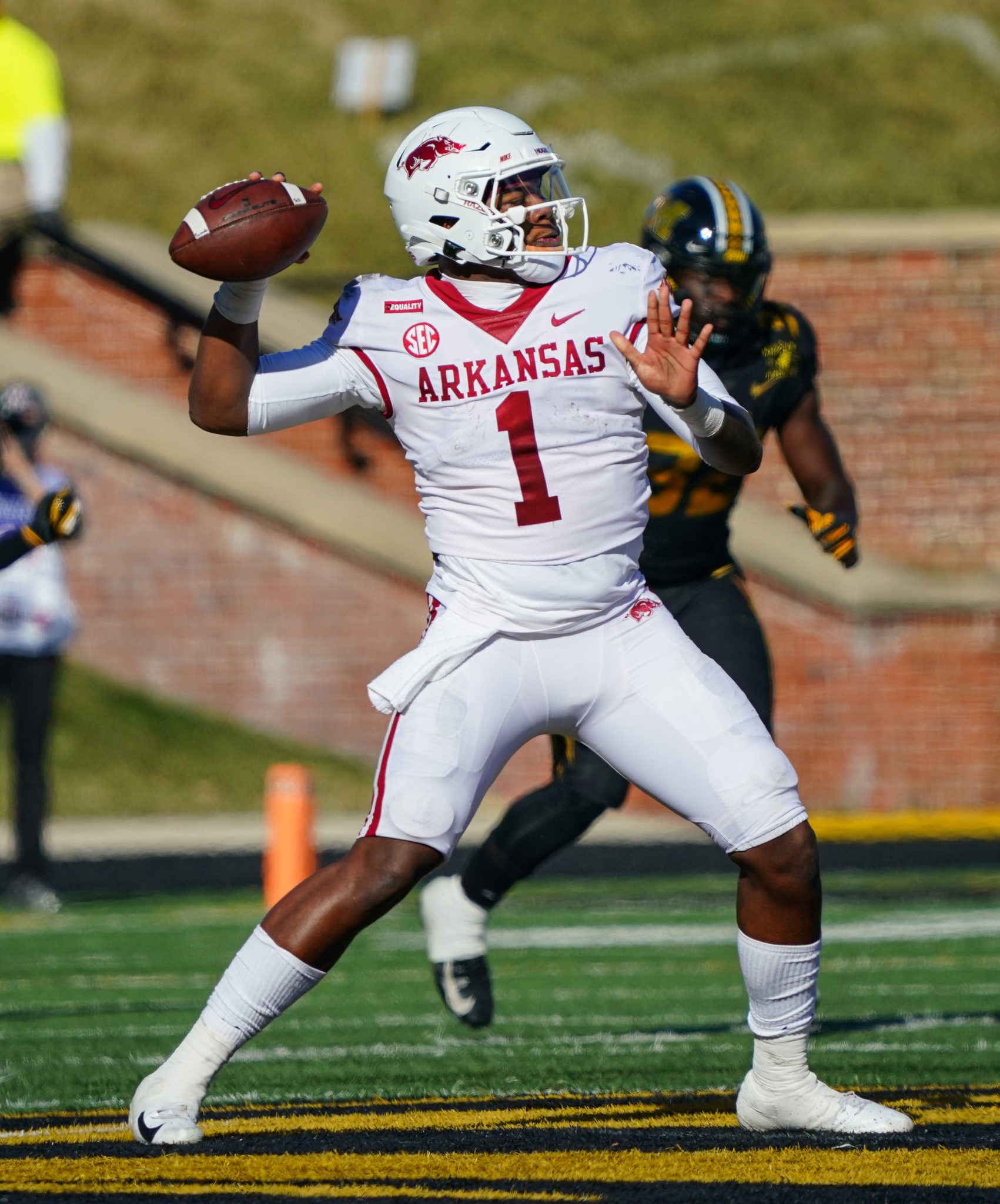 ARKANSAS
Is Arkansas set for a regression in 2021?
In a twisted COVID 2020 season chalked with cancellations, delays and wild schedules, Arkansas was one of the feel-good stories of college football.
First-year head coach Sam Pittman instantly energized Razorback Nation with his Mr. Yesssirrrr attitude, bringing pride and hope back to Fayetteville by hiring a solid staff and not shying away from a brutal 10-game slate — one his own athletics director deemed "the most challenging schedule in the history of college football."
With 6 preseason Top 25 teams on the schedule, Arkansas had an over-under win total set around .5 in many Las Vegas sportsbooks. Multiple national pundits picked the Razorbacks to go 0-10. Instead, Pittman's infectious energy helped jumpstart a surprising 2020 season, as Arkansas went 3-7 with a trio of losses (Auburn, LSU and Missouri) by a combined 7 points. It was the first time since 2016 that Arkansas won at least 3 conference games in a season.
Now after years of apathy, there's bubbling optimism around the program, and with it, expectations as the Hogs opened spring camp this week.
The Razorbacks return one of the most experienced rosters in the country, so there's hope that they will continue to climb their way out of the cellar of the SEC West.
Cue Lee Corso: Not so fast my friend.
Don't shoot the messenger here, Hog fans, as I believe in the direction of the program under Sam Pittman. He's shrewdly hired two very capable coordinators and let them do their jobs. He's recruited well and definitely garnered the respect and trust from his players.
But after grossly exceeding expectations last fall, there are several signs that Arkansas is set for a regression in 2021.
A step back at quarterback
Pittman brought in former Florida quarterback Feleipe Franks as a graduate transfer last offseason and the veteran proved key in the program's transition away from the Chad Morris regime. Pittman inherited some real offensive talent, but the Razorbacks had endured ghastly quarterback play the last few seasons. In came Franks, and while the rifle-armed 6-6 signal-caller was never a real model of consistency for the Gators, he was a true stabilizing factor in Kendal Briles' offense.
Franks brought steadiness to Arkansas by facilitating the football to his playmaker, emerging by the end of the season as a second-tier SEC quarterback behind the likes of Kyle Trask and Mac Jones. He completed 69% of his passes in 9 starts, finishing with 17 touchdowns and just 4 picks.
Now Arkansas enters spring practice with an open quarterback competition.
Third-year sophomore KJ Jefferson is the early favorite for the job, especially after he flashed playmaking talent in the wild 50-48 loss to Missouri last season. With Franks out, Jefferson auditioned for the job by throwing for 274 yards and scoring 4 total touchdowns. Still, there's a competition set to unfold this offseason, with former Ole Miss transfer Kade Renfro, redshirt freshman Malik Hornsby, who already has impressed teammates, and true freshman early enrollee Lucas Coley all vying for a shot.
By the time fall rolls around, I think Jefferson is going to be named the starter and likely will put up strong numbers in Briles' QB-friendly offense. But the Razorbacks are operating under very small margins here, and I don't expect the Mississippi native to repeat Franks' nearly 4:1 touchdown to interception ratio.
Also, Jefferson is just a career 47% passer in 6 appearances, so I anticipate there being a few more hiccups from the quarterback position compared to 2020.
The dam could burst on defense
Pittman brought on former Mizzou head coach Barry Odom to shepherd Arkansas' defense, and the Razorbacks' coordinator quickly adopted an approach that kept the team in most games. Realizing the Hogs had a lack of overall talent and athleticism on defense, Odom opted to play a drop-back shell game.
Limit explosive plays by keeping everything in front of you, get fortunate with a couple of turnovers and play red-zone roulette.
And the strategy worked at times. It's exactly how Arkansas upset Mississippi State, Ole Miss and Tennessee.
The Razorbacks tied for No. 2 in the SEC in takeaways with 18 in just 10 games — their most as a program since 2016. Overall, they were one of just 6 SEC teams with a positive turnover margin (+5) — and that figure included 2 terrible picks by wideout Treylon Burks on busted trick plays.
In terms of red-zone defense, Arkansas finished fourth in the conference, allowing scores on 78% of trips inside the 20. It was the team's best percentage since 2014.
Arkansas does return a ton of production on defense this fall — it loses just one defensive starter in its best 2020 lineman Jonathan Marshall — but we know historically that turnover margin and red zone defense are largely volatile. It's not a repeatable recipe.
There's also the fact that offenses figured out Odom's game toward the latter half of last year, as Arkansas surrendered 50+ points in 3 of its final 4 games. In those losses, the Hogs allowed scores in 17 of 19 red zone trips and forced just a pair of turnovers.
The schedule is just as daunting
I'll keep this section short, but the 2021 slate is every bit the barnburner it was last year.
The Hogs once again are set to play 6 games against preseason Top 25 teams — including road affairs at Georgia, Ole Miss, LSU and Alabama.
They play Texas and have just 5 games in Fayetteville. Their regular-season finale is a showdown with rival Mizzou in Little Rock right after playing back-to-back games at LSU and Alabama.
Pittman does get the benefit of pocketing some easy nonconference wins over Rice, Georgia Southern and Arkansas-Pine Bluff, but after that, there isn't a single layup on the schedule.
It's very difficult to envision how Arkansas repeats winning 3 conference games this fall.
Ultimately, Pittman & Co., have the Hogs trending upward for the future, but this fall looks to be a bit bumpy in Year 2.