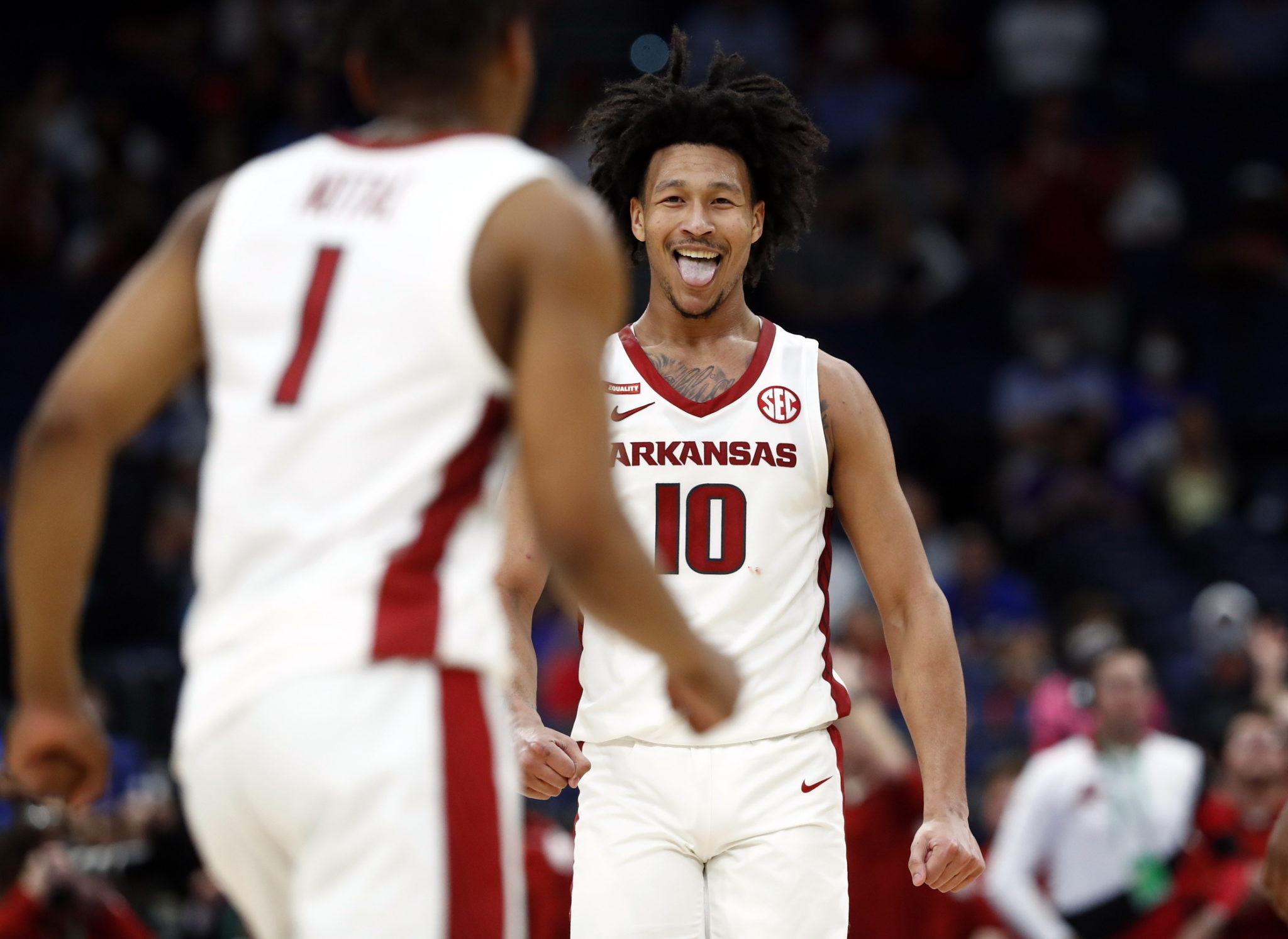 ARKANSAS
March Madness: Predicting how far Arkansas goes in the NCAA Tournament
The Arkansas Razorbacks earned a No. 4 seed in the NCAA Tournament with a furious finish to the regular season before advancing to the semifinals of the SEC Tournament. Although they ran into a buzz saw in Texas A&M, almost a mirror image of the Razorbacks team, they now must regroup and concentrate on making a run in the Big Dance.
The committee certainly didn't do the Razorbacks any favors, placing them in the West Region where top-ranked Gonzaga sits in wait. The Razorbacks open tournament play with No. 13 seed Vermont on Thursday in Buffalo, N.Y.
The America East Conference champion Catamounts went 28-5 this season, garnering their highest seed in school history, but lost their only game against a ranked opponent, falling 68-57 to then-No. 21 Maryland in the second game of the season.
They hang their hat on playing exceptional defense. Ranked 10th in the country in scoring defense, the Catamounts gave up an average of 60.5 points per game. That's not too shabby even if it is against lesser competition than what they'll face Thursday.
Vermont held 16 opponents under 60 points this season, including 5 of those under 50 points. Are you listening JD Notae?
Like Arkansas, the Catamounts made a big run down the stretch, winning 22 of their past 23 games, including a 3-game sweep in the America East Conference Tournament. So, they're used to winning. They've figured out how to do so.
But again, that's against much lesser competition and Arkansas will by far be the best team they've faced all season.
Vermont forward Ryan Davis is the team's top scorer, averaging 17.2 points per game. He's shooting at just under 60% from the floor, including a 42.3% clip from 3-point range. Stop him and Vermont is in trouble. They have just one other scorer averaging double figures – guard Ben Shungu (16.1).
Yes, Vermont will be running into a rested and inspired Arkansas team that should have little problem advancing to the Round of 32.
The Razorbacks will simply wear down Vermont with a smothering defense that won't allow the Catamounts to get into any kind of rhythm offensively.
While they just might have some problems with the Vermont defense, particularly initially, the Arkansas offense, with Notae and Co., will get rolling and methodically run past Vermont to an easy victory. The supporting cast of Stanley Umude, Au'Diese Toney and Jaylin Williams will be just too much for Vermont to handle.
Prediction: Arkansas 72, Vermont 48
Beyond that, Arkansas would play the winner of No. 5 UConn-No. 12 New Mexico State. It will be a much tougher game either way, but should the 5/12 propensity for upset continue, a matchup with the Aggies would make for an easier path. UConn, on the other hand, would put up a good fight.
And remember, Arkansas has lost 5 of their last 6 Round of 32 games. What that means for the 2021-22 Razorbacks team, we should surely find out. Get past that hurdle, and the reward would likely be a date with top-ranked Gonzaga in the Sweet 16.
That would be notable. The Hogs, who reached the Elite 8 last season, haven't been to the Sweet 16 in back-to-back years since Nolan Richardson's glorious stretch from 1993-96 — a 4-year run that included a national title, a runner-up finish and a pair of Sweet 16 appearances.
If the Hogs can break through that Round of 32 jinx, I just don't see them stopping Gonzaga, although you can rest assured, they'll put up a fight to the finish.