ARKANSAS
The Mike Woods transfer news is equal parts significant and baffling for Arkansas
The column was set to run on Wednesday morning.
On Monday, I wrote 1,200 words on why I thought Treylon Burks and Mike Woods had the best argument to be considered the SEC's top receiver duo returning in 2021. I cited how Arkansas was the only team in the SEC who returned 2 receivers with at least 600 yards last year.
I even fired off this tweet:
Here's the list of SEC teams who return multiple receivers with > 600 yards in 2020: pic.twitter.com/Ss8jUgWU1D

— Connor O'Gara (@cjogara) April 19, 2021
Well, hours (maybe minutes?) after I sent that tweet into the universe, rumblings started popping up that Woods, AKA 1/2 of that duo, was entering the transfer portal. That was confirmed that very next morning when Woods fired off his tweet into the universe:
— WOODVILLE. (@TheMikeWoods) April 20, 2021
Don't worry. I already told on myself to @OldTakesExposed. No, I do not work with Sports Illustrated covers. Yes, my timing was remarkably awful.
Wait. Let's back up.
The column that was set to run was about why Burks and Woods were such an ideal duo. You had Woods returning as arguably the best deep threat in the SEC to go along with Burks, who catches passes anytime, anywhere at 6-3, 230 pounds. I argued that Burks is the best returning receiver in the SEC. They took off down the stretch last year (Woods had 399 yards, 4 TDs in final 5 games), and yet, we got Tuesday's news.
Arkansas didn't have some overhauled offense. Kendal Briles is still running that offense and KJ Jefferson looked excellent in the spring game taking over for Feleipe Franks. It was actually Jefferson's connection with Woods in the spring game that made me make such a proclamation. Woods put on a little double move and scored a walk-in touchdown in a perfect ball from Jefferson.
Woods even tweeted this after the spring game:
Boot gang🗣🗣 https://t.co/nsIBKLfdlW

— WOODVILLE. (@TheMikeWoods) April 17, 2021
Burks and Woods might still score a ton of touchdowns, but barring a change of plans, it won't be together. That's a shame for those of us who love high-flying passing offenses. That's also a head-scratcher.
Some speculated if Woods leaving was perhaps something involving new receivers coach Kenny Guiton. But Guiton took over back in January after Justin Stepp left for the same position at South Carolina.
Also, Woods threw some cold water on that fire take: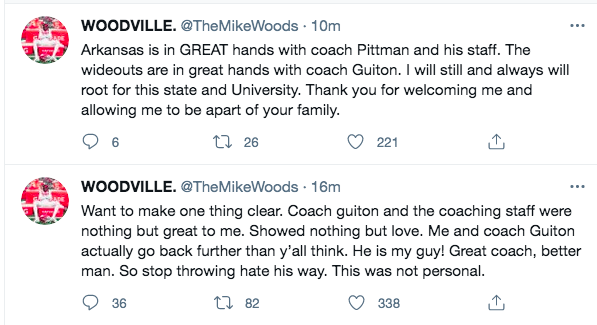 So to recap, it wasn't the new coach, it wasn't Sam Pittman, it wasn't a program riding all sorts of year-to-year momentum and it wasn't the style of offense, which saw Woods put up the best season of his career in 2020. What was it then?
We don't know the answer to that question. At least not yet. If Woods transfers to South Carolina to reunite with Stepp, who was his receivers coach for the last 3 years, that'll tell us what we needed to know. But even that would be a head-scratching move because Woods wouldn't be signing up to play with some proven downfield passer. One would think that would be at the top of his wish list considering his ability to make plays downfield.
Then again, one would've thought Woods had an ideal situation in Fayetteville. He could've seen less double teams as a result of Burks entering 2021 as one of the nation's top wideouts. Woods could've burned safeties worried about Burks coming out of the slot, which was something Woods did plenty of times in the latter half of 2020.
Now, though, Burks doesn't have that reliable second option to take pressure off him. Trey Knox is talented, and he showed promise in the spring game, but he admitted that he lost confidence last year. It showed. Knox had 7 catches for 70 yards on the season. He went one way and Burks went another.
Knox said he has his confidence back, but that doesn't mean he'll take the top off of defenses like Woods.
Could De'Vion Warren be that guy? It was Warren who stepped up and became the go-to receiver when Burks went down with a knee injury against MSU last year. Warren was also excellent against Auburn the following game, too. His return for Year 5 was welcomed with open arms, but at the same time, take away those 2 games and in 4 years, he had 14 catches for 121 yards. Asking him to be a true No. 2 but be a bit much at this stage of his career, most of which has been spent in the return game.
Maybe it'll be one of Arkansas' promising young guys who rises to the occasion.
Former 4-star receiver Darin Turner is an option, though he didn't crack the rotation as a true freshman in 2020, and he's yet to make his first college catch. JaquayIn Crawford is a former 4-star recruit who sat the 2020 season after he transferred from Oklahoma. Like Turner, though, he has yet to make a collegiate catch, and Crawford plays in the slot, which is where Burks has been at his best. The same goes for top 2021 recruit Ketron Jackson, who might be the best Woods replacement long-term, but he's only been a third-team guy in camp.
Getting separation in the SEC doesn't happen overnight. What Woods did was unique. A ton of guys can run and get behind a secondary on occasion. Having a veteran who knew the ins and outs of route-running — and was praised for the work put in to get there — is rare. It's not an easy thing to replace, and it's not likely something you'll find in the transfer portal. Woods will have a market, no doubt.
Woods' change of heart felt like an overnight thing. If it was something in the works since the start of the offseason, why go through spring camp? Nothing really suggested this was obvious. I'm sure that if and when we get to the root of why Woods left, we'll do some revisionist history and say we should've seen this or that coming.
I certainly didn't, though. And it didn't seem like Arkansas fans saw it, either.
All they can hope for now is another sudden change of heart.