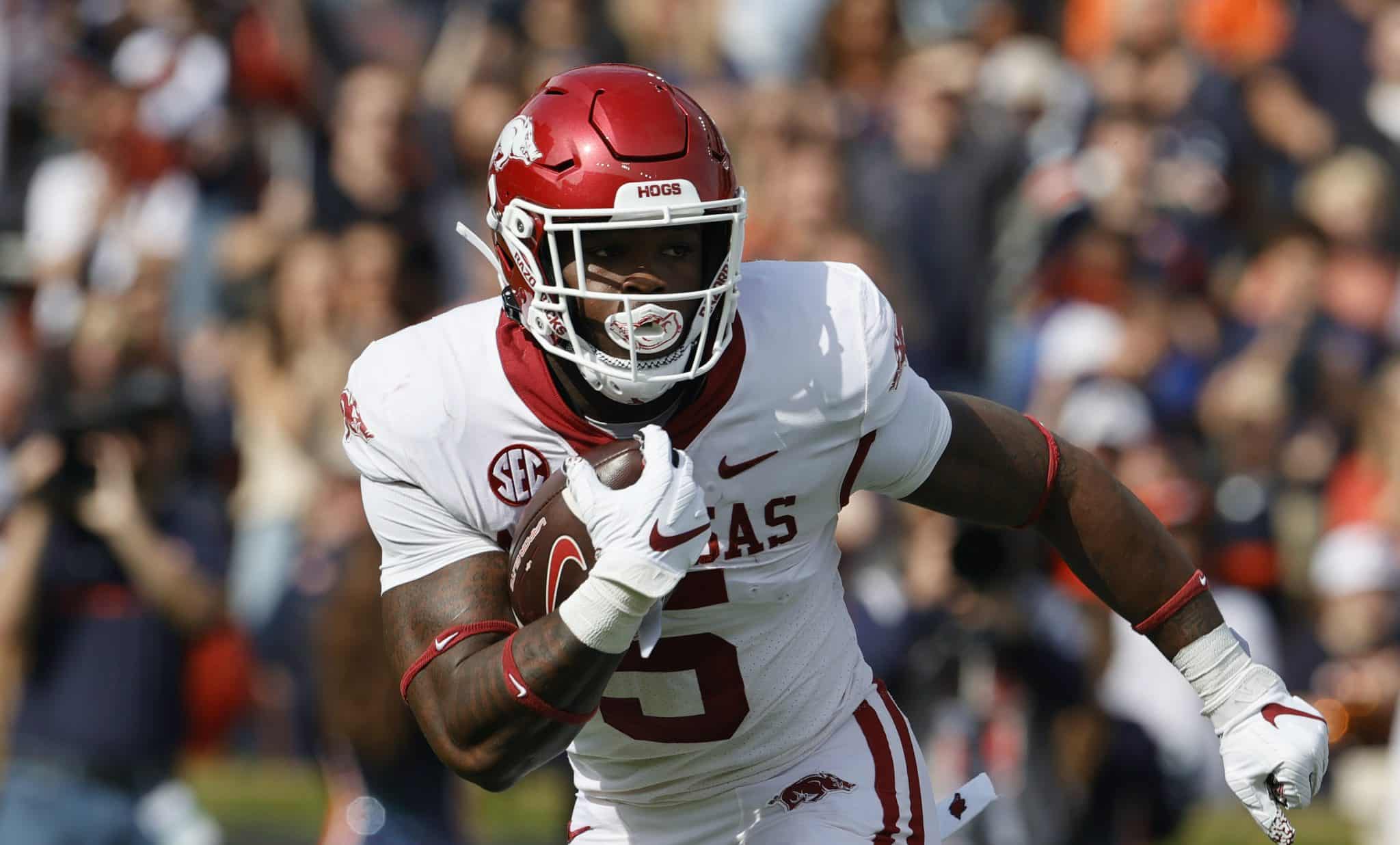 ARKANSAS
Rapid Reaction: KJ Jefferson, Rocket Sanders help Arkansas end skid vs. Auburn
KJ Jefferson played like a man among boys, and Arkansas snapped a 6-game losing streak to Auburn with a 41-27 victory over the Tigers in an SEC West showdown Saturday afternoon at Jordan-Hare Stadium. Auburn quarterback Robby Ashford kept the Tigers in the game for a while, but Jefferson's experience and athleticism made the difference.
Arkansas improved to 5-3 overall (2-3 in SEC play) and are now 1 victory from becoming bowl eligible with Liberty, LSU, Ole Miss, and Missouri still left on the schedule.
Auburn slips to 3-5 (1-4 in the SEC) under embattled head coach Bryan Harsin.
The Razorbacks pulled away in a dominating 2nd half. Jefferson drove the Razorbacks 64 yards in 9 plays to extend their halftime lead to 24-13 with an 11-yard TD pass to Jadon Haselwood. They piled on after Rocket Sanders ripped off a 76-yard jaunt that set up a 2-yard TD run by Rashod Dubinion, and Arkansas took a 31-13 lead into the 4th quarter.
The long run put Sanders over the 100-yard mark for the game and the 1,000-yard mark for the season. Sanders, the SEC's leading rusher, extended Arkansas' program-record streak of 100-yard games to 9. Sanders has accounted for 6 of those. Sanders finished with 171 yards Saturday (on 10.7 yards a carry), giving him 1,041 this season.
Dubinion added a 2-yard TD run midway through the final period to extend the lead to 38-13.
Arkansas topped 250 yards rushing — about 10 more than it averaged through the first 7 games.
Auburn scored first when Anders Carlson made a 46-yard field goal to give the Tigers an early 3-0 lead. The Tigers have scored in 125 consecutive games, the 2nd-longest streak in school history. The record is 149 games.
But Arkansas answered with an up-tempo 8-play, 75-yard drive that started with a questionable PI and ended with a controversial 1-yard TD run by Jefferson, who appeared to be stopped short of the goal line on a 3rd-down run. But after a review, the ruling on the field of touchdown was upheld and with the PAT kick, the Hogs led 7-3.
Jefferson willed the Razorbacks down the field again, this time a 14-play, 80-yard TD march. He accounted for nearly all of it, completing 3-of-4 passes for 39 yards and rushing 4 times for 32 yards, including a 13-yard touchdown run that lifted the Razorbacks to a 14-3 lead after 1 quarter.
Ashford demonstrated that Auburn has an emerging quarterback as well. His 34-yard scramble and 14-yard pass to Tank Bigsby preceded Bigsby's 41-yard touchdown run that pulled Auburn to within 14-10 late in the 2nd quarter.
But any time left is enough time for Jefferson to do further damage. A 56-yard post route connection with Matt Landers put Cam Little in range for a 27-yard field goal and a 17-10 lead before halftime.
However, Ashford wasn't finished, either. Three pass completions for 58 yards in the final minute of the half allowed Carlson to boot a 24-yard field goal and Auburn trimmed Arkansas' lead to 17-13 at halftime.
After intermission, the Hogs' run game sealed the deal.