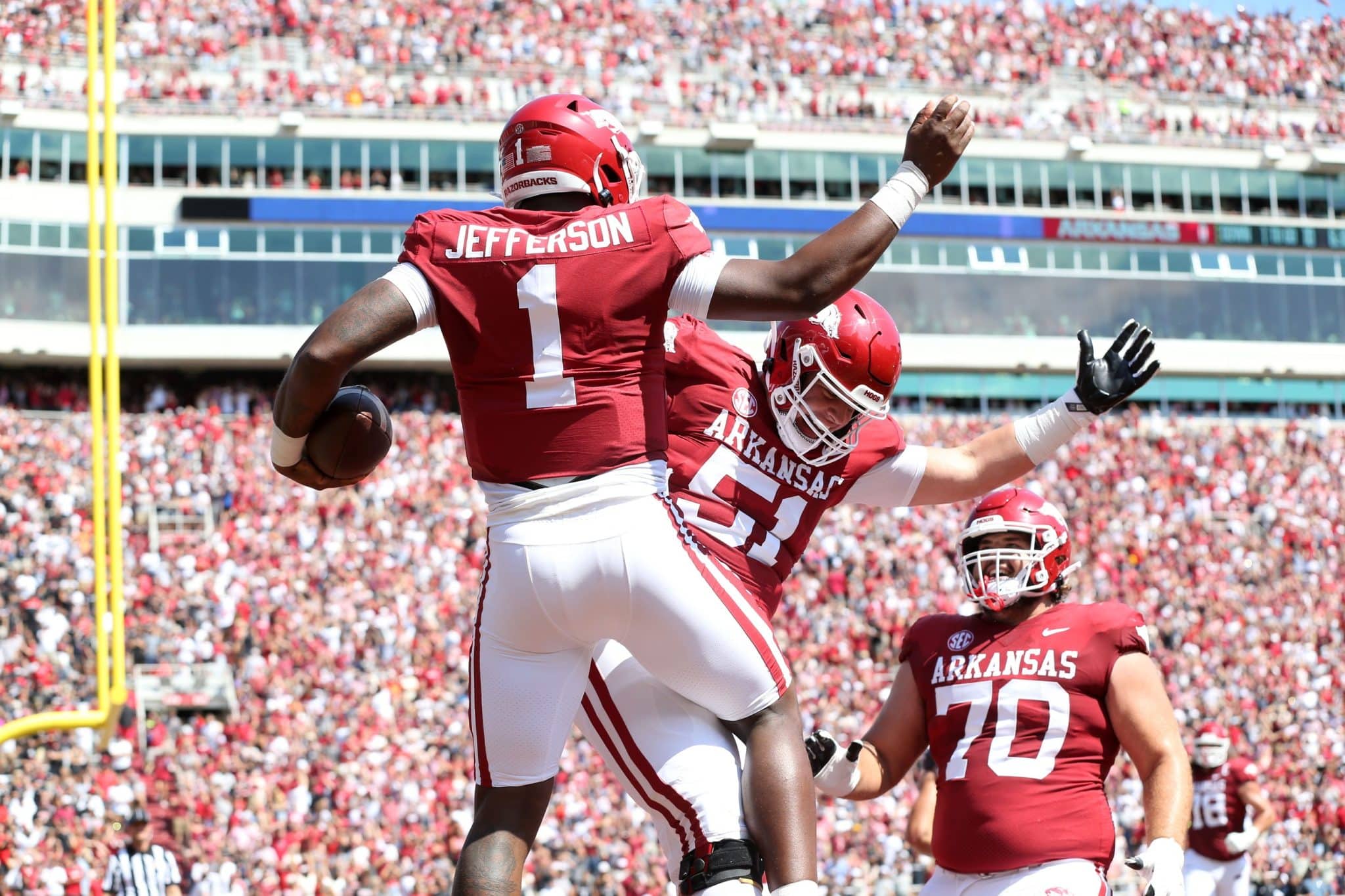 ARKANSAS
Rapid Reaction: KJ Jefferson outduels Spencer Rattler, Arkansas downs South Carolina
Arkansas' KJ Jefferson won the quarterback battle, outdueling South Carolina's Spencer Rattler, but it was a dominating offensive line that lifted the Razorbacks to a 44-30 victory over the Gamecocks on Saturday afternoon at Razorback Stadium in the SEC opener for both teams.
The No. 16 Razorbacks (2-0, 1-0) won the line of scrimmage and also got outstanding defensive play led by linebackers Drew Sanders, the Alabama transfer, and veteran Bumper Pool, to turn back the upset-minded Gamecocks (1-1, 0-1).
Rattler rallied South Carolina from an early 21-3 deficit. His 62-yard touchdown pass to Antwane Wells, Jr. got the Gamecocks to within 21-16 midway through the 3rd quarter.
But Jefferson answered with a 2-yard touchdown run on the 1st play of the 4th quarter, completing another long and methodical drive. This one covered 59 yards in 14 plays. Moments later, a costly turnover put the ball back in Jefferson's hands and the Razorbacks' leader came through once again, firing a 23-yard touchdown pass to Warren Thompson to extend the lead to 35-16.
Rattler was picked off in the end zone by Dwight McGlothern and the Razorbacks bled the clock on the strength of its offensive line. It was the LSU transfer's 2nd interception in 2 games for Arkansas.
The Razorbacks established their dominance early at the line of scrimmage, scoring touchdowns on their first 3 possessions with demoralizing drives of 13, 12 and 12 plays covering 63, 75, and 61 yards respectively, to take a commanding 21-3 lead.
Rocket Sanders completed the first 2 marches with touchdown runs of 1 and 11 yards. He led the Hogs with 156 yards rushing.
In 11 plays of Arkansas' opening possession, Jefferson or Sanders ran behind a forceful offensive line, covering 43 yards. The Razorbacks were a little more balanced on the 2nd drive with Jefferson completing all 6 pass attempts, for 49 yards, setting up Sanders' 2nd scoring run.
The Gamecocks were able to answer in between the first 2 Arkansas scores with a field goal, catching the pursuing Razorbacks defense with a couple of big-play screen passes. A 43-yarder from Rattler to MarShawn Lloyd put South Carolina in range for a 28-yard field goal from Mitch Jeter.
Loyd got South Carolina in the end zone late in the 2nd quarter, capping an 11-play, 70-yard drive on a 7-yard run, but the PAT kick attempt failed and Arkansas took a 21-9 lead into halftime.
Arkansas' victory stopped a 3-game losing streak to South Carolina and the Razorbacks improved to 6-2 all-time against the Gamecocks in games played in Fayetteville.