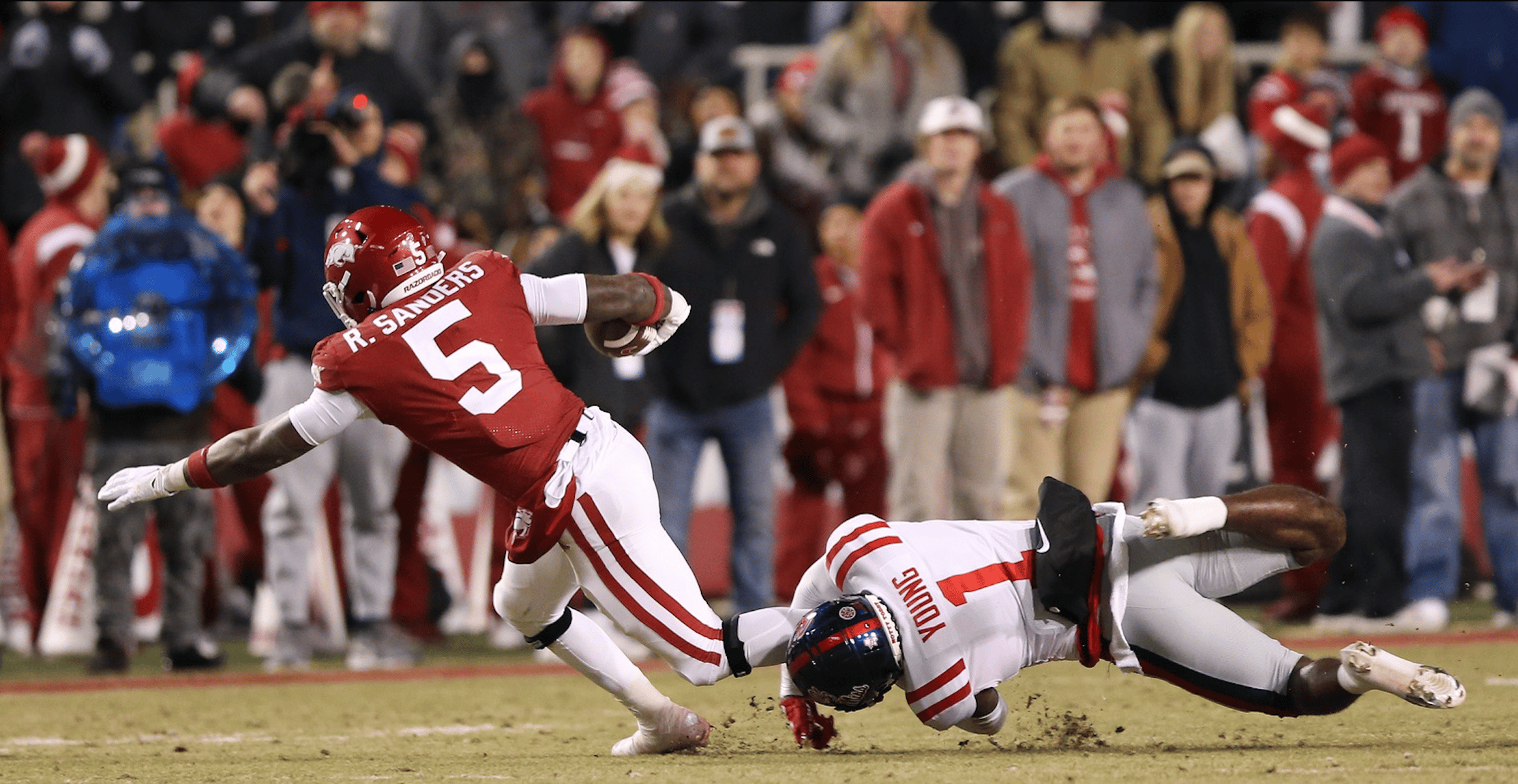 ARKANSAS
Rapid Reaction: Arkansas uses huge games from Rocket Sanders, KJ Jefferson to demolish Ole Miss
KJ Jefferson and Rocket Sanders are a lethal duo, and Arkansas showed them at their highest level on Saturday night.
They combined for well over 400 yards and 6 touchdowns in a rout of Ole Miss, 42-27, as the Razorbacks clinched a bowl berth with its sixth win of the season.
Ole Miss, aside from having a tough night on defense, had several costly mistakes, including 2 touchdowns in the first half called back on holding penalties. For Ole Miss, the Rebels couldn't have written a worse script. Arkansas, conversely, couldn't draw up a better plan, and it started in the first half.
After a punt on the first possession, Jefferson led Arkansas to 3 straight touchdown drives of 7, 8 and 7 plays as he started 14-for-18 passing for 164 yards and 3 touchdowns, including 2 touchdown passes to Matt Landers. Jefferson also added 6 carries for 51 yards.
Jefferson has been limited by a shoulder injury in recent weeks, and while he played in the loss to Liberty, Jefferson was ruled out against LSU and was relieved by Malik Hornsby. With Jefferson back, the Arkansas offense turned in its best performance of the season.
The Razorbacks' offense seems to hit on all cylinders against Ole Miss. Arkansas scored 72 points in its last 2 halves against Ole Miss. The Razorbacks had 37 points after halftime last year in Oxford.
Arkansas! KJ Jefferson strike to Matt Landers for the 8 yard TD! #Razorbacks pic.twitter.com/pWb2xWyV1k

— ?????? @???????? (@FTBeard7) November 20, 2022
This is not kick-catch interference

From pee-wee to the NFL

Just a terrible night for this SEC crew.

Its the first quarter. pic.twitter.com/lf4zbEhrPF

— Brad Logan (@BradLoganCOTE) November 20, 2022
Fans and media on both sides noticed that multiple calls went Arkansas' way, as Ole Miss trailed 35-6 at halftime. Those kinds of plays continued into the second half as seemingly each time Ole Miss made a big play, a flag came in just behind it.
Refs picking up flags for Arkansas. Very friendly crew tonight. They're welcome here any time.

— Josh Bertaccini (@RedZone921) November 20, 2022
At what level of football is this not pass interference? C'mon Man! pic.twitter.com/dL4QQLdn47

— The Rebel Walk (@TheRebelWalk) November 20, 2022
Rocket also wasn't the only Sanders to deliver a big play, Drew also delivered an interception in the first half to stall the Ole Miss offense.
Drew Sanders was wide open!!!! pic.twitter.com/5AZe275J68

— Arkansas Razorback Football (@RazorbackFB) November 20, 2022
But just as Ole Miss tried to get back on track, the second half seemed to get worse before it got going. The Rebels saw Rocket Sanders deliver a 68-yard touchdown run, his third of the game to elevate his per-carry average to 12.3 yards per rush. Then Quinshon Judkins fumbled on the next Ole Miss drive from his own 30-yard line, and Dwight McGlothern recovered.
By the time Judkins and Zach Evans scored touchdowns in the fourth quarter, it proved to be too little, too late. Even as impressive as the Judkins scoring drive was when it went 9 plays and covered 96 yards in 2:42.
It was Sanders, who joined Darren McFadden as the only 2 players in the last 25 seasons to rush for at least 200 yards, and score 3 rushing touchdowns against a ranked opponent.