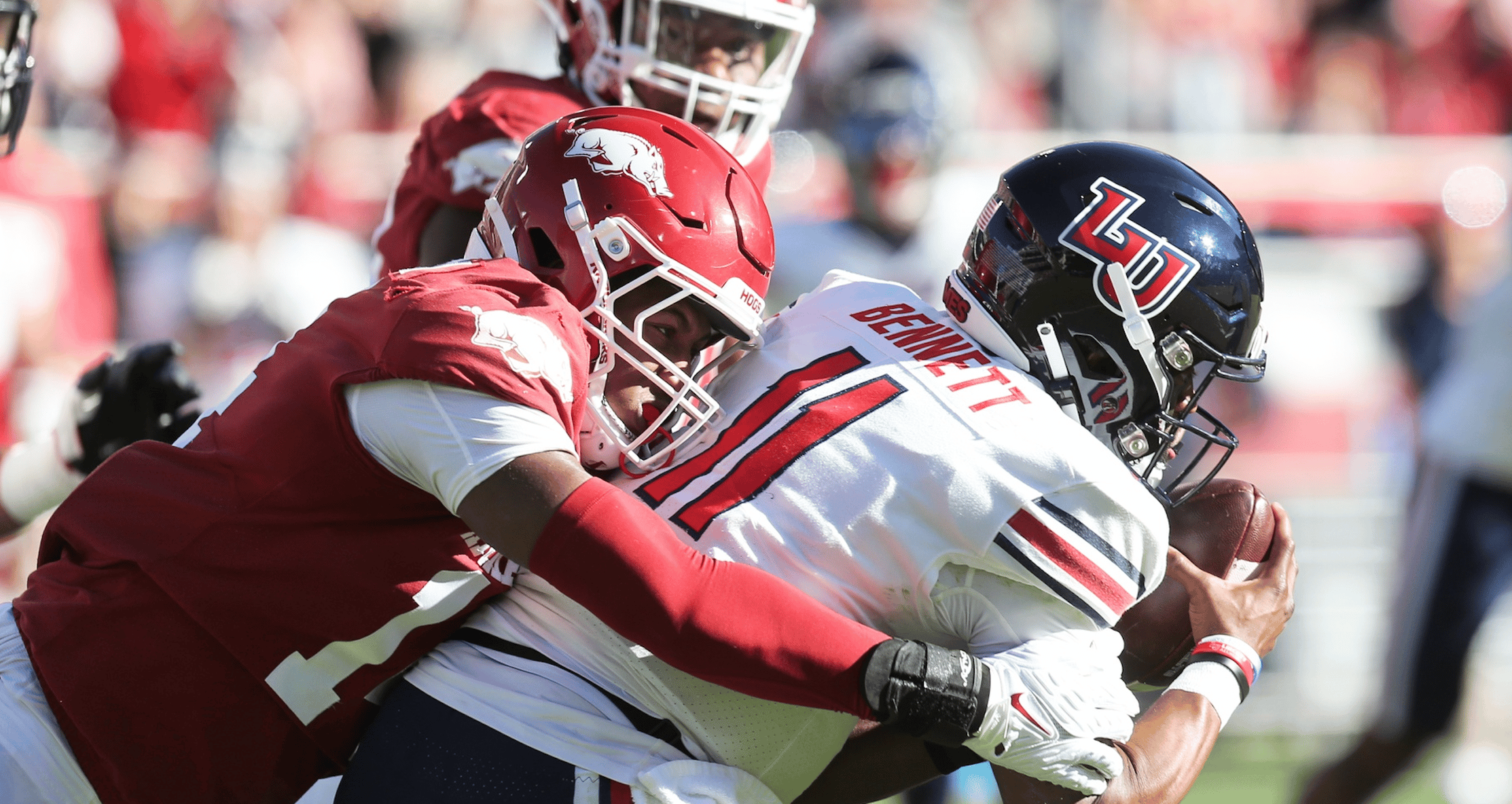 ARKANSAS
Rapid Reaction: Slow start dooms Arkansas in loss to Liberty despite big fourth quarter
Arkansas got off to a rough start in its latest meeting against a former SEC West coach in Fayetteville for a non-conference game. And despite a strong finish in the fourth quarter, it wasn't enough as the Razorbacks suffered a 21-19 loss to Liberty.
Arkansas made it interesting late with a KJ Jefferson touchdown to Trey Knox midway through the fourth quarter. And converted a 2-point conversion. The duo then connected again with 1:11 remaining, but on a 2-point attempt, Jefferson tried to bulldoze his way in, and was stopped short. The play was reviewed, but he call stood.
This game might have brought back unfortunate memories of Bobby Petrino's Missouri State team in September, but this time, the Razorbacks couldn't get back on track late in the game. It's Liberty's first ever win over an SEC program.
The result dropped Arkansas to 5-4 on the season. The Razorbacks play LSU next week.
It was another slow start for the Hogs as after 3 possessions, they had just 36 yards, and at halftime, they trailed by 18 points, and had 9 first downs and 63 rushing yards. Cam Little hit a 50-yard field goal at the buzzer to get Arkansas on the board, as sit was the largest halftime deficit for Arkansas since it was down 21 to Alabama in Week 5.
Arkansas sputtered in every offensive category, as it came into Saturday averaging 33.8 points per game, and was some 200 yards below its game averages in rushing and passing, and nearly 400 yards below in total yards on average.
The Razorbacks fell behind late in the first quarter when Liberty capped a 5-play, 59-yard drive with 17 seconds to go in the first quarter. Arkansas by that point punted 4 times in 4 possessions and had -16 rushing yards. It wasn't until a 15-yard run by AJ Green put Arkansas at 9 rushes for 3 yards at the end of the first quarter.
For Liberty, the story was around the quarterback position.
The Flames saw Johnathan Bennett complete 10-of-17 passes for 152 yards and 3 touchdowns. He came in 4-0 as Liberty's starter, and in his last game was 24-of-29 for a career-high 247 yards and 2 touchdowns with 46 rushing yards in a 41-14 win against BYU Oct. 22.
Bennett became Liberty's starter after Charlie Brewer broke his hand in the team's season opener against Southern Miss. Brewer returned to action in a limited role 2 weeks ago.
Arkansas had 14 sacks allowed coming into the game, and Liberty made 4 by the end of the third quarter. The Flames also added 12 tackles for a loss in the first 3 quarters.
While things appeared promising for Arkansas after a Liberty safety, despite being down 16 points, it put together a drive that lasted 5:40 but only ended with a turnover on downs.
Bennett finished 15-for-25 passing for 224 yards with 3 touchdowns and 1 interception.