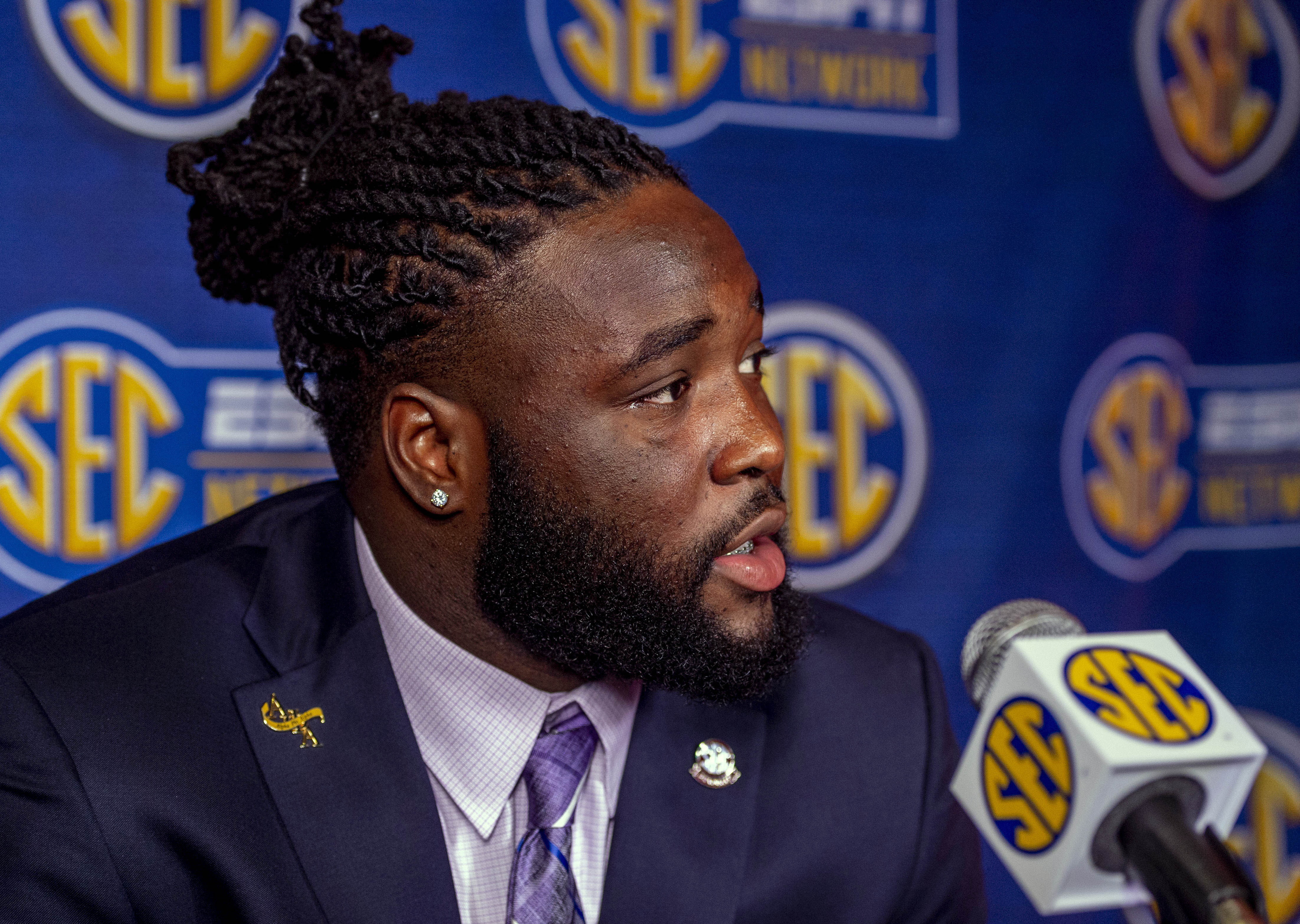 ARKANSAS
SEC Media Days: It took some time and a 2-10 season, but Hogs have fully bought into Chad Morris
HOOVER, Ala. — The Southeastern Conference had 5 football coaches make debuts at new schools last season but none had as rough a start as Chad Morris at Arkansas. The Razorbacks went winless in conference play, were embarrassed at home by North Texas and lost at Colorado State.
Following the disastrous debut, not only did Morris refuse to reshuffle his coaching staff, he didn't even make any changes that registered as real news outside of Fayetteville.
The only moves made on the staff included the hiring of defensive tackles coach Kenny Ingram, who previously served in an off-the-field/analyst role at Auburn, and giving tight ends coach Barry Lunney Jr. the title of special teams coordinator (the Razorbacks had no SPT coordinator last season).
When you consider the lack of movement on the staff, combined with the fact Arkansas leads the league with 22 players entering the NCAA transfer portal, it's clear there was a serious disconnect last season between many of the players Morris inherited from Bret Bielema.
One common topic discussed during Arkansas' Wednesday appearance at SEC Media Days was the team's 52 freshmen on campus. That figure combines true freshmen and redshirt freshmen but displays just how much youth the coaching staff will be working this fall.
The roster turnover won't be complete until another recruiting class or two arrives, meaning the staff has been forced to rely on the seniors who have bought into the culture that's slowly being built on The Hill. If the young players are going to contribute early this fall, the seniors have to show them the way.
That's something Morris asked of them before deciding to return. The Razorbacks might not be in a position to turn away any talent, but that's what Arkansas was prepared to do if they didn't secure commitments from the veterans.
"Coming into Year 2, if you aren't all in, don't waste your time," Morris said when asked about his team's level of buy-in this offseason. "We've got a tremendous buy-in. Our culture is stronger than it's ever been. We work on it consistently and daily and very proactive in the approaches we take.
"What I have seen is a football team that is player-driven, and I think you see that with the three young men we brought in here today. They exemplify what you want your culture to be about. I'm very confident in where we are as a buy-in level in our program."
Asking his veterans to lead was something all the players making an appearance at SEC Media Days noted. Perhaps the best example on offense is running back Devwah Whaley. He was an ideal fit for the Bielema ground and pound style, but he had to challenge himself to change to fit in with Morris' offense.
He not only accepted the challenge, he has embraced it.
"We want to be more player-led, that's something we bought in to and we continue to buy-in to what Coach Morris wants to do and it's a great plan," Whaley said. "We just have to continue to execute it, continue to work hard. The only way is up."
The team's best linebacker even admitted that accountability was an issue last season. Without that leadership, it's no surprise the early season nonconference losses completely derailed the Razorbacks and led to an offseason mass exodus.
"I feel like as seniors, we hold the majority of the team accountable," De'Jon Harris said. "That's really what it was last year, no accountability on the team. I feel like everybody understands their role on the team and we bought into what coach Morris and coach Tru(main Carroll) emphasize all offseason. We're just ready to put all the pieces together now."
One motivational tactic Morris took this offseason was stripping the program of all entitlement. Not only were the players stripped of all their Razorback gear, but the coaches and support staff also had to pay the price for the program's dreadful season.
Senior defensive lineman McTelvin Agim admits some players took issue with Morris' extreme attempt to motivate the team — but they all came around and understood they needed to be humbled and hungry.
"When you are stripped of something you are so used to, it brings something out of you. 'Every' matters. Every rep, every second, every minute, every team meeting, every skills and drills, everything matters," Agim said. "You need to attack everything.
"When they took you out of your clothes, it was basically humbling you and some people were opposed to it, but they started understanding it was needed. When you (are) 2-10, you don't deserve gear. You deserve what you get and we got what we deserved. Now we've worked for something else, we've earned what we deserve."