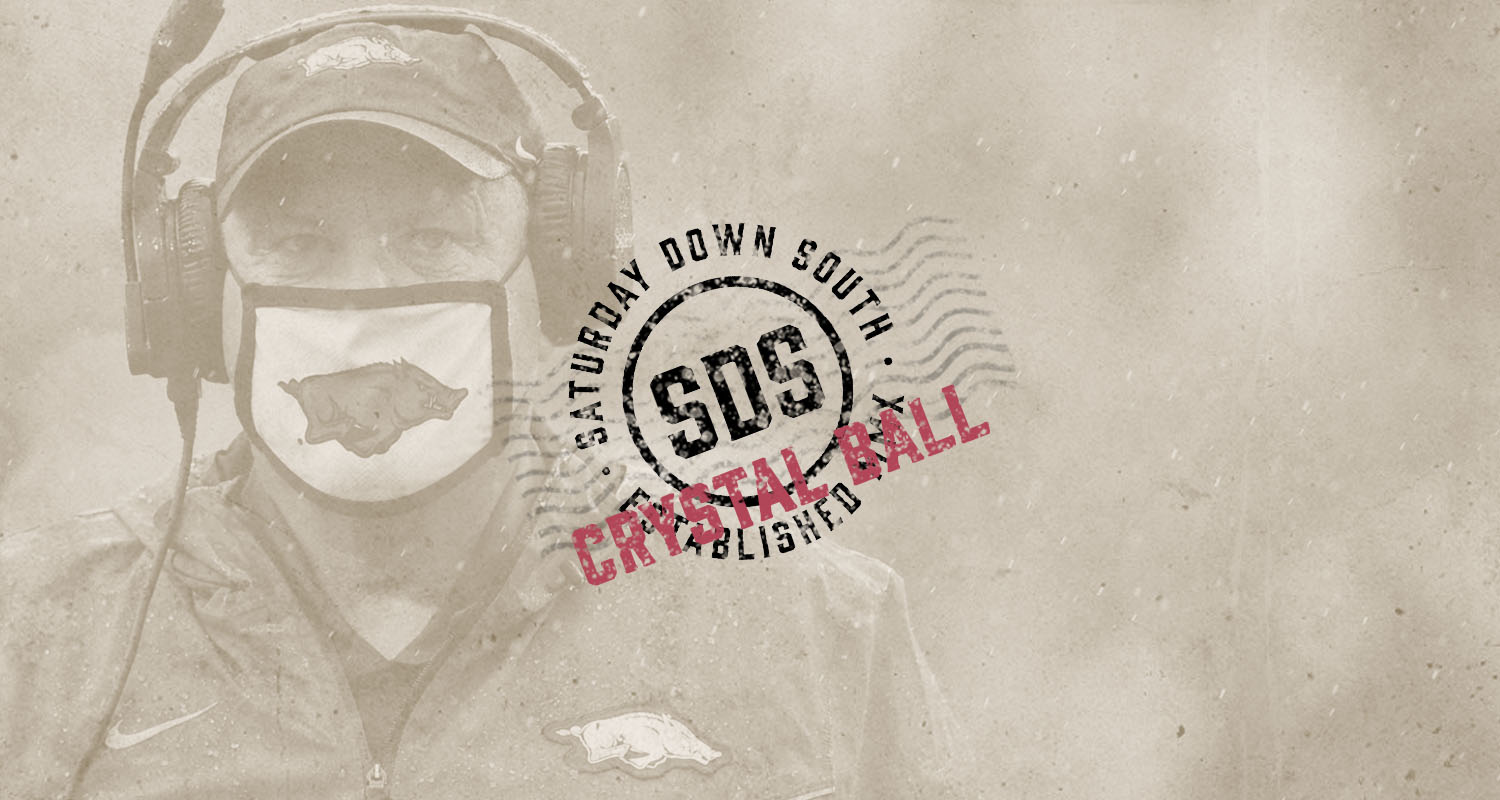 ARKANSAS
The SDS Crystal Ball: Predicting every game for Arkansas football in 2021
Editor's note: Saturday Down South's annual Crystal Ball series continues today with Arkansas. We'll stay with the SEC West all week. Next week, we'll predict every game for every SEC East team.
YYYYYYESSSSSIRRRRRRRR!!!!
I mean, come on. How else was I gonna start this?
Last year, the question was obvious — how would Arkansas start the Sam Pittman era? Like, how would it start with the toughest schedule in the history of college football?
To the surprise of many, Pittman's squad hung tough amidst a daunting grind of a schedule. Three wins might not sound like much, but given the poor call against Auburn, many saw it as a more respectable showing than what the final record indicated. And when you're talking about a program that entered the year without an SEC win in over 1,000 days, well, I suppose beggars can't be choosers.
Arkansas isn't begging for preseason love this year. It should be begging for a few things, though. Such as …
Barry Odom sticks around for a few years
KJ Jefferson becomes elite
Treylon Burks becomes an All-American and stays for his senior year
Chad Morris forks over his remaining buyout money
Some of these things, yes, are more realistic than others. I can admit that. I can also admit that I was wrong about feeling sorry for Pittman before he started. He's ready for this challenge.
The challenge of this year is no longer having that low bar. Arkansas fans haven't watched their team in a bowl game in 5 years. The fan base is hungry for more moments like last year against MSU or Grant Morgan's 1-armed bandit game against Ole Miss.
So how realistic is that? Let's get to it.
Just how good can this defense be?
I wrote earlier in the offseason that it should be the most improved SEC defense. Why? Last year, it was on pace to be one of the conference's better units, and then injuries caught up in the final month. Arkansas allowed 24.7 points per contest in the first 6 games (that would've been good to finish No. 38 in 2020).
With 10 of 11 starters back, including Morgan and Jalen Catalon, there's potential for Odom's group to take a significant step forward. A group that barely finished in the top 100 could absolutely wind up among the top 1/3 in scoring this year.
The biggest question is about the pass rush. Where are those answers? Gone are last year's top pass-rushers Jonathan Marshall (NFL) and Julius Coates (transfer portal). PFF had Arkansas ranked last in the SEC in pressure grade. Jashaud Stewart and Dorian Gerald have to become mainstays in the backfield in order for this experienced Arkansas defense to maximize its potential.
Odom is returning to the same place as a defensive coordinator for the first time since 2013 at Memphis. That year, his unit improved by nearly 6 points per game.
That challenge is greater in the SEC West, but it's certainly possible with what he has to work with.
Can someone not named Treylon Burks be a consistent pass-catcher?
This is a question that's been asked since the surprising post-spring game news about Mike Woods transferring for Oklahoma. The 2 complemented each other extremely well with Woods' ability to stretch the field and Burks' physicality to win 50-50 battles. Now, though, who will complement Burks?
Will it be PetSmart pitchman Trey Knox? He admittedly struggled with confidence last year, and he didn't take the leap that Burks did. Could a more stable offseason and another year in the offense yield positive results?
Or what about De'Vion Warren? He's coming off a torn ACL, and he only has 2 career games with 3-plus catches. But when Burks was banged up early last season, Warren stepped up with the 2 best games of his career in consecutive weeks. Perhaps he can be the speedy complement that Burks needs.
Is it possible for a 2020 redshirt like Darin Turner or Oklahoma transfer Jaquayln Crawford to steal the show? I wouldn't necessarily rule that out.
There is no shortage of opportunities available with all the attention that Burks will warrant.
Is KJ Jefferson about to be the SEC's breakout star?
Did you know it has been a decade since Arkansas had an All-SEC quarterback? That's a long time considering 2 players receive that honor each season.
Maybe it isn't fair to say that Jefferson will be that guy, given his inexperience, but it's at least worth pondering given the recent history of breakout quarterbacks in the SEC. He doesn't have the surroundings of a Mac Jones, a Kyle Trask or a Joe Burrow. At least it doesn't appear so. It's unfair to say that's the bar to reach to be considered a "breakout star."
It does, however, appear that Jefferson throws a pretty deep ball, and he has one of the top targets in America with Burks. He'll have a capable ground game with Trelon Smith and a Pittman-coached offensive line. Feleipe Franks was an above-average SEC quarterback last year, and there's no reason to think that Jefferson can't also be in Kendal Briles' up-tempo offense.
The accuracy must improve, and finding that aforementioned No. 2 target will also be crucial. But if Jefferson can settle in and get some protection, he's gonna pick apart plenty of SEC defenses.
Game-by-game predictions
Week 1: vs. Rice (W)
Fun fact: Rice's highest-rated 2021 signee was a guy by the name of "DJ Arkansas." Do you think that name is taken by a, um, DJ in Arkansas? I don't know. What I do know is that Arkansas rolls to a defensive-fueled victory in the opener.
Week 2: vs. Texas (W)
I'm pretty sure that if Nick Saban went to coach Texas, the Longhorns would still find a way to lose a nonconference game in September. So no, I don't think Steve Sarkisian prevents the Longhorns from continuing that embarrassing trend. This is a bad matchup for an offense trying to learn a new system. Arkansas' experienced defense, which should have no shortage of time to prepare for Texas with such a favorable opener, will force 3 turnovers and the college football world will belly laugh at Texas' SEC future.
Week 3: vs. Georgia Southern (W)
This is actually some pretty poor timing from a scheduling standpoint. You've got a triple-option team sandwiched between games against talented offenses. Georgia Southern won 8 games last year, too. This isn't a gimme. But a 4-4 Sun Belt squad that ranks No. 113 in percentage of returning production isn't a good bet to pull off an upset.
Week 4: vs. Texas A&M in Arlington (W)
Wait, really? An upset of A&M? Yes. As I stated throughout this offseason, I think 2021 has some 2014 vibes in the SEC West. It's gonna get weird. Once again, it's turnovers that fuel Arkansas. I think Odom confuses a first-time starting quarterback enough to finally end the 9-game losing streak to the Aggies. Catalon winds up with a pair of interceptions, including the one to seal a nail-biter victory. Fire up the jukebox because the Hogs are FIRING out of the gates.
Week 5: at Georgia (L)
And welcome back to reality. Arkansas might've caught A&M at the right time. Georgia? I don't think so. Against his former team, Pittman isn't able to generate the same juice he had working in the first half of last year's game. JT Daniels gets too much time to throw and the Darnell Washington-Arik Gilbert duo picks Arkansas apart.
Week 6: at Ole Miss (L)
Here's the thing. Yes, Matt Corral threw 6 (!) interceptions last year and Odom's defense overwhelmed him. Corral also spent countless hours dissecting why he struggled so much with drop-8 coverage, which he had never faced before Odom threw it at him. I think Corral adjusts. Instead of Arkansas being Corral's Achilles' Heel, he has a major redemption game and for the second week in a row, Arkansas struggles without the ability to get to the quarterback.
Week 7: vs. Auburn (W)
Grant Morgan told me that the toughest back to bring down in the SEC is Tank Bigsby. Does anyone disagree with that? Bigsby, as long as he's healthy, will give Auburn a fighting chance. But I think Pittman has his team ready to roll after last year's botched call on the Bo Nix spike spoiled an Arkansas win. Smith delivers an "I'm just as good as Tank Bigsby" statement to fuel a pivotal victory.
Week 8: vs. Arkansas Pine-Bluff (W) in Little Rock
Yes, I think Arkansas clinches bowl eligibility before November. No, I don't really want to dig into whether Arkansas should still be playing at War Memorial Stadium.
Week 9: Bye
Week 10: vs. MSU (L)
Again, did I not learn anything from last year? I thought Arkansas owned the state of Mississippi? I didn't think MSU had the personnel to throw the ball 50 times per game in 2020. I am, however, a believer of the Year 2 bump with Mike Leach. This will have a much different feel than last year. I expect a somewhat high-scoring game between two offenses that should have more of an established identity by this point. But in the end, I think Jefferson picks on Martin Emerson one too many times and MSU squeaks out a victory in Fayetteville.
Week 11: at LSU (L)
This is in the middle of a brutal 3-week stretch for Arkansas late in the year. It won't be fun to go from Leach's Air Raid to games against LSU and Alabama to close the season. It'll be especially challenging if any sort of significant injury issues surface on defense. Max Johnson can be so frustrating to play against because he can extend drives with his legs and he has a knack for making that on-the-money throw on 3rd down. Johnson's big day lifts LSU and Arkansas gets a painful reminder that success in the West is fleeting.
Week 12: vs. Alabama (L)
I'm just here for Malachi Moore on Burks, who prefers to destroy dudes when he lines up in the slot. Is this maybe a brutal matchup for Jefferson against that Tide front? Yeah. He's not the guy you want making too many improv decisions outside the pocket, which is where I think he'll spend the majority of his day (and not by design). Let's just hope for entertainment purposes that Arkansas' roster isn't decimated for this matchup like it was last year.
Week 13: vs. Mizzou (W)
We already saw Jefferson have a good amount of success throwing the ball against Mizzou, and that was when Nick Bolton was there (he got a bogus targeting ejection in the second half of that game). I have my doubts about the Tigers' new defense without Bolton in Year 1 and with new defensive coordinator Steve Wilks. A high-scoring affair won't have the same exact feel as last year, but this time, Arkansas ends up on the right side of a thriller thanks to a late score from Knox.
2021 projection: 7-5 (3-5), 6th in SEC West
#WooPig
Nobody will epitomize the West's weirdness of 2021 quite like Arkansas.
Beat A&M to get to 4-0 and move into the top 15? Yep. Finish with a losing record in conference play? Yep again.
Imagine jumping into the top 15 and still finishing 6th in your own division. That's not my way of predicting an Arkansas collapse. I just think at this point, depth is going to be rewarded. Arkansas has more depth than last year, but I wonder if it can overcome this brutally challenging division in the latter half.
Having all of that veteran leadership on the defensive side of the ball will be pivotal early on as the offense figures things out. That unlucky streak that seemed to follow Arkansas in close games last year? Water finds its level this time around.
If you're an Arkansas fan frustrated by the latter half projection, think about this. Imagine telling yourself in Nov. 2019 that 2 years later, your team would be a bowl victory away from an 8-win season. That would be a fantastic step for Pittman and Co., and it would be one worth celebrating.
TURN THAT DAMN JUKEBOX ON!