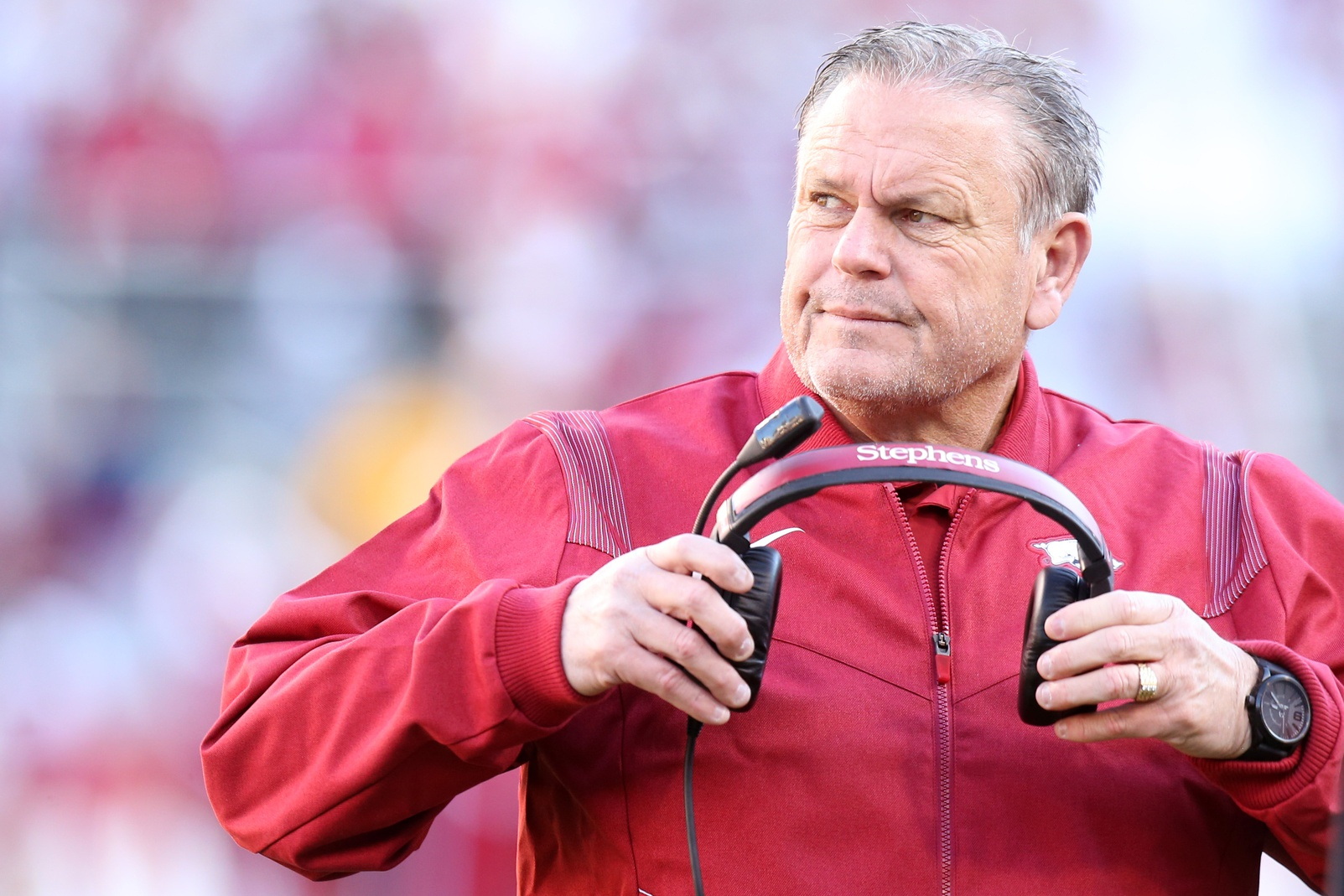 ARKANSAS
Skeptic's guide to Arkansas' 2022 football season
What a season it was for Arkansas. A 9-win season, the most in a decade. A bowl victory, the first since 2015. Head coach Sam Pittman has turned this program around in just 2 seasons.
So, what's next for the Razorbacks? Where do they go from here? Expectations are, well, for the first time in a long time, there actually are expectations. Or are there?
ESPN's Power Index for 2022 has Arkansas winning 6.5 games this season. That just doesn't seem possible after what Pittman has and is building in Fayetteville.
Upon further review, there may be some validity to that prediction. Here are 6 reasons the Razorbacks might struggle just to win even 6.5 games.
1. Linebackers
How do you replace players the quality of Hayden Henry and Grant Morgan? The quick answer is: you don't. Both recorded 101 tackles last season. Only fellow LB Bumper Pool (125) had more for Arkansas in 2021. Henry led the Razorbacks with 12 tackles for loss.
Those are numbers not easily replicated with new faces, even a transfer as highly-touted as Drew Sanders. Not to say it can't be done, it's just a very difficult proposition. That translates to a big question mark for Arkansas' run defense, which wasn't among the best to begin with. The Hogs ranked 9th in the SEC against the run a season ago, yielding 158.3 yards per game.
If Pool and Sanders can't help this group play better than that in 2022, it could make for a long season.
2. Playmakers on defense?
Who will step up to cause negative plays for the Arkansas defense? Of the team's top 5 in sacks, 4 were seniors last year and have moved on. That group made up 13 of the 25 sacks recorded by the Razorbacks last season.
That's a lot of production lost. Circling back to the run game, if Arkansas has problems stopping the run and simultaneously aren't getting pressure on the quarterback, it won't matter how much ground KJ Jefferson and the Razorbacks' offense churn up, it still won't be enough.
That puts a lot of pressure on DLs Isaiah Nichols and maybe Zach Williams or LSU transfer Landon Jackson to come up with negative plays. If they can't produce, it opens up the possibilities for opposing offenses to have success in 2022.
3. Playmakers at WR
Treylon Burks was a one-man show. The first-round pick of the Titans was 4th in the SEC a year ago in receiving yards (1,104), TDs (11), and yards per catch average (16.73). He was on the receiving end of 66 of Arkansas' 205 total pass completions last season.
Of Arkansas' top 5 receivers, only Warren Thompson returns. He caught 19 passes for 304 yards and 2 TDs. Obviously, those aren't numbers necessary for Arkansas to have a successful passing game. Oklahoma transfer Jadon Haselwood was a reliable possession receiver for the Sooners last season, but that still begs the question: Who is the Razorbacks' big-play threat?
We saw in the bowl game how reluctant Jefferson was to throw the deep ball, knowing Burks wasn't on the other end.
4. New faces in secondary
Pittman has done very well with the transfer portal, and he is going to the well again for the 2022 season in hopes of filling some big holes in the secondary. Georgia transfer Latavious Brini and LSU transfer Dwight McGlothern have the weight of that secondary on their shoulders.
They'll have to fit in and mesh with holdovers Myles Slusher, Jalen Catalon and Malik Chavis. If they do, the Arkansas secondary can be pretty good. Fingers are crossed that they can come in and accept their roles.
5. Left tackle
Pittman admitted that finding a left tackle was his biggest priority for spring practice. That's how important it is to solidify that position. Though he has options, it doesn't appear that anyone has separated himself from the rest.
The o-line is Pittman's baby, so he'll figure it out. But it's a critical position that must be solidified if the offensive line is to be as effective as it was last season. Until then, it remains one of the biggest question marks heading into the 2022 season.
6. The schedule
If it weren't difficult enough navigating the landmine that is the SEC West, Arkansas has a couple of tough nonconference games on top of it. And it all begins with the season opener with a Cincinnati team that made the College Football Playoff last season.
That's a heck of a way to open a season, even though the Bearcats are starting over with a new QB, especially with a conference game with South Carolina the following week. Yes, the Hogs jump right into it. The first half of the 2022 schedule also includes a neutral site game with Texas A&M and a visit from Alabama, another College Football Playoff participant, in back-to-back weeks.
The second half of the season doesn't get any easier with consecutive road trips to BYU and Auburn. The gauntlet concludes with SEC games against LSU, Ole Miss, and Missouri in succession.
Buckle up Arkansas, it's a strength of schedule that ranks 13th in the nation.