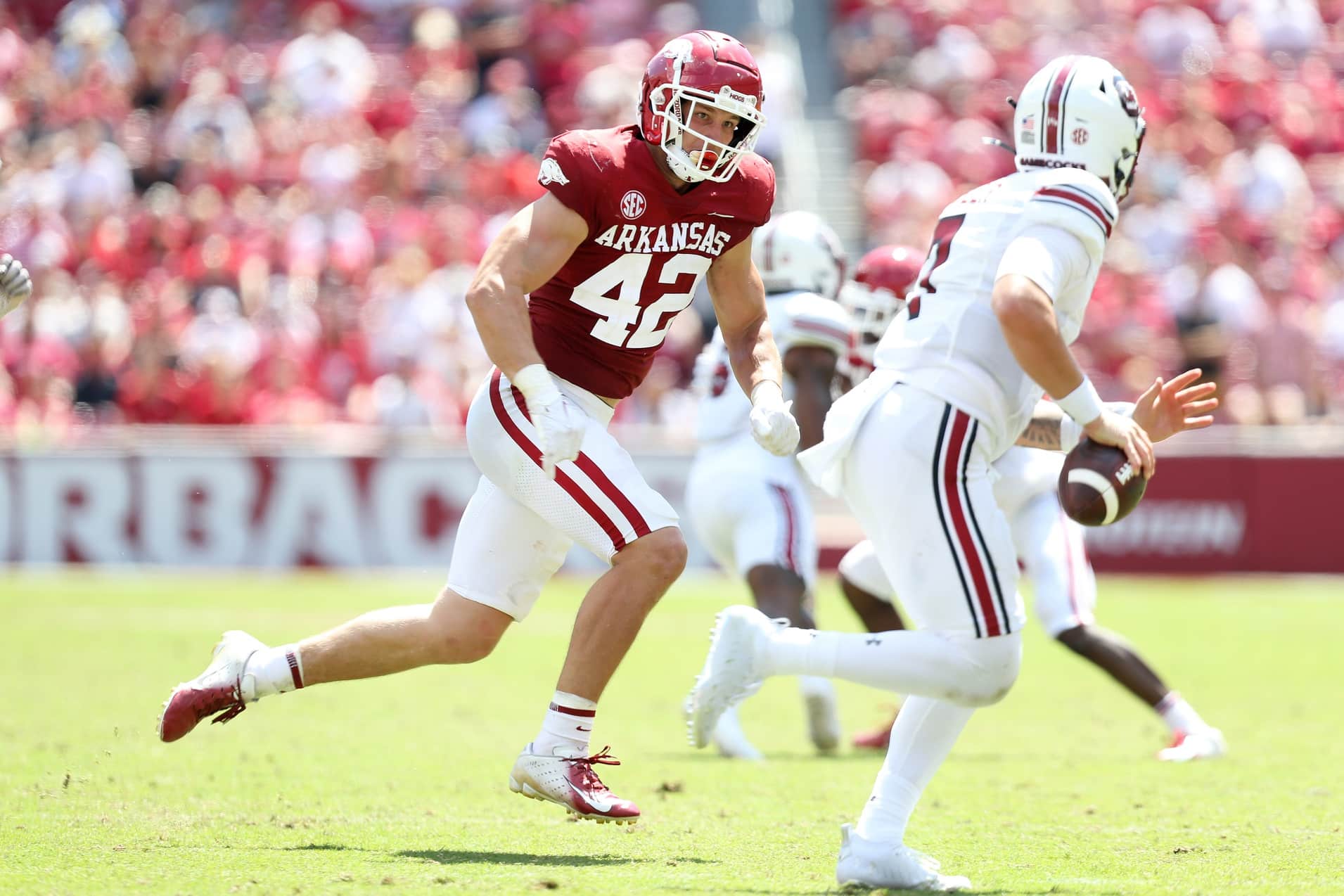 ARKANSAS
O'Gara: Why Drew Sanders is already providing something Arkansas hasn't had in a decade (and maybe longer)
When South Carolina traveled to Fayetteville to take on Arkansas, a former 5-star recruit shined in his new SEC home. Sure, he lost his job because there was a younger 5-star who was better than him at a premier program. But already, he looks like something his new SEC program has been desperately lacking.
No, I'm not talking about Spencer Rattler. I'm talking about Drew Sanders.
As in, the Alabama transfer who has an early lead in the totally unofficial race for SEC Defensive Player of the Year. Sanders has been everything Arkansas fans hoped he'd be and then some. What they hoped he could be was the game-changing edge rusher that's been missing from the Barry Odom defense during his first 2 successful, but not dominant seasons with the Hogs.
That's not just an Odom thing. Arkansas hasn't had a player finish with double-digit sacks in a season since Jack Bequette in 2011. He was also the last Arkansas linebacker/defensive end to be selected in the first 3 rounds of the NFL Draft.
It's early, but Sanders is looking like a strong candidate to hit that mark with 3 sacks in his first 2 games. It's not just that he leads the SEC in sacks (3) and that he's No. 2 in the conference in tackles for loss (4). He's got PFF's No. 2 pass-rushing grade among Power 5 linebackers (90.8) and he's rapidly improving in coverage, where he plays a lot more in Odom's scheme than he did at Alabama.
Sanders is everywhere. If there's a big defensive play being made, No. 42 is always in on the action. Watching him, you'd never know that it's his first year in the system.
Drew Sanders was a DAWG against South Carolina: 11 tackles, 2 sacks, 3 tackles for loss.

Simeone Blair on the sophomore LB: "He don't say much, but he's always gonna do what he's supposed to do."

Latavious Brini: "I look up, I see Drew making a play every time."#WPS pic.twitter.com/eZcHEDHL3t

— Jonathan Acosta (@_jacosta) September 11, 2022
Big fan of how Arkansas used newcomer Drew Sanders

Listed at "MIKE", he was seen everywhere from on the edge to in the slot

Sanders can do just about anything & everything on a football field, which is exactly what Barry Odom showcased on Saturday@ArkansasOn247 X #WPS pic.twitter.com/wmVcTgWALa

— Collin Kennedy (@CKennedy247) September 6, 2022
On that play against Cincinnati, Sanders lined up off the edge on the blindside in what's essentially a "Jack" linebacker position (he's listed as a "Mike" linebacker on the depth chart). He made 1 swim move to get past the left tackle, squared his shoulders to the running back in pass protection, tossed him aside like a rag doll and sacked the quarterback before he could get through his progressions.
Mind you, that was a 4-man pass rush with a delayed blitz on 3rd-and-7. That right there epitomized his value. Cincinnati had the right plan in place to combat Sanders from a protection standpoint, and it still didn't matter. It wasn't some 7-man blitz wherein Sanders was lucky that nobody picked him up. His technique, his strength and his pursuit prevailed. Plays like that were a major reason Arkansas fended off a pesky Cincinnati team in Sanders' debut.
That only continued the following week when Sanders got to Rattler twice, including a diving backside swipe at the South Carolina quarterback's right arm that poked the ball loose.
Pittman said the Monday after the South Carolina win that he knew "(Sanders) had a good game, I didn't know he had a helluva game." That helluva game earned Sanders Co-SEC Defensive Player of the Week honors.
"I think he played a heck of a game. He's getting better each week as he's understanding. If you see today, versus when he came in in Spring, you would think it was a different person." – Pittman on Drew Sanders performance

— Pig Trail Nation (@PigTrailNation) September 10, 2022
Spend a few minutes watching Sanders now and you'll be blown away that he could be buried on anyone's depth chart as recently as 9 months ago. In his defense, Sanders only hit the portal after fellow 5-star Alabama edge rusher Dallas Turner thrived in his absence. As a sophomore in 2021, Sanders began to emerge as a star once he replaced the injured Christopher Allen.
Drew Sanders can bring the boom for @AlabamaFTBL. pic.twitter.com/ruyN68imGJ

— SEC on CBS ? (@SEConCBS) September 18, 2021
Before he got hurt against Ole Miss, Sanders averaged 50 snaps per game. After he returned with Turner established as the perfect compliment opposite of Anderson, Sanders averaged just 6 snaps per game. If Turner didn't look like the second coming of Will Anderson, Sanders would probably still be at Alabama. Liken it to Jameson Williams transferring out of a crowded receiver room at Ohio State to become an instant star at Alabama.
In his pre-draft season, Sanders sought a new home. Arkansas was the choice over Oklahoma and Texas, all of which hosted Sanders after he hit the portal. It worked out well for an Arkansas team that had to finally replace the ageless Grant Morgan and Hayden Henry. Odom's sell was obvious. The fact that Sanders got to team up with veterans like Bumper Pool and Jalen Catalon following their return announcements only sweetened the deal.
Sanders came to a place that allowed him to grow. As promising as he was at Alabama, the knock on him during that limited sample size was that he struggled in coverage. At Arkansas, he wasn't simply going to line up off the edge and rush the passer. To make become an every-down player, Sanders needed to improve in that area.
So far, so good. He has 72 coverage snaps this year and PFF has him graded No. 7 among SEC linebackers.
That's key because Sanders is going to be asked to do a lot, especially with the aforementioned Catalon now out for the season. In his first 2 games, here's his snap count by position:
Box: 113
D-line: 23
Slot CB: 5
Even with Sanders' improvement in coverage, ideally, you'd like to keep those slot corner snaps down. He's better served lining up either in the box or rushing off the edge, where he has sacks in both spots already.
Whether Sanders hits that double-digit sack mark or even flirts with Arkansas' single-season sack mark (14), it's clear that his presence will still be felt. With a banged up secondary, just having someone who can speed a quarterback up and get him off-platform is key.
The problem with the Arkansas defense so far is that when Sanders or Jordan Domineck don't get home, the secondary has struggled. The Hogs rank last in FBS in pass defense. One would think the return of Myles Slusher (Pittman said he's expected to return on Saturday) coupled with the continued growth of some transfer pieces in the secondary will help turn that number around.
In the meantime, it'll be up to Sanders to continue to pull his weight in the middle of the defense. He'll have as big a say in anyone as to whether Arkansas can have its first top-30 defense since 2014. Even better would be helping Arkansas reach double-digit victories for the first time since 2011.
Sanders could finish the season as the SEC's most valuable transfer portal addition. Shoot, maybe he'll be in the discussion to be the most valuable transfer portal addition in America, at least among the non-quarterbacks. No. 42 is that good.
One helluva year is in the works.