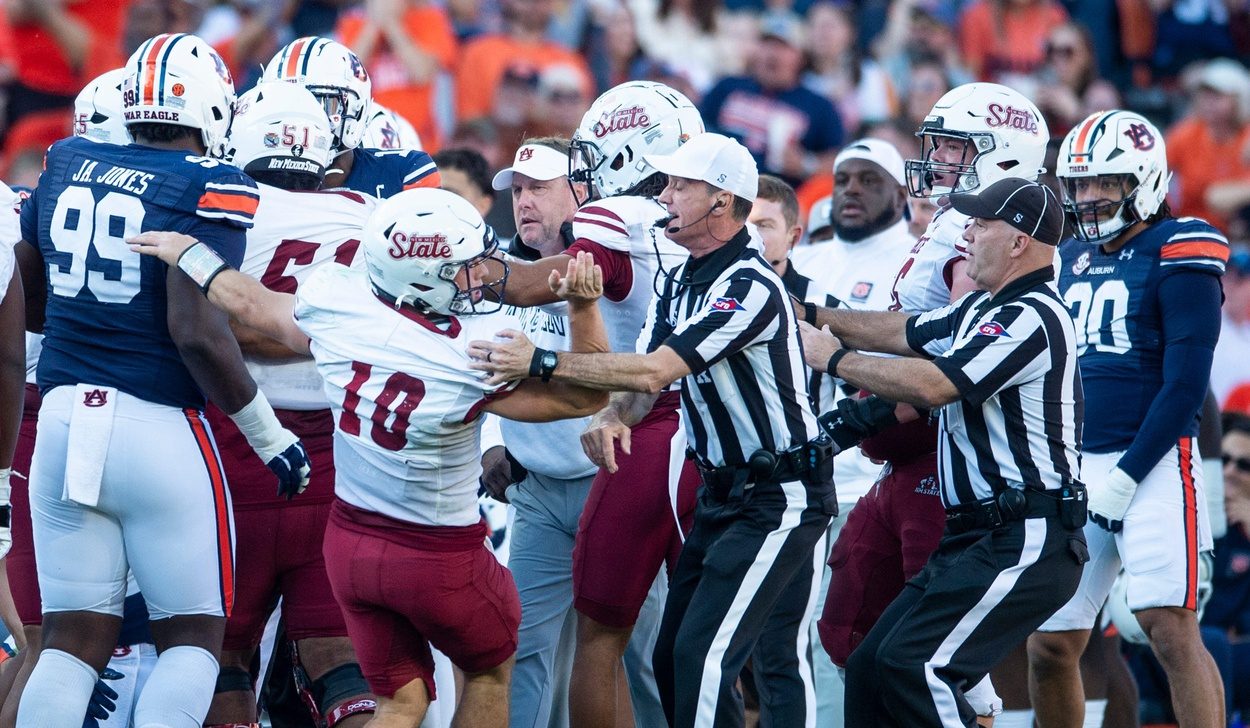 AUBURN
3 takeaways from Auburn's shocking loss to New Mexico State
Auburn came into Saturday with momentum and an offensive identity, something Hugh Freeze admitted only arrived recently.
New Mexico State already clinched a spot in the Conference USA championship game against Liberty and looked to extend a 6-game winning streak. Meanwhile, with the Iron Bowl looming, Auburn looked to improve on its bowl eligibility after 3 straight SEC wins. But that didn't happen as New Mexico State won 31-10 in a game that was 10-7 at halftime.
New Mexico State QB Diego Pavia and New Mexico State must love playing Hugh Freeze teams. Last season, Pavia had 6 touchdowns in a 49-14 win over Freeze-coached Liberty. This time, Auburn was a 25-point favorite coming into Saturday and New Mexico State came in 0-for-24 against the SEC and 0-3 against Auburn.
Here are the 3 takeaways from the game:
Auburn deals with halftime deficit
Auburn didn't score until 6:26 left in the first half when Rivaldo Fairweather caught a 32-yard touchdown pass from Payton Thorne. The other first-half drives ended with a pair of punts as they combined for 9 plays. Auburn gave up 257 yards in the first half, as NMSU took a lead with 26 second remaining on a 40-yard field goal.
That was the 6th receiving touchdown by Fairweather, which is one away from the single-season TE record (7) set by Philip Lutzenkirchen in 2011.
Auburn lost in the trenches, fell behind in time of possession, was out of sync and dealt with ongoing penalties. Freeze at halftime said Auburn's "care meter" has to go up, but it never clicked into gear.
Chippiness throughout
Both teams dealt with a slew of penalties, including 11 total penalties totaling 110 yards through a quarter. The biggest one came from the New Mexico State QB Diego Pavia, who suplexed an Auburn defender and was flagged in an incident that sparked a fight.
That was a highlight, but the game lacked rhythm because after nearly 24 minutes, there were 15 accepted penalties.
Methodical approach
The Aggies are known to be well-coached under Jerry Kill, who got a Gatorade splash at the end, and it proved to be the case as held an average time of possession per drive of 5:29 compared with Auburn at 2:35. But by the end of the 3rd quarter, the Aggies were only 3-for-8 on 3rd down, as they leaned on milking the clock, playing efficient, and even offensive penalties (6) giving them more time to run plays and clock.
One sequence played out like this: Auburn had the ball with a 1st down on the NMSU 38-yard line, and squandered the drive with penalties. The Aggies then converted a huge 3rd-and-7 play on their next drive and scored. Freeze likes to call this kind of development "critical plays" and most of them went the way of NMSU.