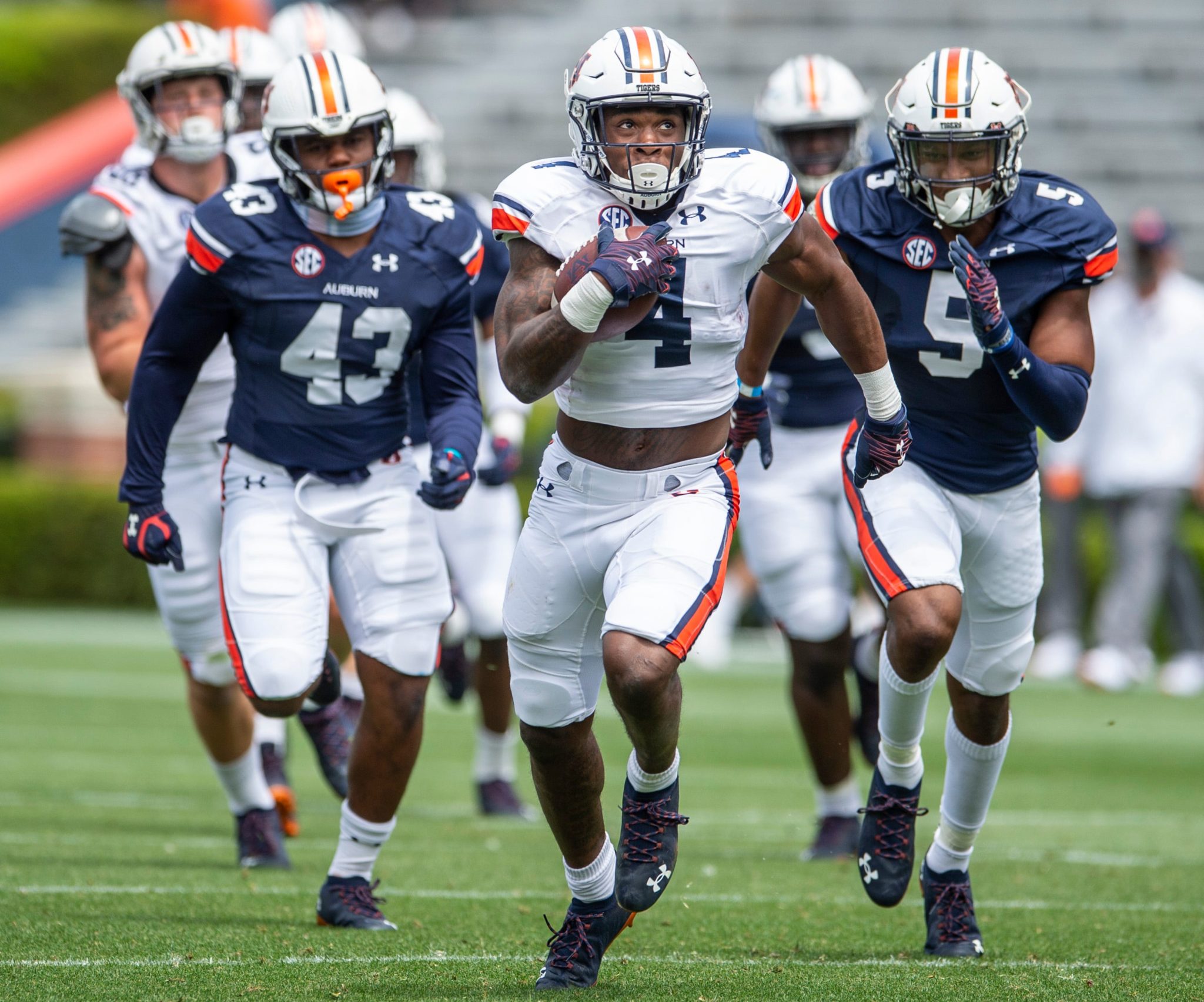 AUBURN
5 biggest takeaways from Auburn's A-Day spring game
If Auburn's A-Day spring game had an official sound, it would have been a long-awaited sigh.
The Tigers' play on the field was finally the top talking point for Auburn football on Saturday as spring practice concluded with the annual A-Day spring game. The score was 10-9. However, that doesn't really matter. There were far more important factors at play for a team that lost its last 5 games last season, had to replace both coordinators and saw players jumping ship as if "War Eagle" was an evacuation order.
Auburn's brass saw enough from its lofty perch to hold a university-directed inquiry into the football team. That ultimately led to everything remaining status quo. I guess something was accomplished. Maybe? In retrospect, the ordeal seemed to be mightily mishandled at the administrative level. Head coach Bryan Harsin simply kept his head down and coached. What else was he supposed to do?
With a pseudo game under their belt, the Tigers seem focused on the upcoming season. Spring practice has replaced the internal befuddlement. Auburn can now focus on the upcoming, 2022 season.
With that in mind, here are the 5 biggest takeaways from Auburn's A-Day:
Auburn's offense has grown
Auburn's offense showcased a few different looks Saturday, including some that weren't a major part of the offense in 2021. There was a noticeable change in terms of formation and overall approach. Auburn showcased a designed rollout passing attack that wasn't much of a factor last fall. (That was different from the Bo Nix auto-pilot scramble.) Designed rollouts are a good fit for returning quarterback TJ Finley, who can be too statuesque in the pocket. It will also fit Zach Calzada's talents well after he transferred from Texas A&M during the offseason.
The tweaks should help whoever wins the starting job. Some of the quarterback reads are a bit more simplistic. That should give Auburn the ability to change quarterbacks if there's an injury or inept play. Harsin has shown he's not afraid to bench a quarterback if things aren't going well. He did that last season when he pulled Nix to avoid a potentially disastrous upset against Georgia State. That's fair warning for Finley, Calzada, redshirt freshman Robby Ashford from Oregon and highly-rated incoming freshman Holden Geriner. There is more than enough competition at the quarterback position.
Finley looks more comfortable
Finley may not start a single game this season, but he looked ready to do so on Saturday. Finley showed more savvy than he had previously in his Auburn career simply by taking some velocity off many of his short and intermediate throws. Every pass doesn't need to be a fastball, even when your fastball is one of the best. Finley was also willing to check down to easier throws that kept drives alive instead of risking a down for a longer completion. All of that, however, must be taken with context in mind. First, Finley wasn't allowed to be sacked, which had to make him more comfortable in the pocket and certainly kept some plays alive that would have been negative plays.
It's tough to judge Finley under A-Day circumstances. It's also hard to know what his role will be when Calzada returns to the field. Calzada didn't play Saturday as he continues to recover from a shoulder injury. Most think Calzada will assume the starting role eventually. However, Finley's play on Saturday will have some say in that eventual depth-chart decision.
Bigsby shows up big
Running back Tank Bigsby looked spry when he could be content as the incumbent starter. He was frequently targeted in the passing game. That seemed new after Bigsby caught just 21 passes last season and 31 in 2 seasons as a Tiger. However, Harsin downplayed the notion that Bigsby would be a bigger part of the passing game even though Bigsby was, indeed, a bigger part of the passing game on Saturday.
During an in-game interview, Harsin said Auburn's running backs have always been a part of the Tigers' passing tree. Maybe that means that Auburn's quarterbacks are able to navigate quick decisions better than they were last season. Maybe that meant that Harsin didn't want upcoming opponents worried about an expanded role for Bigsby.
Spring games are tough to make broad judgments on, but it looks as Bigsby will play a bigger role in the passing game and not be left on the bench during key moments in the game as he was last season. Call it a hunch. Considering all of the players that transferred during the offseason, it's almost a surprise that Bigsby wasn't one of them. His loyalty is a very good thing for Auburn. It will be even more significant if Auburn's coaching staff realizes that they can lean on Bigsby more than they have in the past.
The defensive front is a work in progress
Auburn is known for being multiple on defense. That was the case Saturday. Auburn ran a 3-4, 4-3 and just about any other defensive front one can imagine. No matter — Auburn's defensive front needs to improve. There's only so much that scheme can do. The Tigers have very little depth on the d-line after losing so many players for a variety of reasons. The search is on for more depth.
Colby Wooden will be a great fit no matter what lineup the Tigers use. His versatility to play inside and outside on the line should help the Tigers mask some of their depth deficiencies. The lack of depth displayed Saturday was a reminder that Auburn needs Jayson Jones, who transferred from Oregon following the 2021 season, to play at least a complementary role. Wooden and edge rusher Derick Hall are known as vocal leaders. They'll need to be this summer.
Harsin seems unaffected
With all of the offseason drama, Harsin appears to be continuing as if everything is normal. Surely, it is by now. It had better be. It's important for Auburn's athletic department and Harsin to put whatever came between them completely in the past. With the volatility that currently resides in college football, it really should be no surprise when players and/or coaches leave a program. Of course, Auburn's mass exodus was a bit more than most and understandably unsettling. That needs to be ancient history, which seemed to be the case Saturday.
Harsin was all smiles during interviews. Well, he was as all smiles as Harsin ever gets. It may have just been for appearances' sake only, but Harsin seemed unfazed by Auburn's tumultuous season and ready to move on.
Sigh, breathe and move on.