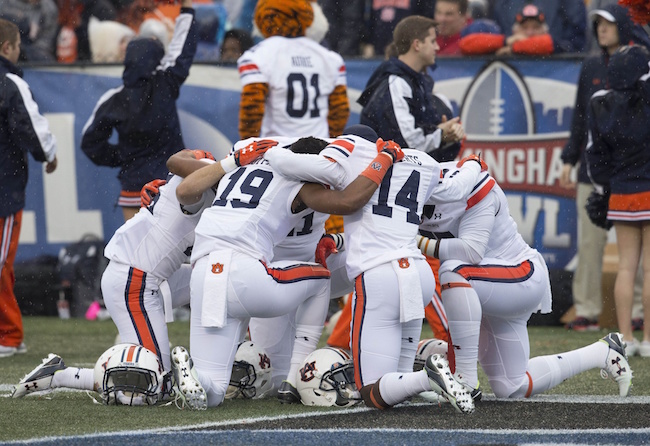 AUBURN
5 defining moments of Auburn's 2015 season
The best word to use to sum up Auburn's 2015 season would be "humbling."
The traditional powerhouse fell far short of the projected playoff appearance and championship title this season, starting the season ranked No. 6 in the country but finishing with a disappointing 7-6 record.
Here are the five defining moments of Auburn's 2015 season:
1. Trampled by Fournette: Auburn struggled through its first two nonconference warm-up games against Louisville and Jacksonville State, barely winning both. Clearly all was not right with Auburn, but it was hard to judge whether they were just suffering from a slow start or if there was a more systemic root to the problem.
During the third game of the season, LSU blew Auburn's weaknesses wide open. Some of the crown jewels in Leonard Fournette's highlight reel were recorded that day. Fournette reached his career-high of 228 yards and three touchdowns that day. Auburn went home shamed.
2. Four overtimes in Fayetteville: Just having a game go into four overtimes makes it a memorable moment, but this game also meant so much more. It was in this game where Sean White took control of the quarterback position, staying in the pocket to make plays and making big throws downfield. Auburn's offense clicked at a high level, staying up-tempo and sustaining long scoring drives. Auburn wasn't able to secure the victory, but it showed that there was still life in the Tigers.
3. Winning at College Station; the most complete game: Auburn peaked in Week 10 against Texas A&M. Even with Jeremy Johnson in at quarterback, the offense worked. Running back Jovon Robinson had a breakout day, rushing ed his way to 100 yards before the half was over. The Tigers defense also stepped up, giving up the fewest amount of yards all season.
4. Beating Idaho: This late nonconference blowout would be trivialized by some teams, but not for Auburn. It's placement in the schedule was a godsend, allowing the Tigers to work out kinks and make adjustments the week before taking on Alabama. The manner in which Auburn defeated Idaho should not be dismissed either. During a season in which the Tigers struggled to score points, morale was boosted after the team proved it was able to drop over half-a-hundred on a nonconference opponent. Johnson was also given the opportunity to gain confidence back as quarterback, throwing for two touchdowns and rushing for two. Most importantly, Auburn's win over Idaho made the Tigers finally bowl eligible.
5. Bowling in Birmingham: Memphis was the perfect challenge for Auburn in the postseason. Memphis had a high-powered offense led by QB Paxton Lynch and Auburn's defense had struggled against the pass all year. But Auburn's defense stepped up to disrupt Memphis' offense, winning 31-10, and doing it impressively.
To close out the season with a bowl win was huge. It ended the season on a high note, and it sent everyone home feeling good about themselves. It should go a long way in getting 2016 off to a good start.