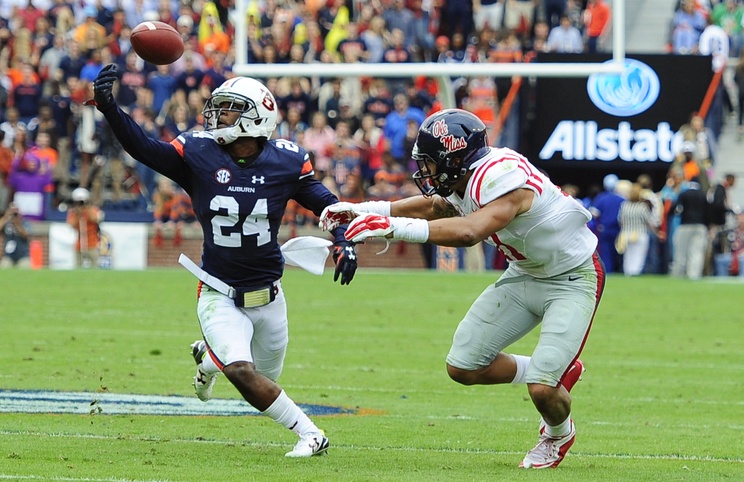 AUBURN
5 toughest players for Auburn to replace
Auburn already has a win in 2016, and that's getting Carl Lawson to return for another year with the Tigers. Unfortunately, Auburn can't keep all of its best players. Some of them are out of eligibility, some are just moving on, leaving the coaching staff with the tough task of finding a comparable player to take their place.
Among the players who are leaving the Tigers, here are the five toughest ones to replace:
Cassanova McKinzy, Kris Frost and Justin Garrett
These three senior linebackers were the heart and soul of the Auburn defense and they are walking out the door together at the same time. Combined, they had a total of 220 tackles this season and nabbed four interceptions. With Lawson injured for the first part of the season and the defensive line struggling to contain opposing offenses, McKinzy and Frost took it upon themselves to create a pass rush. McKinzy ended the season with 10 tackles for loss, the most on the team. Between their ability to create turnovers and their experience on the field, these three linebackers will leave a gaping hole on the defense.
Blake Countess
Countess leaves with just one year of Auburn football on his resume, but he made that one year well worth it for himself and for the team. The Michigan transfer stepped up as part of Auburn's secondary, no easy feat when playing against offenses that knew the Auburn struggled to defend the pass. Countess accounted for 70 total tackles, 44 of them solo, as well as 2.5 tackles for a loss. He also had two interceptions.
Ricardo Louis
Louis didn't start the 2015 season thinking that he would be the Tigers' leading receiver, but he finished the year that way. He finished the year with 46 receptions for 716 yards, averaging 15.6 yards per catch. He also scored three touchdowns. Despite a few too many dropped passes, Louis still had a breakout senior season and no one can doubt the impact he made. Auburn also loses senior wide receiver Melvin Ray, which leaves Auburn short on experienced pass catchers.