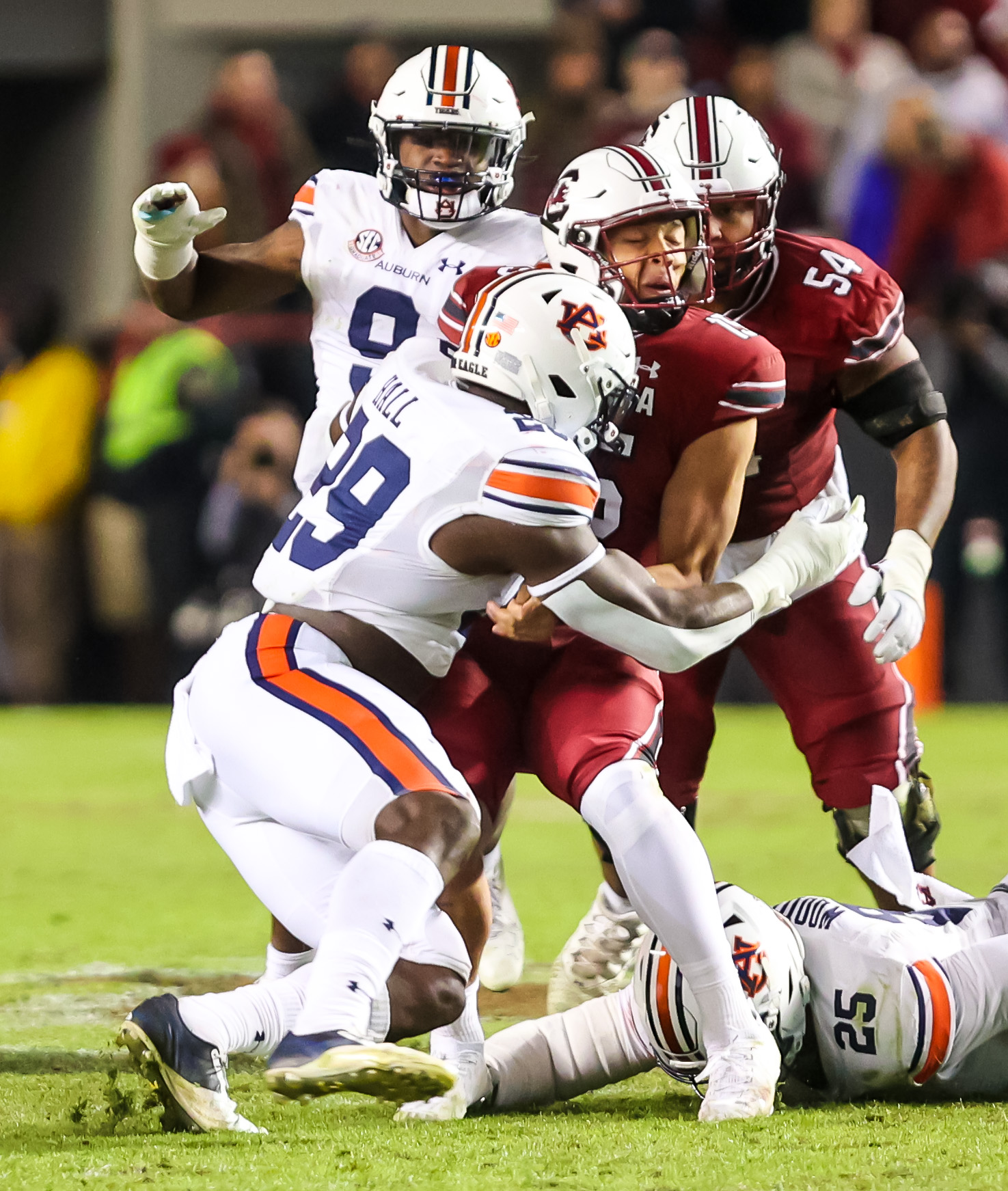 AUBURN
7 way-too-early predictions for Auburn's defense in 2022
Auburn's defense was a mixed bag last season. It needs to be more of a known commodity.
The Tigers ranked 9th in the SEC in total defense but 5th in points allowed at just 21.8 — or not even 2 points more than Alabama. The Tigers also logged over 7 tackles for a loss per game last season. That was 5th-best in the SEC. On the surface that's pretty good for what was deemed a rebuilding season. However, stats don't tell the complete story. Far too often, Auburn's defense wasn't equipped to handle potent offenses, such as Mississippi State and Ole Miss, and couldn't come up with key stops to preserve a victory. Alabama and Penn State come to mind.
If Bryan Harsin is going to elevate Auburn to a contending level, several things need to happen. Most are listed below. Here are 7 way-too-early predictions for Auburn's defense heading into the 2022 season:
The defensive front will be one of the best in the SEC
Sure, Auburn has losses to overcome on its defensive line. However, they have players in place to take up the slack. Colby Wooden, Marcus Harris and Marquis Burks are the returnees that Auburn will lean on first and foremost. There are also some young underclassmen ready to step into starting roles. Moreover, the Tigers have some offseason additions — one in particular — who will change the way the Tigers look up front on defense, which leads us to …
Jayson Jones will be one of the top newcomers in the SEC
There are plenty of reasons to expect big things from Jones, a massive defensive tackle who transferred from Oregon following the 2021 season. First, he's the biggest and tallest player on Auburn's roster. However, size isn't everything. Jones is also athletic. At 6-6 and 328 pounds, Jones is expected to be the anchor of Auburn's defensive line and — to some extent — its entire defense. Jones played in 13 games and recorded 2 sacks for the Ducks last season. He is just beginning to reach his potential.
Jones will have company
If Jones isn't the newcomer of the year in the SEC, it may be because his teammates nabbed the award. Defensive lineman Jeffrey M'ba was rated the top junior college prospect by some before signing with Auburn. Enyce Sledge has also shown strong potential. Fans may need a copy of the game program to keep up with which defensive linemen are in the game. However, anonymity does not correlate with talent.
Derick Hall will be the 2nd-best edge rusher in Alabama
Hall isn't a household name nationally despite having 12 sacks last season. Perhaps that's because another edge rusher nearby gets all the publicity. Sure, Alabama's Will Anderson Jr. is a possible once-in-a-generation talent coming off the edge. However, Hall has proven productive and underrated at times. He also tends to rise to big occasions, which was the case last season when he had 3 sacks against the Crimson Tide.
Owen Pappoe will be the SEC comeback player of the year
Pappoe was well on his way to living up to his sky-high recruiting pedigree before he was sidelined for much of the 2021 season due to injury. Pappoe is healthy now and will man the middle of Auburn's defense at linebacker. Clearly, he is a key cog. Pappoe has to have a strong season to make the Tigers respectful when they don't have the ball.
The secondary will be (almost) as good
I mean no offense to the defensive backs who departed after last season, specifically cornerback Roger McCreary and safety Smoke Monday. However, Auburn's pass defense was horrid last season. The Tigers were 12th in the SEC in passing yards allowed. That's not good. Worse, yards led to points. Auburn gave up 23 TD passes; only 4 SEC teams gave up more. Auburn had some significant returnees, big names and talented players in the secondary, but it didn't translate into overall defensive prowess. A change-up will actually do Auburn some good.
The streak will stay alive … for a bit longer
Auburn didn't give up a rushing touchdown in its last 5 games last season. With Mercer and San Jose State leading off the season, that streak should reach 7 games. As for the third game? Penn State will likely end that impressive run with a touchdown run.