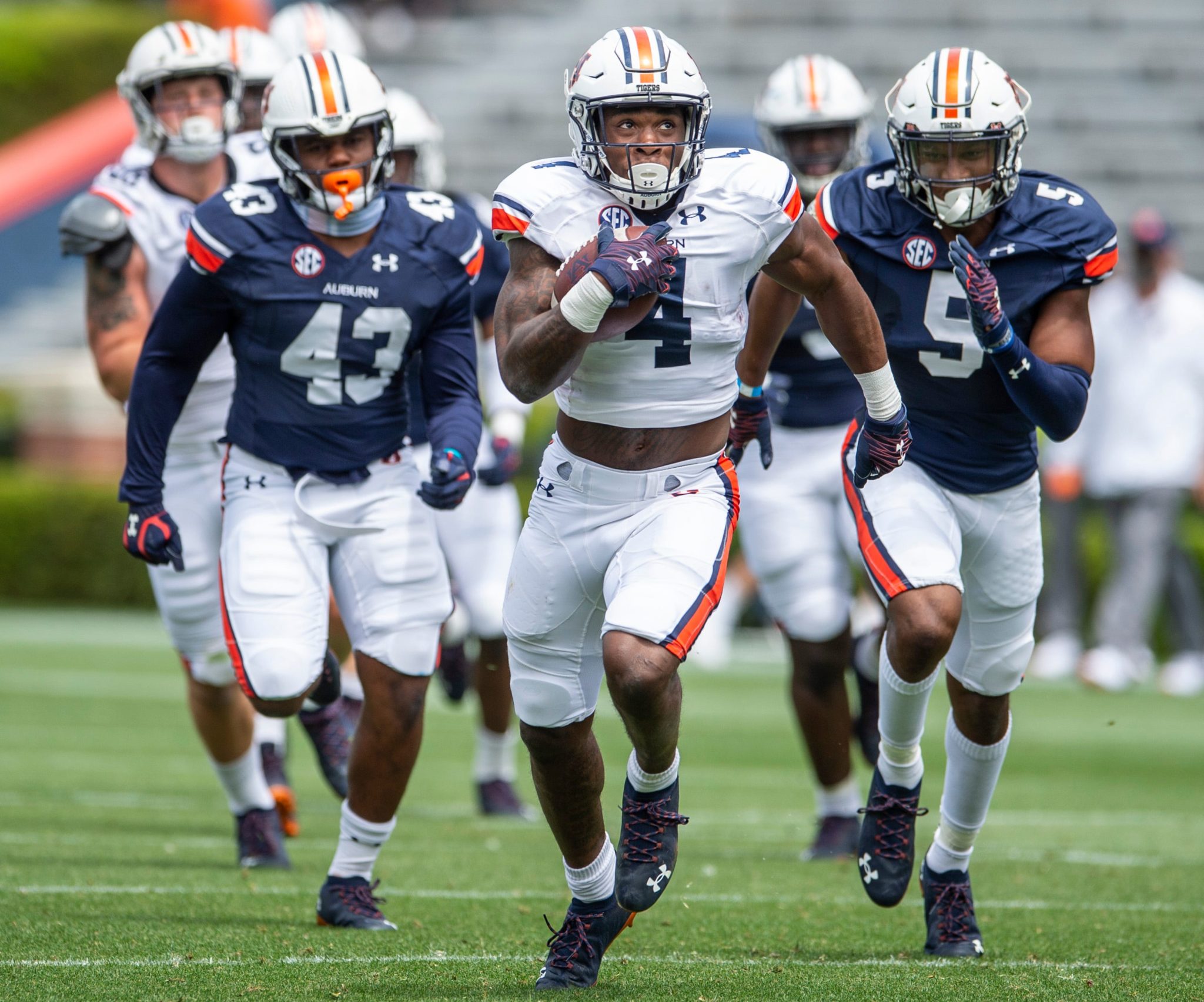 AUBURN
7 way-too-early predictions for Auburn's offense in 2022
Auburn's offense looked vastly different last year compared to the season before. The vast, sweeping change should be more like ebbs and flows this season. Maybe.
Bryan Harsin enters Year 2 without the challenge of installing a new offense. His multiple-tight end sets are well in place. However, Harsin does have some similar hurdles to overcome this season. He has to continue to develop his offense under a new quarterback — again — and continue to win his team over, which looked as if it had jumped ship just a few months ago.
The agonizing Bo Nix era is finally over. His exit was part of one whopper of an offseason in which multiple players transferred, both coordinators had to be replaced and Auburn's athletic department investigated the program. Are things settled now? We'll see.
So what can Auburn fans expect from Auburn's offense in 2022? Here's a glimpse:
Zach Calzada will start the season at quarterback
That does not mean that Calzada will end the season at quarterback. Let's take things one step at a time. When it comes to Auburn's offense, it's important to slow down and consider what could unfold. We'll get to that below. For now, let's look at that season-opener against Mercer on Sept. 3. Most around Auburn's program believe Calzada will be the Tigers' starter despite missing spring practice with an injury. Calzada has plenty of experience in the SEC. He gained that last season with Texas A&M before transferring. Despite the change in scenery, a new offense and missing offseason practice time, Calzada will nab the starting position — for now.
Calzada will not start every game this season
The above statement has nothing to do with injuries. Auburn is unique in its quarterback room. The two thought to be closest in the quarterback competition to Calzada both have intriguing back stories. TJ Finley played last season in relief of Nix during a comeback win against Georgia State and when Nix was injured later in the season. Therefore, everyone knows that Finley can at least play in the SEC. Robby Ashford transferred from Oregon with the intent of playing and performed well during spring practice. There isn't much room for Calzada to slip if he is indeed named the starter during preseason camp.
The Tigers will rely on the running game even more
The Tigers were a bit too pass-happy last season. Auburn threw for just over 3,100 yards last season and ran for just 2,096. That simply won't do for Harsin. It would be a surprise if the Tigers didn't run for more than 2,500 yards this season given their strengths and weaknesses. If Auburn isn't a better running team than last season, then running back Tank Bigsby has not been used enough. That leads us to …
Bigsby will run for 1,500 yards
Bigsby is one of the most proven running backs in the SEC entering 2022. He ran for 834 yards in a COVID-shortened freshmen season. Then he added 1,099 yards rushing last season — and many Auburn fans thought he still wasn't used enough. He considered transferring, but Auburn coaches convinced him that the offense will run through him in 2022. That's welcome news.
Bigsby will turn pro after the 2022 season
There is more incentive for players to stay in school with NIL money being doled out at most every opportunity. However, Bigsby is ready to make his run into the NFL. The junior will have nothing to prove after this season and plays a position in which time is not on his side. Bigsby just has to stay healthy. If not…
Jarquez Hunter will assume more of a role
This will be the case regardless of how Bigsby performs. Hunter's explosiveness is in dire need this season. Hunter can change a game in just a few seconds. Auburn's plodding offense doesn't showcase that elsewhere.
Consider this: He averaged 6.7 yards per carry last season en route to 593 yards. In 89 attempts, he had 7 rushes of 20+ yards and 3 covering 30 or more yards. In 223 carries, Bigsby had 10 rushes of 20+ yards and 4 of 30 or more.
Hunter will certainly make some highlight plays this season. He'd better. If not, Auburn will be in trouble.
Auburn will be looking for a new offensive coordinator after this season
Former Auburn head coach Gus Malzahn was criticized for not having a more clearcut hierarchy of decision-makers. Auburn replaced him with Harsin, who seems to be repeating that pattern. Take it from the School of Malzahn. When things aren't going well, make a vast, sweeping change on offense.
Harsin promoted wide receivers coach Eric Kiesau to offensive coordinator after Austin Davis backed out, but if Auburn struggles, expect another change after the season. How vast? Let's see how the season unfold.