AUBURN
Auburn has a lot of problems, but its biggest might be coaching
Let's be real about the 2020 Auburn Tigers for a moment, shall we? Isn't it time?
Coming off last weekend's loss at South Carolina, Auburn is winless on the road this season in two tries, but the Tigers enter a pivotal road contest at Ole Miss the favorites anyway, tapped as 4-point favorites to upend Ole Miss Saturday (Noon, ET, SECN).
Maybe the smart folks in Vegas know something we don't. Maybe Ole Miss' increasing number of COVID cases means the game won't happen as scheduled anyway. Or maybe Gus Malzahn and Auburn are just living off reputation at this point.
Then again, maybe not. Auburn through a month of football is a 2-2 football team that should be 1-3, but for a badly missed call that gifted them a chance to beat Arkansas. They have 4 upcoming games at Ole Miss, at home with LSU, at Miss State and home against Tennessee, with a bye week smack in the middle of the quartet, that are all winnable. They are also all losable. The difference between 3-5  or worse and 5-3 or better will likely be a handful of plays. And some good coaching. That's needed too.
Right now, Auburn isn't getting good coaching.
Let's start with Chad Morris's offense. Is it Year 1 in a new system? Yes. Is Morris' playbook limited by a very young offensive line that is still trying to figure it out? Yes.
But Morris is also underutilizing RPOs, running them on only 13% of Auburn's possessions so far, a nearly 12% decrease from last year, where Nix's best success rates as a passer came off the RPO, which Malzahn ran nearly 25% of pass downs. Morris is also responsible for utilizing pass protection schemes that work and give Nix time. Even if Morris has to keep an extra man in to protect, that's probably better than Nix throwing the ball on the run.
If you give Nix time to throw, even outside of RPO concepts, he can be calm and he can be accurate.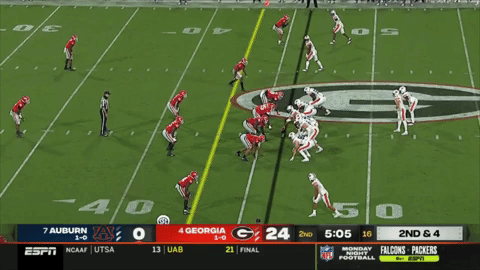 But if he's moving and under pressure, you get forced balls like the one he threw into heavy traffic that was intercepted by Jaycee Horn Saturday at South Carolina. Those mistakes can't continue. The Gamecocks scored 21 of their 30 points on possessions stemming from Nix interceptions. Those aren't sustainable numbers, and Nix should sit if he can't protect the football better. Malzahn has built a deep quarterback room — why not use it? And if you won't sit him — Malzahn needs to help Morris put Nix in a position to succeed.
But Nix is hardly the be-all and end all of this Auburn team's issues.
On Nix's final interception, for example, star Seth Williams very clearly ran the wrong route, coming under fire from his head coach and Nix on the sideline after the throw. Auburn also dropped 3 passes, damaging the numbers for Nix on a day when he threw for 272 yards, a career-high for him on the road. Weapons either haven't developed at wide receiver beyond Williams and Anthony Schwartz or they haven't been recruited or aren't ready yet. Any of those would be concerning.
Auburn also is penalized far too often. The Tigers rank 13th in the SEC this season in penalty yards assessed per game. The only team in the league that has been penalized more? Georgia, which has better top-end talent to overcome its self-inflicted mistakes.
Auburn's penalty issues were particularly crushing against the Gamecocks. Three of South Carolina's 7 3rd-down conversions came on pass interference penalties. The last one came on Carolina's final drive — and if the Tigers hadn't been flagged for tangling with Shi Smith, then Auburn would have gotten the ball back a minute earlier. As it was, they ran out of time while driving late.
Or how about the way Malzahn mismanaged the clock in the first half Saturday?
The Tigers had a chance to get in field goal range when Nix hit Eli Stove on a 19-yard pass in South Carolina territory with less than 30 seconds to play in the half. Oddly, however, Malzahn kept his 2 timeouts in his pocket, and by the time Nix snapped the football, almost 20 more seconds had run off the clock. By the time Nix scrambled out of bounds on the ensuing play, Auburn had missed a scoring opportunity.
These are all fundamental football errors: play-calling issues, receiver miscommunications and drops, penalties, clock management. All of these things are about coaching.
Malzahn seems to think Auburn is close.
"We have some things we need to clean up," Malzahn told the media this week. "But I believe we will. We're capable of being a very good team."
Maybe the Tigers are. But this upcoming game against an Ole Miss team that is explosive and should be hopping mad feels like an inflection point. Is Auburn ever going to pony up 20-million plus dollars and cut Malzahn loose during a season shortened by a global pandemic? Probably not, at least as we sit here today.
But what if Auburn drags through this next 4-game stretch 2-2, and the Tigers are only 4-4 when they head for closing games against Alabama and Texas A&M? What then? What would a losing season mean for Malzahn and his future at the program?
It's tough to say, but for now, the Tigers don't appear well-coached. Ole Miss, under new hire Lane Kiffin, does.
Saturday, then, could be about two programs headed in opposite directions. One coach on his way in, the other in the nadir of a long goodbye.
Time will tell. But it's time to be honest about it.