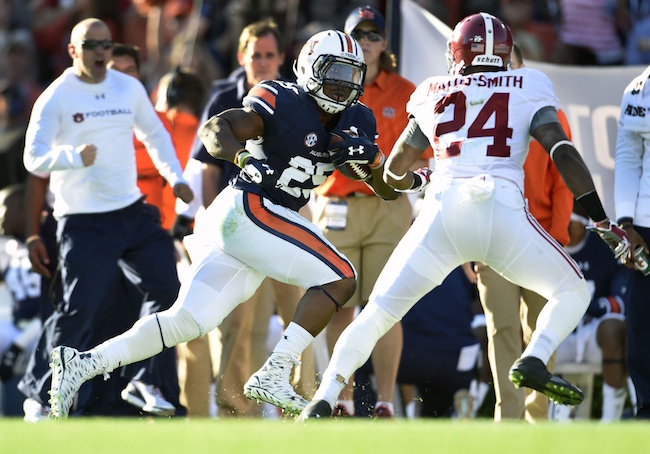 AUBURN
Auburn's 5 best returning players
Auburn has grand plans to make a big jump from its 7-6 season in 2015. The Tigers have a history of big bounce-backs, and they'd like to see another one.
We all remember 2013, right? Auburn was 3-9 the year before and then went 12-1 and won the SEC before losing to Florida State in the national championship game. And 2010? The Tigers went 14-0 that year and won a national championship, and they did all that coming off an 8-5 season the year before.
It happens, and it can happen again. Here are Auburn's five best returning players:.
5. CB Carlton Davis
Davis was named to the All-SEC freshman team after his strong performance in 2015. It wasn't smooth sailing for the entire season, but he learned and improved quickly. Former defensive coordinator Will Muschamp praised him as "tough, competitive, football instincts, football IQ." Gus Malzahn called him a rising lockdown corner in the league. "We're excited to see how another year of college football experience will elevate his game," he said. Davis finished the season with 56 total tackles, 1.5 tackles for a loss, and was the leader in interceptions with three.
4. DB Johnathan Ford
"Rudy" Ford made headlines when he stated that stopping Leonard Fournette would be easy, but then was run over by that very same running back. However, Ford and his attitude recovered, and he finished the season as Auburn's leading tackler. He is one of the most valuable players that the Tigers have on the defense, and is all over the field. He totaled 118 tackles, three tackles for a loss, a sack, two interceptions with one returned for a touchdown, and two forced fumbles.
3. RB Jovon Robinson
Jevon Robinson stepped in and stepped up late in the season for the Tigers. He averaged a team-high 5.5 yards per carry and totaled 639 rushing yards. While many Auburn backs got playing time in 2015, Robinson's productiveness stood out among the pack and may boost him into a the featured-back spot next year, or at least setting the stage for a strong one-two punch.
2. RB Peyton Barber
Even a late-season injury wasn't able to keep Barber from capping a 1,000-yard season. Auburn's run-heavy offense handed the ball off to him 237 times, and he averaged 4.3 yards a carry. He also helped out his quarterbacks with 11 receptions for 112 yards. Barber will no doubt figure prominently into the game plan next season after the year he has had.
1. LB Carl Lawson
Lawson missed six games this season with a hip injury and his absence was obvious. The Tigers averaged 55 yards a game more when Lawson was out and nearly two touchdowns a game more in SEC play when Lawson couldn't play. He's a beast on defense, a big run stopper who also can put pressure on opposing quarterbacks. Being better on defense is the key for an Auburn bounce-back, and getting Lawson to come back for another year was huge.