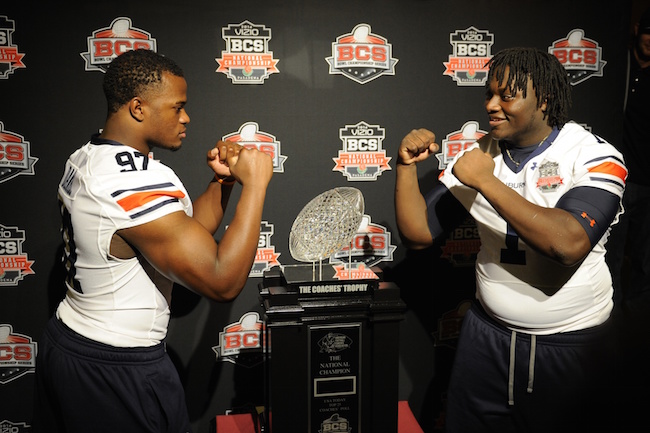 AUBURN
Auburn's defensive line has a chance to be great in 2016
Auburn's defense was a big disappointment in 2015. And now the revolving door at defensive coordinator stops at Kevin Steele, who will be facing an uphill battle as he attempts to revitalize a defense that's been trending downward for a couple of years.
He has a good chance at turning things around quickly, because there are several players coming back with plenty of talent. One area where this holds true is Auburn's defensive line.
The Tigers' defensive front was much maligned last season because of injuries and lack of depth. But with how things have played out so far, 2016 is looking like a good year for the unit.
First, both Carl Lawson and Montravious Adams have announced that they will be coming back for their senior years, which was a pleasant surprise. Both had NFL interest. It's not a coincidence that during the stretch of time Lawson was out with a hip injury, the defense struggled. As soon as he returned, the defense started to click. And Adams' ability to overwhelm any ballcarrier in the backfield, not to mention create fumbles and other turnover opportunities, is an obvious asset.
Add Byron Cowart to the list of players who should make a big impact in 2016. Cowart is a five-star fishing sophomore who has already started to build up some experience. In 2015, he saw playing time in eight games. He was a bit of a disappointment because fans expected more out out him, but the potential is still there.
There is also a ton of talent in the 2016 recruiting class for this position group that should make Steele and Auburn fans happy. There are six solid recruits at defensive line, including four-star strong-side defensive end Marlon Davidson, the fourth-best defensive end recruit in the nation according to the 247 composite rankings.
The other recruits are four-star Antwuan Jackson, seventh-best defensive tackle recruit; four-star Paul James, second-best weak-side defensive end recruit; four-star defensive end Nick Coe; three-star defensive end David Marshall; and three-star defensive tackle Tashawn Manning.
With all of these players, Auburn's defensive line has a chance to be great in 2016, which will be a nice change of pace after a drab couple of years.