AUBURN
Auburn fans surprisingly realistic
HOOVER, Ala. — This is an SEC-centric site, so we'll handle this sentence with kid gloves: SEC fans aren't known for being the most … grounded.
The laws of logic, then, dictate that Auburn's fan base should have relished the arrival of SEC Media Days on Monday at the Riverchase Galleria. After all, the team did finish 12-2 in Gus Malzahn's first season as coach, replete with an Iron Bowl victory, an SEC championship and a national championship appearance.
I talked to nearly two dozen Auburn fans in the lobby of the Wynfrey hotel Monday afternoon, most wearing orange-and-blue T-Shirts and brandishing Sharpies for autographs. In other words, the kind of fans who shiver at the thought of missing a game for a close friend's wedding. But other than the occasional Tony Jones, a 32-year-old from Anniston, Ala., the Auburn nation was surprisingly tame.
"15-0, national championship, SEC championship. We dominate the first College Football Playoff," said Jones, who went to every Auburn game last season. "Coach has set the bar high, so I always set the bar high."
But even Jones said the Iron Bowl will "be tougher than last year," a common refrain among even the most optimistic Tigers fans.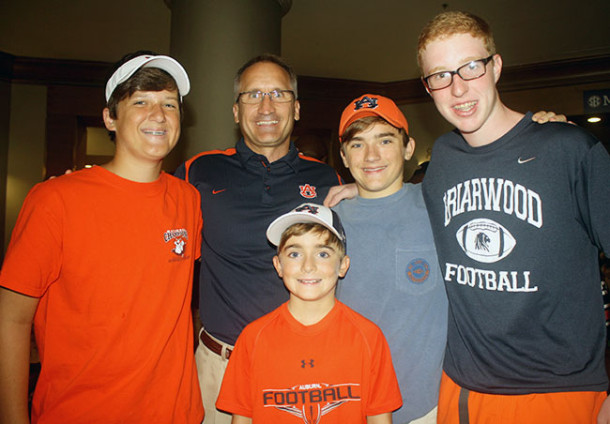 Here are a few observations after taking the temperature of Auburn's fan base.
1. This was a shocker, but Gus Malzahn probably could win any city or county political election within a 100-mile radius of Auburn, Ala. Seriously. It's hard to fathom the man only has two seasons of college football head coaching experience. Many of the fans present Monday believe he's capable of at least competing with Nick Saban as the state's best coach.
2. Fans are not worried about Nick Marshall. At all. While Malzahn mostly dodged saying anything meaningful about his quarterback, cited for possession of marijuana last week, fans said plenty, all of it glowingly positive. Not a single Auburn fan mentioned anything about his potential suspension, and most all of them latched onto the "Malzahn never has had the opportunity to work with a starting quarterback for consecutive seasons" storyline.
3. About 75 percent of the Auburn fans I talked to don't expect the Tigers to go undefeated. Many projected the team to remain in the sharp end of the SEC West competition, but shied away from picking Auburn to lock down a second consecutive SEC title. Remember, these are fans who drove to the mall on a Monday afternoon hoping for a 30-second glimpse at their head coach and a few players.
"I was talking to a relative about this the other day. I wouldn't be shocked if they went undefeated and I wouldn't be shocked if they lost three football games," 42-year-old Birmingham resident and Auburn fanatic Dedric Alexander said, reflecting the thoughts of many I spoke with. "I think they have the team to go undefeated, but I think teams are going to be better prepared for them."
4. Most every Auburn T-Shirt I saw referenced Alabama.
During most of my conversations, I teed up an Iron Bowl question or two, expecting the fans to smash my underhand toss into the upper deck, then pose to admire their work. At the least, I figured fans would gloat about perhaps the most improbable, thrilling Iron Bowl victory ever.
Instead, I got a few grimaces. The general consensus? It will be tough to knock off Alabama in Tuscaloosa for a second consecutive victory. The vibe wasn't "no way we win," but rather "I'm not confident in saying we're definitely thrashing our rivals when we're still more than a month away from the season."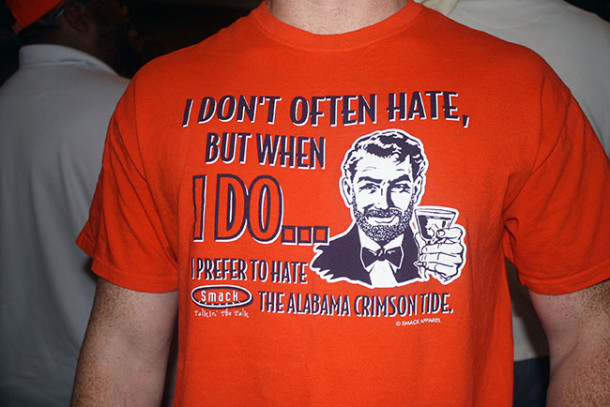 5. This time last year, optimistic Auburn fans were hoping for a three-loss season and a potential January bowl.
But the man who led the Tigers to a national championship as an offensive coordinator during Cam Newton's Heisman Trophy season revitalized the team in a matter of months. Buoyed by two unbelievable finishes in "The Prayer at Jordan-Hare" and "Kick Bama Kick," Malzahn's thrilling brand of offense nearly brought the SEC an eighth consecutive national title.
Many of the fans had trouble recalling the way they felt at this time last season.
"The season before was pretty rough, so we had low expectations with hope," said Trussville resident Kim Handley, visiting the event with her two young children.
"A 6-6 season was pretty promising," her husband Brian Handley said.
6. The lone concern voiced by the Tigers fans Monday? The defense.
"I pretty much have a set idea of how the offense is going to look. I'm excited to see how that defense is going to look after another year under (defensive coordinator) Ellis Johnson," Alexander said.
If you believe in analytics, Auburn is in some ways likely to regress to the mean. But perhaps the Tigers can make up for that by taking a major step forward on defense.