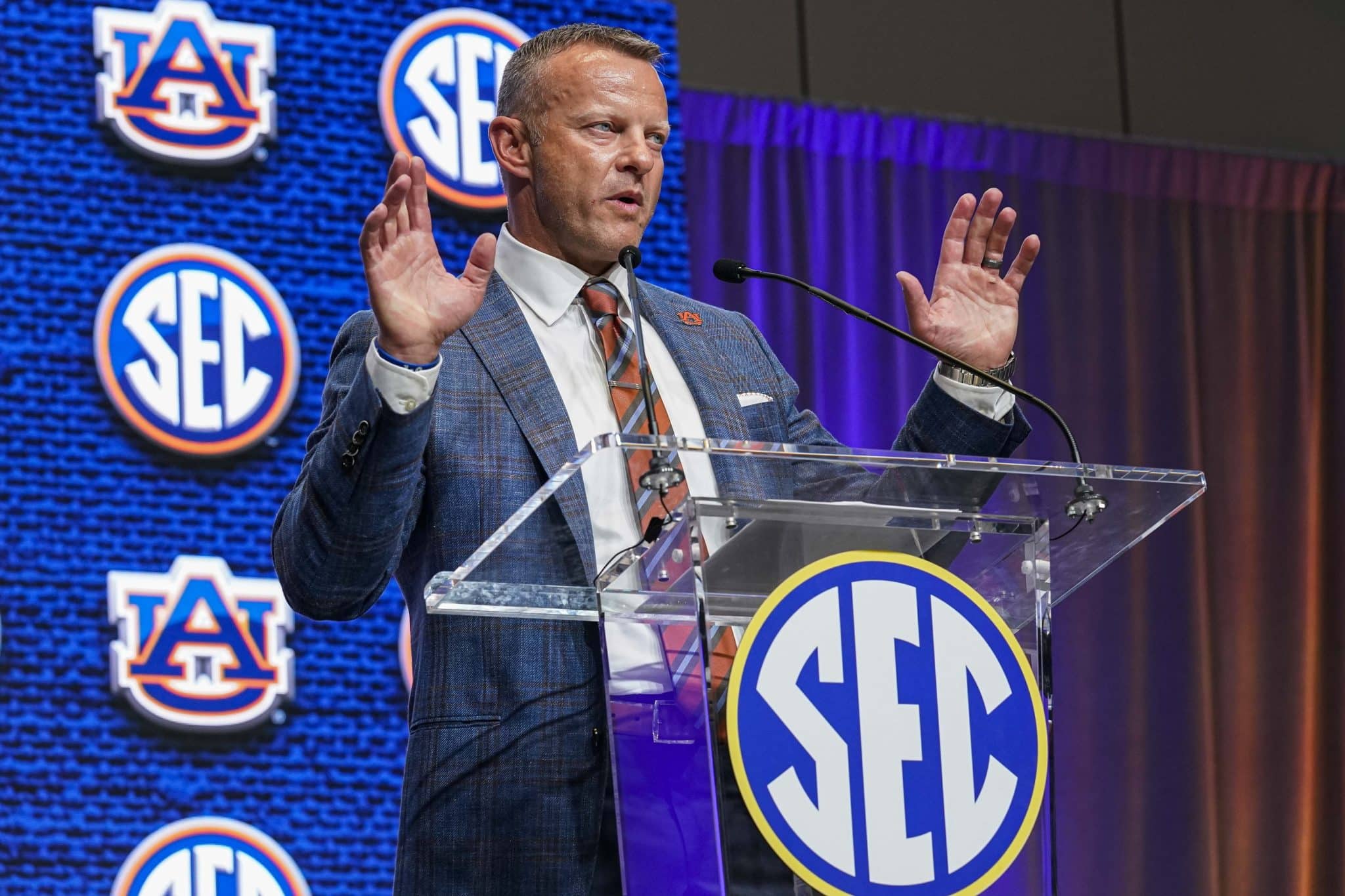 AUBURN
Auburn football: 5 dream/disaster scenarios for 2022
Pundits are in basic agreement that Auburn is not a threat to the national or SEC hierarchy. That's usually when the Tigers awaken from their slumber and do the most damage.
But let's take a look at the situations in which Auburn football could be noted for in 2022, both good and bad. Here are 5 dream and 5 disaster scenarios for the Tigers as they head into the upcoming season.
5 dream scenarios
1. QB play exceeds expectations
Granted, the expectations aren't very high, and exceeding them may not take a Herculean effort. But Auburn fans have witnessed the difference that outstanding quarterback play can make. Now, nobody is suggesting that Zach Calzada or T.J. Finley will suddenly turn into Cam Newton or Nick Marshall overnight. However, if either one (or Oregon freshman transfer Robby Ashford) puts together even a Jarrett Stidham-like season, the Tigers would be back on the prowl.
2. Open with 5 straight home victories
If the Tigers subdue the Nittany Lions at home in Week 3, it could propel them to a 5-0 start heading into the Oldest Rivalry in the South. To open the season with consecutive victories over Mercer, San Jose State, Penn State, Missouri and LSU, all at Jordan-Hare Stadium, Auburn would have a ton of momentum when it faces defending national champion Georgia Between the Hedges on Oct. 8.
3. O-line mauls SEC defenses
The offensive line can make up for a lot of shortcomings, and Auburn should have a good group. That would be critical in breaking in a new full-time QB. It should also help open running lanes for Tank Bigsby to have another outstanding season. If the O-line can push people around, the Tigers are sure to rise above last season's 10th-place SEC ranking in total offense, and that could even propel them to the top half of the conference.
4. Tigers become road warriors
Auburn plays just 4 games away from Jordan-Hare Stadium this season. But all 4 are huge. Auburn plays its first 5 games at home before back-to-back road showdowns with Georgia and Ole Miss. In addition, the Tigers visit both Mississippi State and Alabama. The Tigers were 2-3 on the road last season, then lost on a neutral site to Houston (17-13) in the Birmingham Bowl. A winning record on the road in 2022 would certainly be a dream scenario.
5. Tank carries the Tigers
Bigsby is already a 1,000-yard rusher. Behind what looks to be an improved offensive line, Bigsby could be in for a career year. A ground-and-pound, possession-type offense could pay dividends for Bryan Harsin and the Tigers this season, especially if Jarquez Hunter continues to improve from his impressive season a year ago, when the freshman rushed for 593 yards and averaged 6.6 yards per carry.
5 disaster scenarios
1. Off-season drama spills over into the fall
If Harsin and the Tigers roster don't put this behind them, it could lead to a dysfunctional locker room. And once that happens, it's very difficult to put the genie back in the bottle.
2. Season unravels and the coaching carousel starts up again
Gus Malzahn never had a losing season in 8 years on The Plains, but he didn't win enough or consistently enough to please Auburn brass and was dismissed. Gene Chizik won a national championship, but just 2 years later he went 3-9 and was fired. Harsin had a losing season in Year 1 at Auburn. Another losing season could spell an abrupt end and set the coaching carousel in motion once again.
3. New D coaches don't pan out
The situation is always a bit tentative when new coaches arrive. New DC Jeff Schmedding is tasked with resurrecting an Auburn defense that has been very mediocre over the past 4 seasons. Last year, the Tigers finished 9th in the SEC in total defense after giving up nearly 3,200 yards through the air. Linebacker is a position of concern, and the Tigers also have a new coach there as well. Christian Robinson will rely heavily on Owen Pappoe to lead that group. If the new faces in the coaching office don't jell with the talent on the roster, it could make for a long season.
4. Carlson injury lingers
A knee injury last November sidelined Anders Carlson, Auburn's kicker since 2018. Though he is participating in fall practice, Carlson wears a brace on the knee. If he isn't fully recovered, it could be disastrous for the Tigers, given they lost the last 3 games of the 2021 season by 4 points or less.
5. None of the QBs exerts himself as team leader
Calzada has the biggest victory of any of the candidates for starting quarterback at Auburn. To Tigers fans, a coveted win over Alabama certainly looks good on his resume. But neither Calzada nor Finley has played with any consistency. If that continues into the 2022 season and neither steps forward to lead the way, it's going to be an up-and-down season at best for Auburn.