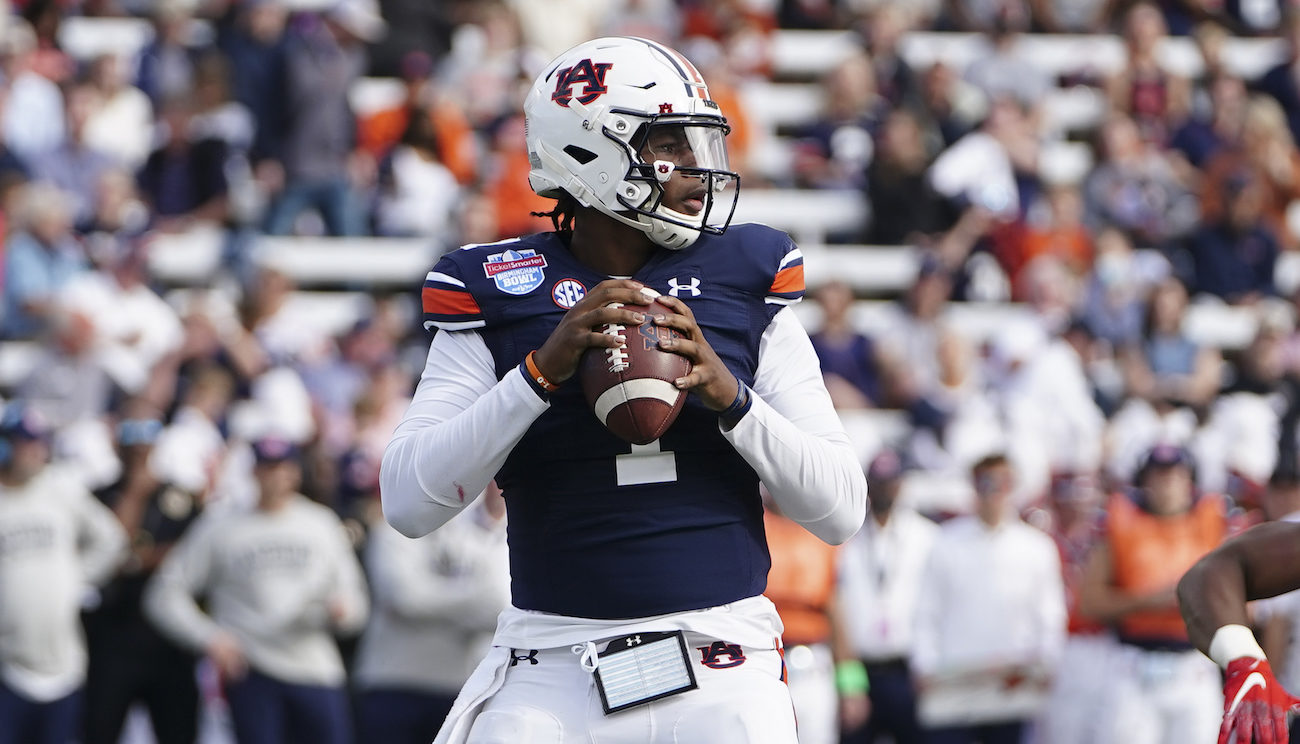 AUBURN
Auburn football: 5 players I can't wait to watch in Saturday's A-Day spring game
Auburn had plenty of goals heading into spring practice. It remains to be seen if they achieved any of them. That's for the season to decide.
The Tigers still have to find a starting quarterback, restock a defensive line and rebuild a secondary. Those daunting tasks are all still a work in progress. Coach Bryan Harsin enters his second season with more pressure than one would expect. That comes from offseason scrutiny surrounding the fact that he lost several players and coaches who decided to play or coach elsewhere. It remains to be seen if that was an aberration or a sign of doom to come. Still, it wasn't a good sign.
Nevertheless, Auburn has had actual football to work on during spring practice, which concludes with Saturday's annual A-Day spring game. The Tigers probably don't have a championship roster, but they do have an intriguing group that could certainly cause a commotion in the SEC West. I'll let you decide how many games Auburn can or will win this season. For me, here are the 5 players I'll be keeping an eye on Saturday to better gauge their impact this fall.
QB TJ Finley
Auburn's quarterback situation is about as unsettled as its coaching state of affairs in January. Finley has gotten most of the first-team reps this spring, with fellow transfer Robby Ashford's workload increasing. One would have thought that Finley would have stepped into the starting role last season or at least been the natural, incumbent starter this season after former Auburn quarterback Bo Nix transferred to Oregon. Finley didn't exactly have to beat out Tom Brady when he transferred from LSU. That ascension to week-to-week starter for Finley never happened, which makes one wonder just how good Finley can be. But Nix did transfer, which makes one wonder if he thought he would be benched now that Finley has a full year under his belt as a Tiger.
Either way, it'll be interesting to watch Finley's footwork and decision-making, even in a scaled-down, safe pocket in the spring game. The arm strength is a given.
QB Robby Ashford
The trade that sent Nix to Oregon and Ashford to Auburn wasn't really a trade even though it felt like it. Like Nix, Ashford couldn't find the playing field with a GPS app in 2020 and 2021. That meant the former Hoover (Ala.) High School star decided to head home and try to win a starting spot with the Tigers.
Will he be able to do it? That remains to be seen. However, Ashford has 4 seasons of eligibility remaining and was a 4-star prospect coming out of high school. If he's as good as high school analysts projected, he should be able to at least compete with Finley.
If Auburn's coaches want stability for the future, Ashford can check that box as well. The fact that Finley hasn't been named the starter should give Ashford hope that he can also eventually become the starter. Harsin told reporters earlier in the week that Ashford is getting more reps as the spring progresses. The battle during fall camp should be intense.
It's also too early to discount Texas A&M transfer Zach Calzada. A shoulder injury has severely impacted his ability to compete this spring, but he's proven he can play in the SEC.
RB Tank Bigsby
Bigsby is one of the most dependable, talented running backs in the SEC. He has power and speed. Bigsby rushed for 1,099 yards and 10 touchdowns last season, but he's also remembered for rolling his eyes when he wasn't on the field in key situations last season. Then there was the circus of is he or isn't he transferring? He isn't. Despite the noise, Bigsby never officially entered the transfer portal. All of that drama will be forgotten with another strong season in 2022. That's certainly the goal as Bigsby will likely be playing for the best possible position in the 2023 NFL when he steps onto the field this season. Auburn has vowed to shape its offense around his skills in 2022 — a wise move. He will have more eligibility remaining, but Bigsby seems ready for the NFL in a variety of ways.
S Caleb Wooden
Auburn has several openings in its secondary as safety Smoke Monday and cornerback Roger McCreary wait to see where they'll be picked in the upcoming NFL Draft. The former Auburn standouts made life difficult on opposing quarterbacks. There are a host of defensive backs who are trying to assume those roles. However, Wooden has been the standout of spring practice. The freshman was once simply known as Auburn defensive lineman Colby Wooden's younger brother. He has a chance to be much more this season.
"He's around the ball and when he gets a chance to get his hands on it, he comes down with it quite a bit," Harsin told reporters last week. "He continues to be around the ball. Young player, learning, he's just getting the basics of the defense right now but he does go out there and work hard. Very much like his brother, those guys work. He has fun out there, I think he's got some confidence that when the ball is in the air, he's going to be able to come down with it."
LB Powell Gordon
I'm well aware of the fact that Auburn has plenty of depth at linebacker. However, Gordon has seen plenty of reps this spring so there could be an opportunity for him this fall. I'm not saying that he's going to be an instant superstar. However, it's hard not to root for a player that grew up rooting for Auburn while his parents tailgated on The Plains.