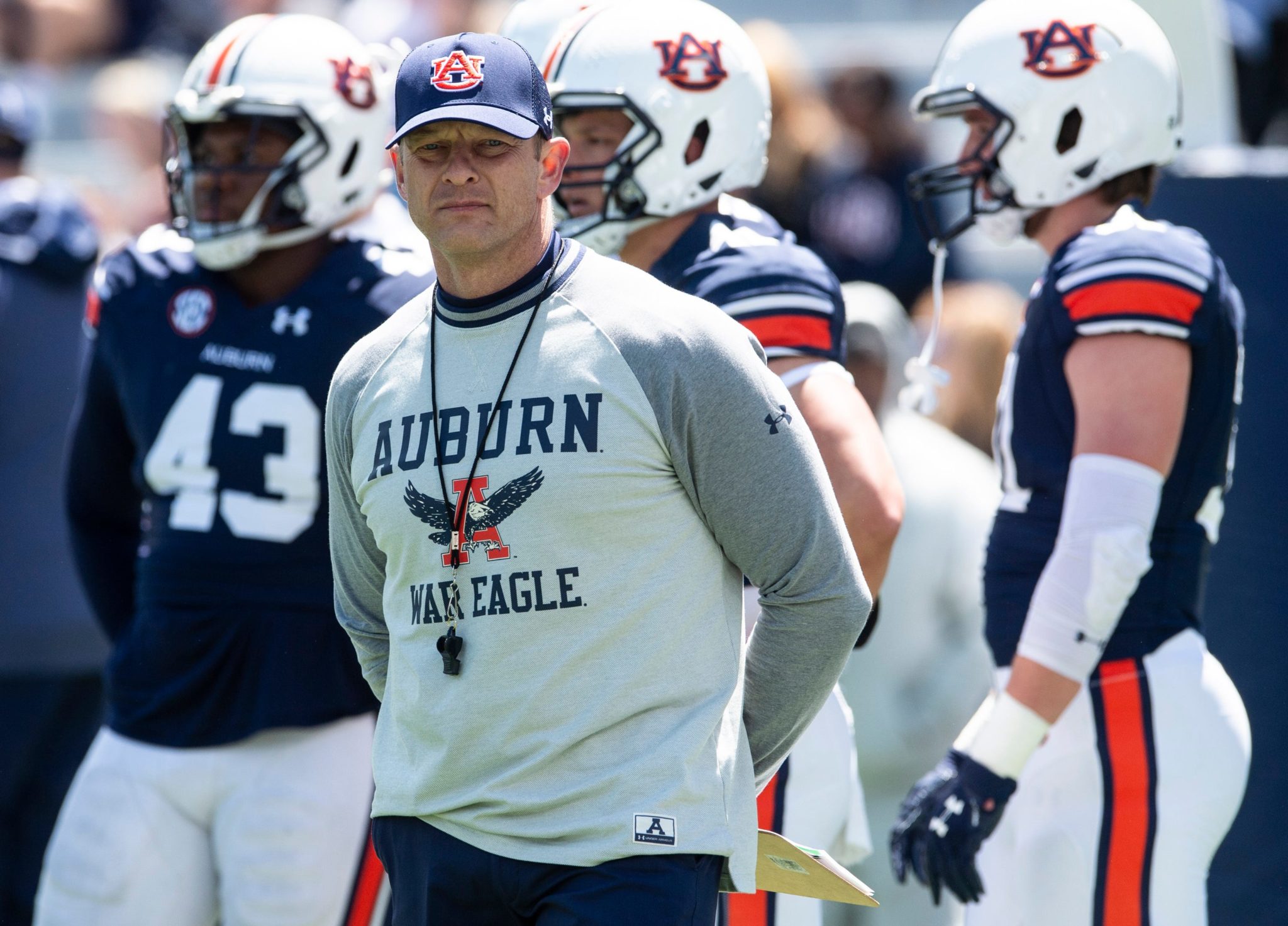 AUBURN
Auburn football: Skeptic's guide to the Tigers' 2022 season
Auburn enters the 2022 season with as many question as any team in the SEC — and possibly beyond.
The Tigers were reportedly close to replacing their head coach after an internal investigation concerning mass player and coaching exoduses. So much for patience. Bryan Harsin had just completed Year 1. There was serious concern that Harsin wouldn't make it to SEC Media Days, much less Auburn's opening game against Mercer.
Nevertheless, here is Harsin. He is still the head coach. He is still trying to return a program to championship glory while trying to hold its head above water in state that knows what a dominant college football program looks like.
Are the Tigers dominant? Not exactly. ESPN's FPI projects the Tigers to win 7 or possibly 8 games in 2022. These are the reasons a skeptic would suggest Auburn won't event even reach.
The quarterback situation won't work out
This is a very real possibility. After all, they've seen it all play out before. The Tigers brought in TJ Finley from LSU to become a stable, play-making quarterback that Auburn never got from Bo Nix, who transferred to Oregon.
Auburn still has Finley, who had his ups and downs last season. He is certainly still planning on being the starter. However, there is now competition. Zach Calzada transferred to Auburn for more playing time after losing his opportunity at Texas A&M. Former Oregon QB Robby Ashford did the same and performed well during spring camp. Holden Geriner has also shown enough ability to be a factor in the depth chart at some point.
Who starts? Stay tuned, but the fact that none of the 3 primary candidates created separation this spring could be an ominous glance into the fall.
Tank Bigsby can get angry
I've noted on several occasions that Bigsby should be relied upon even more than Auburn has chosen to do so in the past. Bigsby has power and speed. He also hates being pulled from games even if they're one-sided. Bigsby is a key player for Auburn's offense and its entire team.
Bigsby wasn't deployed often enough in the passing game last season. Coaches have vowed to change that this season. He and since-departed Shaun Shivers had roughly the same impact: Bigsby had 21 catches for 184 yards; Shivers contributed 22 catches for 163 yards and 1 TD. So Auburn did use its RBs in the passing game, but this year look for Bigsby to be more of a 3-down option.
It would be best if he were happy with his opportunities this season. That would also make things much more difficult on Auburn's opponents.
Jarquez Hunter could get lost in the shuffle
As important as it is to keep Bigsby on the field and engaged, it's equally important for Auburn to keep Hunter involved in some untraditional ways. Bigsby is the typical tailback. Hunter is more the new breed of skill-position player that can line up in different positions and keep defenses guessing.
Texas A&M had a similar logjam at RB and coach Jimbo Fisher turned Ainias Smith into a receiver. That move has worked wonders. South Carolina had to find ways to get Dak Joyner the ball.
Regardless of where Auburn wants to line up Hunter, he's too talented not to get touches.
The defensive front won't live up to expectations
Auburn is expected to have one of the best defensive lines in the SEC despite some significant losses. Much of that anticipation revolves around Oregon transfer Jayson Jones. If the massive interior defensive lineman can't live up to his transfer hype, then Auburn's defensive front could be in trouble, even with a few proven players on the line returning.
Owen Pappoe won't be the same
It's rare that an athlete suffers through typical injuries and doesn't return to full physical strength. Modern medicine has made career-ending injuries just a bump in the road. That better be the case after Pappoe missed most of the 2021 season with various ailments. If not, Auburn will have a big hole to fill in the middle of its linebacking corp.
The secondary will (continue to) struggle
There is some optimism around Auburn's secondary despite finishing 12th in passing yards allowed in the SEC last season and losing two of its most noteworthy players: cornerback Roger McCreary and safety Smoke Monday.
Still, there are some young players to build around — most notably safety Caleb Wooden, but also Cayden Bridges — and there figures to be a better semblance of cohesion. If not, it will be a struggle for Auburn's offense to match what its defense may be giving up.
Even with McCreary and Monday, Auburn allowed 46 completions that covered 20+ yards. Only 2 SEC teams allowed more. So, clearly, there is room for improvement, but a new cast will have to perform.
Ultimately, Harsin won't succeed
We'll know much more about Harsin's future after this season.
If things don't get better quickly, then the Tigers could be looking for a new head coach.
We won't learn much about the Tigers until Week 3's game against Penn State.
If the Tigers lose that game, it could get ugly. Auburn's next 4 games include trips to Georgia and Ole Miss.
If Auburn struggles on the field this season, there is little hope. Harsin has had time to implement his system and has shown that the transfer portal is not his ally. That means there won't be a quick turnaround and Auburn fans are known for being impatient.