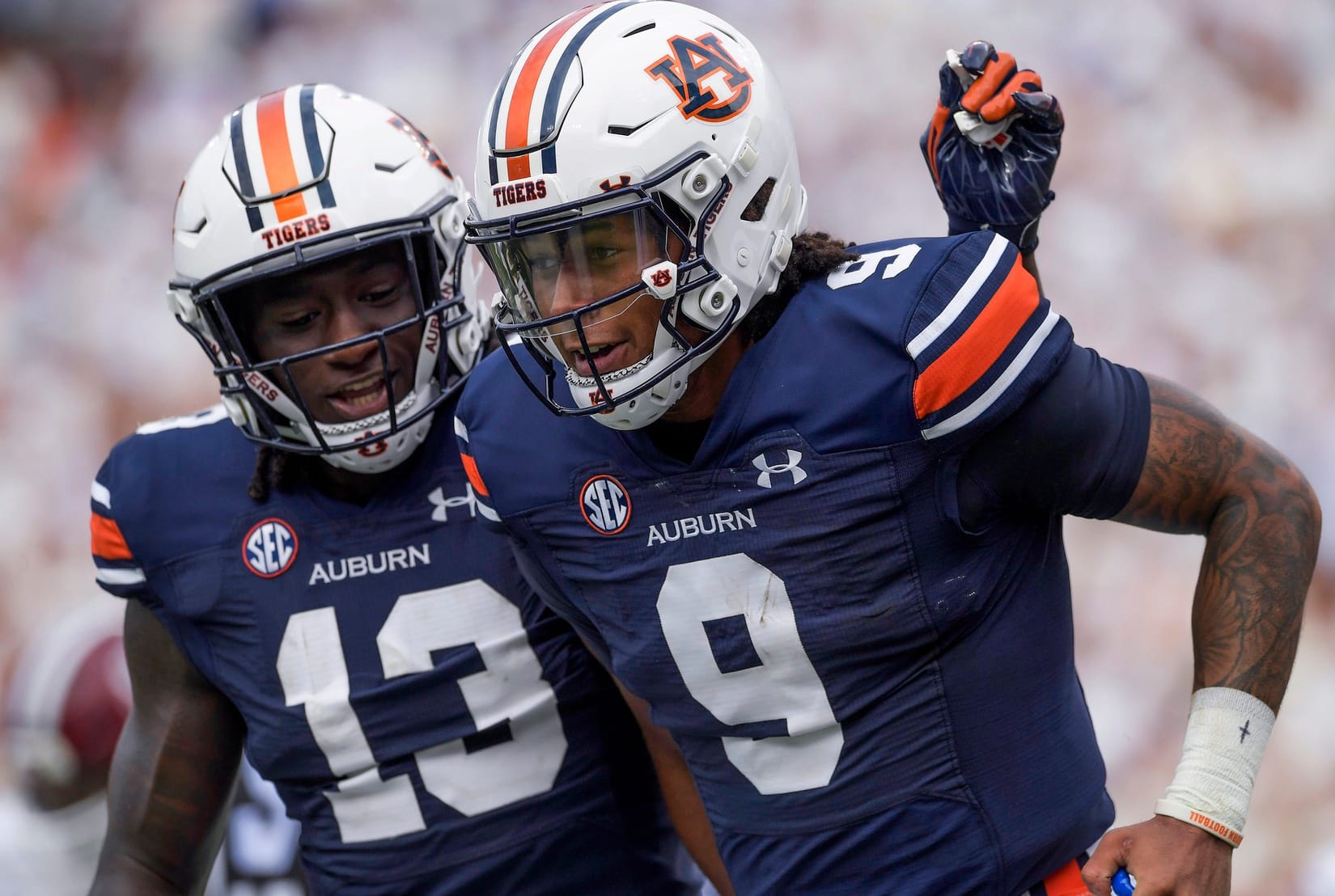 AUBURN
Auburn football: Stock report after Week 1
It was probably the kind of game that head coach Hugh Freeze was hoping for in his debut at Auburn. The Tigers fired on all cylinders in all 3 phases and put their 59-14 victory over UMass to bed by halftime. The rout allowed Freeze to employ a healthy number of players and experiment with several packages.
It's only natural to overreact to 1 game, especially the 1st game of a season, but the Tigers couldn't have been more dominant both offensively and defensively. Now, will that dominance continue as the level of opposition rises with Auburn getting deeper into the 2023 schedule? That's the question Auburn fans can't wait to see answered.
For now, let's take a look at the Tigers' stock report after 1 game.
Player of the Week: QB Robby Ashford
He's not Auburn's starting QB anymore, but that didn't prevent Ashford from making a difference on Saturday. Coming off the bench, Ashford completed 3 TD drives with scoring runs of his own from 10, 1 and 4 yards, all in the 2nd quarter as the Tigers began to pull away.
Ashford proved he can give Freeze options at QB. For the game, Ashford led the Tigers with 9 rushing attempts (51 yards). Though he still needs improvement on his throwing accuracy — Ashford was just 2-for-6 passing for 3 yards — he remains a weapon as a dual-threat signal-caller.
Freshman of the Week: RB Jeremiah Cobb
He got his turn in the revolving door of RBs and made the most of it. One of 7 Auburn players to carry the ball, Cobb toted it just 5 times but ripped off 57 yards, including a 42-yard TD romp.
Cobb probably won't be in the regular RB rotation, but on Saturday he proved he could be a RB of the future at Auburn.
Biggest surprise: RB Jarquez Hunter not dressed
With Auburn breaking in a new QB, it was thought that the Tigers would lean heavily on the running of Hunter. But because of some off-field issues, Hunter did not dress and was not available for the season opener.
It was thought that Hunter, who was suspended indefinitely during the summer, had returned to good standing within the program.
In his absence, RBs Damari Alston and Brian Battie, along with Ashford, competently shared duties of carrying the football. Sean Jackson and Cobb had their moments in the Auburn backfield as well, each scoring TDs.
Developing trend: Auburn's potent QB 1-2 punch
Freeze said he had packages for both QBs, and it wasn't just coach speak. It appears that both Payton Thorne and Ashford will play significant roles this season. Thorne drove the team up and down the field, with Ashford finishing off drives. Ashford scored on 3 TD runs in the 1st half alone and played a key role in the Tigers' early dominance.
It will be interesting to see if this trend continues, especially against the better competition when the SEC schedule rolls around.
Key stat: Auburn scored on its first 5 possessions
The game was basically over by halftime with Auburn holding a 31-7 lead. The Tigers wasted little time in taking control. For the most part, they weren't cheapies, either. The Tigers drove 62 yards on their initial possession to take a 7-0 lead. They went 51 yards to break a 7-7 tie with a field goal.
From there, it was TD drives of 6, 60 and 35 yards, and the game was firmly in hand.
First impression about Week 2: Can they take this show on the road?
The Tigers looked impressive for the most part at Jordan-Hare. Now can they follow that up with a victory on the road? Auburn goes to Cali next Saturday for a very late game (9:30 p.m. CT) on the West Coast with the Cal Bears.
The Tigers have lost their past 7 games away from home, including a bowl loss. Auburn hasn't recorded a victory on the road since 2021 in Fayetteville, a 38-21 triumph over the Razorbacks.