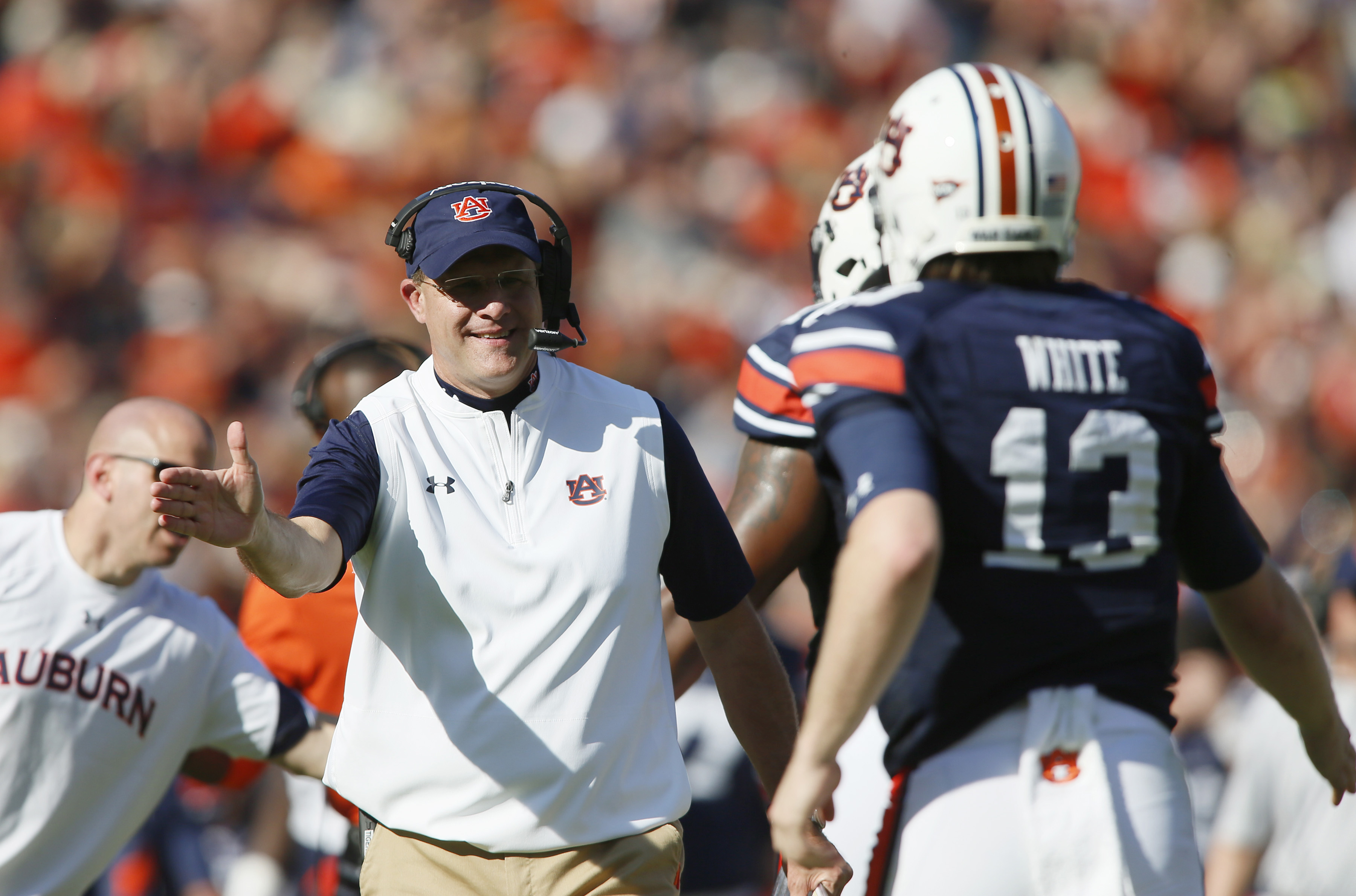 AUBURN
Auburn's Gus Bus keeps chugging along
For Auburn and Ole Miss, the scripts have definitely flipped. The Rebels started the season ranked no lower than 12th in the polls while the Tigers found themselves among the teams that were "also receiving votes."
What a difference seven games have made for both teams. Ole Miss has never really recovered from taking a 22-point lead over Florida State in its opener before coughing up that game while Auburn has become one of the SEC's hottest teams not named Alabama after getting off to a 1-2 start.
The way things are going for the Tigers, they should just run all the way to Oxford this week. Why not? No team has stopped them so far, and Ole Miss certainly doesn't look as if it can.
Auburn has become the SEC's top rushing team, running for nearly 303 yards a game. The Rebels have been defenseless against the run, surrendering nearly 227 yards a contest to rank last in the conference.
On the flip side, Ole Miss' Chad Kelly leads the league's best passing attack, which has averaged 305.4 yards per tilt. But under first-year coordinator Kevin Steele, Auburn is third in the SEC against the pass, yielding 198.3 yards on a weekly basis.
Overall, Ole Miss is ranked next to last in the conference in yards allowed per game (455.9) and yards allowed per play (5.9). But the Rebels' defensive struggles aren't the only problem they have.
They've pretty much been one-dimensional on offense, relying almost entirely on Kelly to get them through games. Kelly is the second-leading rusher (269 yards) on a team whose running game is 13th in the SEC.
Ideally, Ole Miss doesn't want its star signal-caller rushing an average of nine times a game – or nine opportunities for Kelly to get hurt. But the Rebels don't have much of a choice as top rusher Akeem Judd is averaging only 54.6 yards per contest.
So even though defending against Kelly won't be easy, Auburn appears to have a clear-cut advantage in this game – its legs. The Tigers have run the ball an SEC-leading 55 times a game – 11 more attempts than Alabama – but it wouldn't be surprising if they exceeded that number on Saturday night.
Auburn's rise to the top of the SEC's rushing rankings has been pretty remarkable when you consider how much talent and depth it lost in the offseason. First, Peyton Barber, the Tigers' leading rusher last season, left early for the NFL.
In June, Roc Thomas – who averaged over 6 yards a carry for Auburn in 2015 – decided to transfer to Jacksonville State. And in August, Jovon Robinson was dismissed from the team for off-the-field issues.
Had those three players remained on The Plains, it's hard to say if Auburn's running game would be better than it has been. The biggest surprise so far has been Kamryn Pettway, who has shifted from fullback to tailback to lead the SEC in rushing yards per game (116.2) despite not carrying the ball at all last season.
Auburn has been so efficient on offense that Sean White has become the SEC's top-rated quarterback despite throwing the ball only 20 times a game. The Tigers have run the ball so much you almost forget that White is taking snaps, but AU's commitment to that part of the offense has been one of Gus Malzahn's best moves in 2016.
We say one of because his decisions to hire Steele, name White as his starting QB and turn the play calling over to offensive coordinator Rhett Lashlee have looked really good as well. But Malzahn isn't the only person who deserves credit for Auburn's success.
Herb Hand, who coached together with Malzahn at Tulsa and replaced an equally respected offensive line coach in J.B. Grimes, has molded this season's group into arguably the best set of run blockers in the SEC. It took them a while to become the fine-tuned unit they are today, but Austin Golson, Alex Kozan, Xavier Dampeer, Braden Smith and Robert Leff are a major reason why Auburn has the third-best rushing attack in the FBS.
So seven games into its season, Auburn has been lucky — who knows where Malzahn and the Tigers would be had they lost to LSU on Sept. 24? — and good. Following the Ole Miss matchup, Auburn has games against Vanderbilt, Georgia and Alabama A&M, so its winning streak might reach eight entering the Iron Bowl.
Of course a lot could change between now and Nov. 26. But Auburn's Gus Bus has taken a pretty interesting ride so far, and the rest of the trip should be just as entertaining.