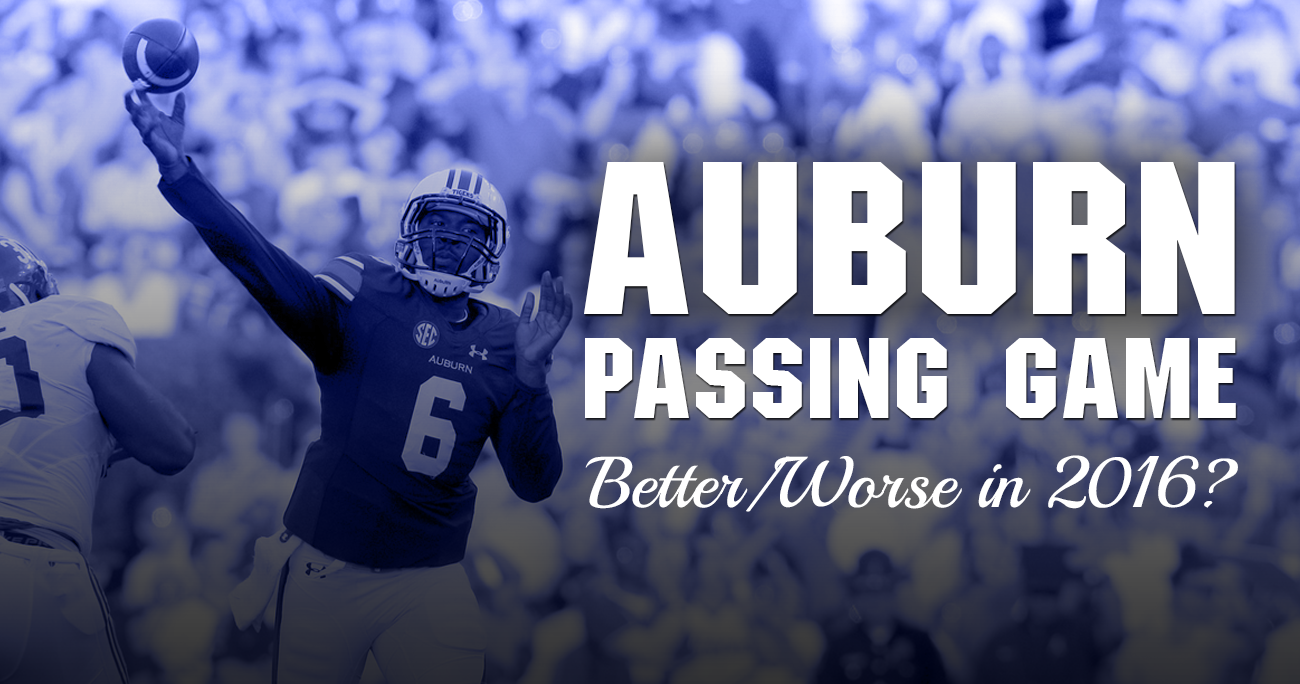 AUBURN
Better/Worse in 2016: Auburn passing game
To say that the Auburn passing game needs work is an understatement. Here's where the Tigers ranked in the SEC in three key passing categories last season:
Passing yards per game: 173.6, 12th
Passing TDs: 11, tied for 11th
INTs: 12, tied for 8th
The two guys responsible for those numbers – Jeremy Johnson and Sean White – are still on campus. But JUCO transfer John Franklin III will challenge those two for the starting job.
However, based on Franklin's 2015 season with East Mississippi Community College, it's safe to say that he's more of a runner than a passer. In nine games, the 6-foot-2, 185-pounder rushed 43 times for 451 yards and 9 TDs while completing 64 of 110 passes for 733 yards, 7 TDs and 2 INTs.
It's hard to get excited about these numbers because they were compiled against competition that is nothing like what Franklin will see in the SEC if and when he starts taking snaps for the Tigers. Still, these are uncertain times on The Plains, and as a result, Gus Malzahn might have little choice but to go with fresh blood to jumpstart his offense and potentially save his coaching bacon.
QB Play
Franklin is not the only new guy in the quarterback mix. Four-star recruit Woody Barrett, the nation's No. 6 dual-threat QB prospect, could be the Tigers' signal-caller of the future, but he is raw and might need time to soak up Malzahn and Rhett Lashlee's offense.
Nevertheless, the fact that he is a dual threat might expedite his development since Auburn is still starving for a passer. He's as tall as Franklin is, but he's about 40 pounds heavier, so he definitely has a physical edge in terms how many potential hits he can take if Malzahn decides he wants to throw the ball 30 times a game.
Among Auburn's returning QBs, Johnson has the strongest arm and the most experience. And if you believe Lashlee, he's apparently shown improvement over the guy who threw six picks over his first three games last year.
"I've been really pleased with his progress this spring and the way he's improved and stayed the course," Lashlee told seccountry.com. "To come back and earn his teammates' trust and everything has been really impressive."
In a limited span of six starts, White did some really good things last season. He became the first Auburn quarterback to throw for 250 or more yards in three consecutive games since Dameyune Craig did the same in 1997 and is the first Tigers freshman to achieve the feat.
He also became the first AU freshman QB to win an SEC road game since Jason Campbell beat Vanderbilt in 2001. However, the biggest knock against him is that he threw just 1 TD pass in 143 attempts.
Whatever factor that low number can be attributed to – be it White's decision-making or his coaches' play-calling or possibly something else – that lack of productivity in the red zone must improve.
Receivers/TEs/RBs
Wideouts Tony Stevens, Marcus Davis and Jason Smith — who combined to make 57 catches for 561 yards and 4 TDs in 2015 — are all returning and should all get first-team snaps. Sophomore Ryan Davis could prove to be a viable backup.
The Tigers are excited about receiver recruits Kyle Davis, Nate Craig-Myers, Eli Stove and Marquis McClain, and they should be. No player in this group is shorter than 6-foot-1, and three of the four are four-star recruits, so Auburn — which has lost graduating receiver Ricardo Louis to the NFL — definitely addressed a need.
The Tigers don't really use their tight ends as pass-catching threats, but Jalen Harris and Chris Laye might be able to make a grab or two in a pinch. However, Auburn's running backs should all serve as reliable targets for check downs/third-down passes.
Kerryon Johnson, who had 14 receptions for 159 yards last year, is AU's top returning receiving option out of the backfield. No. 1 running back candidate Jovon Robinson made only 1 catch for 20 yards a year ago, but Chandler Cox and Kamryn Pettway also made minor contributions in the passing game.
Roc Thomas (11 catches, 200 yards and a TD last season), who could have helped Auburn in the slot this year, is transferring to FCS school Jacksonville State. Peyton Barber (11 receptions, 112 yards), who left school early, is now with the Tampa Bay Buccaneers.
Play-calling
In its six SEC games last year, Auburn was quite successful throwing on first down. The Tigers collectively completed 26 of 38 passes (68.4 percent) for 3 TDs and no INTs.
To put those numbers in perspective, let's take a look at how successful Auburn's passing game was on every other down in 2015. In those situations, the Tigers completed just 57 percent of their passes (153 for 268) for 1,954 yards, 8 TDs and all 12 of their interceptions.
The easiest conclusion to draw from this comparison is that Auburn needs to throw the ball more on first down, even if Malzahn's tendency is to run. With the Tigers on an SEC-record streak of seven straight seasons with at least one 1,000-yard rusher, that running-on-first-down trend is bound to continue, especially if Robinson enters the season as Auburn's primary back.
But since the Tigers have shown that they have QBs (Johnson and White) who can succeed at throwing the ball on first down, it presumably makes sense for Malzahn to go with one of those guys as his starter in 2016. However, if Malzahn turns to Franklin, the Tigers might become even more one-dimensional than they were last season, a 7-6 campaign that ended with a victory in the Birmingham Bowl but just a 2-6 record in the SEC, including an 0-4 mark at home in conference games.
Maybe the same old same old (Johnson or White) isn't as risky as the brand new (Franklin or Barrett). Malzahn's QB choice is arguably the biggest decision of his career, and the choice he makes could tip off how much he feels his job is on the line.
One stat — actually two — that must improve
Auburn needs more catches and more yards per reception. Louis' team-leading 46 grabs last year were tied for 15th in the league, and his 15.57 yards per catch ranked ninth.
Davis was second on the team – but just 33rd in the conference — with 30 receptions, but his 6.0 yards per catch were just 48th in the league. Someone needs to step up, and quickly.
Greatest concern
The biggest worry is that none of the QB candidates distinguished themselves during Auburn's annual A-Day spring game. The most eye-opening stat from that scrimmage is that the Tigers went 1-for-22 on third down. How does that happen in a spring game, let alone a regular season one?
At least none of the QBs on the roster is going into the season with excessive and unwarranted Heisman hype like Johnson did a year ago, but it is telling that Malzahn hasn't picked his starter yet and is apparently waiting until fall camp to do so.
Better or worse?
At the moment, Auburn's passing game cannot be considered better than it was last year at this time. The quarterbacks and the receivers are all unproven, and this year's starting signal-caller is still unknown.
On top of that, two starters from last year's offensive line – Avery Young and Shon Coleman – are gone. We're not sure how many tricks Malzahn has left under his sweater vest-covered sleeves, but he'd better have some sort of plan. His job is riding on it.